Note: As of 10/13/15 the Target REDcard (REDbird) can only be loaded with cash in-store at Target. Gift cards and/or debit cards no longer work to load REDcard. For more info, see: Here is the REDbird memo, "Cash is the only tender guests can use"
Note: On January 8, 2016 American Express sent out a notice to a large number of Bluebird & Serve cardholders informing them that loading capabilities on their accounts had been terminated. For more information, see: Amex kills Bluebird and Serve for manufactured spend
Bluebird, REDbird (the Target Prepaid REDcard), and Serve are prepaid reloadable cards from American Express.  The cards are marketed as no-fee checking account alternatives, but they also can be used to increase credit card spend (to earn rewards).  The key is to find ways to use rewards credit cards to buy Visa/MasterCard debit gift cards, at a low price, that can be used in-store to reload these prepaid cards.  Bluebird and Serve can be reloaded at Walmart.  REDbird can be reloaded at Target.  All three have a hard limit of $5,000 in "cash" (really cash or in-store debit or reload card) reloads per calendar month.  Serve, additionally, can be reloaded with Amex credit cards online up to $1,000 per month.  Once money is loaded to these cards, it can be withdrawn for free in a number of ways: in-network ATMs, link bank account and withdraw online, and pay bills for free with their online bill pay service (Bluebird also offers paper checks).
For complete background details, please see:
Only one per person, but…
Each person is only allowed to have one Bluebird, REDbird, or Serve account.  You can't even have one Bluebird and one REDbird, for example.  You have to choose just one.  And, if you're satisfied with $5,000 worth of increased credit card spend per month, one card is plenty.
If you want more than one card, the key is to convince family or friends to sign up for cards and to let you manage them.  Your friend must be 18 or older and must have a valid US social security number.  Your friend won't incur any costs, nor will there be any impact on their credit report.  Still, I recommend being generous with anyone willing to setup an account for you.  My advice is to offer them free hotel nights using your points, free flights, or whatever you think is appropriate.
Friend Signup Details:
Serve and Bluebird can be ordered online for free.  REDbird requires first getting a temp card in-store before registering online.
Amex uses public records to ensure that the person applying is who they say they are.  You are best off having your friend setup the account with their own address & phone number if they do not live with you.
Amex often requests uploading proof of identity.  You or your friend may have to upload photos of their drivers license and social security card, for example.
Each account needs to be linked to a unique email address.  I recommend setting one up for your friend and giving them access to it during the signup process.  You may need access to emails from the account later on so its best not to have your friend use their own email address.
Each account needs a password.  Your friend shouldn't use a password that they use for other things since they'll have to share it with you.
Each account needs a four digit PIN.  Your friend shouldn't use a PIN that they use for other things since they'll have to share it with you.
Each account needs a security question and answer.  I'd recommend telling your friend ahead of time what to choose.
Why managing multiple cards can be a challenge.
Over time, I've increased my family and friend collection of "bird" cards and I now manage 7 altogether.  At the time of this writing, all 7 are REDbird cards, but I may convert one or two to Serve when I get a chance.  There are a number of reasons why managing multiple cards can be challenging:
Loads and load limits: Each card is limited to $2,500 per day and $5,000 per month of in-store loads.  How can you keep track of which cards have already been loaded and to what extent?  It can be a huge pain to log into each account regularly to check on it.
Name checking cashiers: When loading friends' cards in-store at the register, you may encounter a cashier who wants to compare the name on the card to your drivers license.  How do you deal with those situations?
Logging into accounts: People have encountered problems with logging in and out of different accounts from the same computer and browser.  At one point in time, for example, Bluebird bill payments were getting sent to the wrong billers!  How can you make sure that things like that don't happen to you?
Withdrawing money: When linking a bank account to your Bluebird, REDbird, or Serve account, you will likely be asked to upload proof that the bank account is yours (i.e. the account holder's).  As a result, you probably don't want to link bank accounts for a card in your friend's name.  If you can't withdraw to a bank account, then what's the best way to get your money back?
I have no doubt that there are many good solutions to the above challenges, but I'll present here the solutions I've found to work…
Keep track of loads and load limits
I have a wallet that I use just for this purpose.  It has three separate slots.  At the beginning of each month, I put all 7 of my cards in the front slot.  When I load a card in-store, I make sure to load one card with the full $2,500 allowed per day.  I then put the card back into my wallet, but into the middle slot.  This way, I know that cards in the middle slot have been loaded half way to the full $5,000 allowed per month.  When I later reload a card from the middle slot, I then move it to the last slot.  This tells me that the card is done for the month.
Over the coarse of the first couple of weeks each month, I make sure to load each card halfway ($2,500) before "finishing off" any of the cards for the month.  This is important only because I sometimes get near to the end of a month and realize that I have a lot of loads yet to accomplish.  I don't usually like to do more than one or two $2,500 reloads per day, but if necessary I could do all 7 in one day.  If I had, instead, completed the loads for four of my cards and had three cards remaining with $5,000 yet to reload, then it would necessarily take me two calendar days to max out the reloads (since each reload is limited to $2,500 per day).
A generalized approach would be to use a wallet with just two slots.  Put all of your cards in slot 1 at the beginning of the month.  As you load each card with whatever amount you're comfortable with (e.g. $500, $1,000, etc.), move it to the next slot.  Once all cards have been moved to slot 2, move them all back to slot 1 and start again.  As long as you can remember the monthly total load amount represented by slot 2, you'll know where you are in the process.
Dealing with name checking cashiers
In my experience, it has been extremely rare to encounter a cashier who compares the name on my "bird" card to the name on my drivers license, but it has happened.  My approach to this is to always reload my own card last each month.  This way, if I encounter a name checking cashier, I can at least reload my own card (since I know I haven't maxed it out yet).  Then, I try to avoid that cashier in the future.  In some cases it may even be necessary to avoid that particular store in the future if they've established a store-wide rule about this.
Logging into accounts
As I mentioned above, its possible to encounter serious technical issues if you log in and out of different accounts using the same computer and browser.  There are a few good solutions to this:
Use a different browser for each person's card.  For example, I use Chrome for one account, Firefox for another, IE for a third, and Opera for a fourth.
Use your browser's private mode (incognito mode in Chrome).  Launch a new private browser window each time you log into a different account.  You may have to close and reopen all browser windows each time you change accounts.
Turn off cookies or clear them each time.
Use Chrome's "Switch Person" capability.  I haven't tried this myself yet, but I'm pretty sure it would work and would be the easiest and fastest option.  So, yes, it is high on my to-do list to do this going forward.  You will need a unique Gmail account for each person to do this, but it doesn't necessarily have to be the same email address that was used to register their bird account (but it would be simpler if it was).
Withdrawing money
Without linking a bank account, there are three options for withdrawing money from your friend's account (it's really your money, so its OK to do so):
Pay your own bills.  For example, I regularly pay my own credit card bills from the accounts I manage.
Send yourself money.  Bluebird, REDbird, and Serve have the ability to Send Money to other people who have similar cards.  You can send up to $2,500 per month.  So, for example, you could log into your friend's account and Send Money to yourself (make sure to send to the email address linked to your bird card).  Once the money is in your own account, you can withdraw to a linked bank account (Settings… Withdraw Funds).
Withdraw cash.  With REDbird cards, withdraw cash for free from any Allpoint ATM.  With Bluebird or Serve, withdraw cash for free from any MoneyPass ATM.  To me, this is a time consuming and unpleasant way to unload $5,000 per month so I don't use this option.
Reader suggestions?
How about you? Do you have any tips to share for making it easier to setup and manage multiple Bluebird, REDbird, and/or Serve accounts?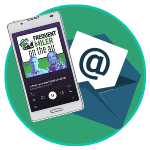 Want to learn more about miles and points?
Subscribe to email updates
 or check out 
our podcast
 on your favorite podcast platform.