Update
3/18/21: The bonuses described below are still available at the time of writing, but a rumor
reported at Bogleheads forum
is that a phone rep said that all cash bonuses would end on 4/15/21. I rarely put much stock in anything that a phone rep says, but given the advantages of having investments with Merrill Edge (for Bank of America Preferred Rewards and the associated increased return on credit card spend), I thought it was worth reporting in case any readers were planning to do these bonuses and dragging their feet. (H/T:
Doctor of Credit
)
---
As was the case when I wrote about my retirement planning mistakes, Merrill Edge currently again has increased new account bonuses for those who become "Preferred Rewards" members (which requires a minimum of $20K on deposit with Bank of America / Merrill Edge). These bonuses add 50% to the standard bonuses and are available for those who open accounts by April 15, 2021, fund within 45 days and enroll in Preferred Rewards within 90 days. Unlike the offer I did last year, it looks like the current offers does not include a fast track to Preferred Rewards status.
The Deal
Bank of America

Deposit $20K, get $100 $150 bonus
Deposit $50K, get $150 $225 bonus
Deposit $100K, get $250 $375 bonus
Deposit $200K, get $600 $900 bonus
Key Terms
1 Offer valid for new and existing individual Merrill Edge IRAs or Cash Management Accounts (CMA) opened before April 15, 2021. Cash bonus offers, in the aggregate, are limited to one CMA and one IRA per accountholder. Eligible Merrill Edge IRAs limited to Rollover, Traditional, Roth and owner-only SEP IRA. The Merrill Edge IRA or CMA may be a Merrill Edge Self-Directed account, Merrill Edge Advisory Account or Merrill Edge Guided Investing account. You may be eligible for a different or better offer. Please contact us for more information.
Offer Limitations: This offer does not apply to business/corporate accounts, investment club accounts, partnership accounts and certain fiduciary accounts held with Merrill, or to any types of accounts (including IRAs or CMAs) held with other business units of Merrill Lynch, Pierce, Fenner & Smith Incorporated (MLPF&S). Merrill reserves the right to change or cancel this offer at any time, without notice. This offer may not be used as an inducement to sell any kind of insurance, including annuities.
How it Works:

You must enroll by entering the offer code in the online application during account opening or by providing it when speaking with a Merrill Financial Solutions Advisor at 

888.637.3343

 or at select Bank of America&174; financial centers. You are solely responsible for enrolling or asking to be enrolled in the offer.
Fund your account with at least $20,000 in qualifying net new assets within 45 days of account opening. Assets transferred from other accounts at Bank of America, MLPF&S, Bank of America Private Bank, or 401(k) accounts administered by MLPF&S do not count towards qualifying net new assets.
You must be enrolled in Preferred Rewards as of 90 days from meeting the funding criteria described in Step 2.
After 90 days from meeting the funding criteria described in Step 2, your cash reward will be determined by the qualifying net new assets in your account (irrespective of any losses or gains due to trading or market volatility) as follows:
Qualifying net new asset balance:

$20K, get $100 $150 bonus
$50K, get $150 $225 bonus
$100K, get $250 $375 bonus
$200K, get $600 $900 bonus

For purposes of this offer, qualifying net new assets are calculated by adding total incoming assets or transfers (including cash, securities and/or margin debit balance transfers) from external accounts, and subtracting assets withdrawn or transferred out of the account within the preceding 52 weeks.
Your one-time cash reward will be credited to your IRA or CMA within two weeks following the end of the 90 day period. If your account is enrolled in an investment advisory program, such as Merrill Edge Advisory Account, Merrill Guided Investing or Merrill Guided Investing with an advisor, any cash reward deposited into your account will be subject to the program fee and other terms of the investment advisory program.
Customers not enrolled in Preferred Rewards as of 90 days after funding will receive the cash reward without the 50% bonus: assets of $20,000 to $49,999 in cash and/or securities receive $100; for $50,000-$99,999, receive $150; for $100,000-$199,999, receive $250; for $200,000 or more, receive $600.
Quick Thoughts
This deal has been periodically coming and going for the last couple of years. The current end date is set at 4/15/21 and that may just be the end date for this iteration (with a new one to follow at some point). However, given the Bogleheads comment referenced above, it seemed worth reporting just in case it goes away for a longer period.
The bonuses here are pretty good for investment accounts or particularly good for those who have money in an IRA that can be moved in-kind entirely (i.e. without selling any shares / no tax consequences — check your situation before you make any decisions as YMMV). For me, there was virtually no downside and a couple hundred bucks of upside (in addition to the fact that I already wanted to make changes to my IRA that fit well with Merrill Edge).
Greg has written a lot about the Preferred Rewards program before (See: Bank of America credit cards: awesome if you have $100K lying around). As you'll see in term #2 above under the last section This offer would put you on the path to Preferred Rewards status in 90 days.
Keep in mind that to enroll in Preferred Rewards and therefore be eligible for the increased bonuses above, you'll also need a Bank of America checking account. You could likely open that later if you do not yet have one – but keep in mind that if you don't enroll in Preferred Rewards within 90 days, you'll only qualify for the lower bonuses (the ones that are crossed out in the screen shot above).
I'll note that my wife and I did 3 accounts between the two of us with this promotion last year (one IRA each and one brokerage account), so we earned 3 separate bonuses. For some reason, the bonus on the brokerage account didn't post automatically. I had to follow up a bunch of times. I got no response via email with a couple of different reps and eventually wrote a letter that I attached as a document to a secure message and that finally did the trick — we got the bonus and several follow-up letters apologizing.
Overall, these bonuses could be a decent incentive to open an account and now might be the time to go after them if they really do all end on April 15th.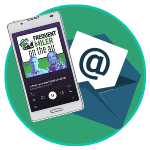 Want to learn more about miles and points?
Subscribe to email updates
 or check out 
our podcast
 on your favorite podcast platform.