Late last year, I wrote a post about low-hanging fruit you should be picking — checking account bonuses and other easy bank bonuses can be well worth some time investment and should not be ignored. There are often opportunities to generate bonuses on par with new credit card welcome offers with what may be much easier requirements. At the halfway point in 2020, I took stock of where I was with similar low-hanging fruit this year and I have now (almost two months later) updated the post with additional data, success, and plans. My reason for re-publishing a new status report is to continue to document the journey and hopefully inspire others to look beyond credit card signup bonuses and bonus categories to make other money moves that supplement our points and miles.
Checking, savings, and investment account bonuses earned in 2020
I wrote last year about how bank account bonuses can be well worth a little time and effort. They can be particularly worthwhile for those of us playing the game in multi-player mode. Here are the bonuses earned in my household so far this year:
Citizens Bank: $600 checking & savings account bonuses
Citizens Bank (a smaller regional bank in the Northeast-ish area) had an online offer earlier this year (that is back on again right now) to get a new checking account bonus of $300 for opening a checking account with a direct deposit of $500 or more within 60 days. They simultaneously offer a $200 bonus for opening a savings account with a deposit of $15K — that money has to remain in the account for 3 months. If you do both of the above, you can get an additional $100. In total, we expected $600, though past data points indicate that it takes about 4 months total for bonuses to post and as such we're still in the waiting period.
Update 8/20/20: I can confirm that we did indeed receive this $600 bonus. Here's an approximate timeline:
4/15: Account open & funding ($100 checking, $15K savings)
5/15: Direct Deposit of $500 (done via ACH from another account)
Savings money had to remain on deposit until 7/31
8/1: Withdrew $15K from savings to send elsewhere for a new account bonus
8/20: $600 bonus posted
The Citizens Bank One Deposit checking account requires one deposit per statement period to remain fee-free, so we have an external account set up to auto-push a few dollars into the checking account every other week just to be sure that the requirements are exceeded.
SoFi Investing: $230 deposit bonus expected, $200 received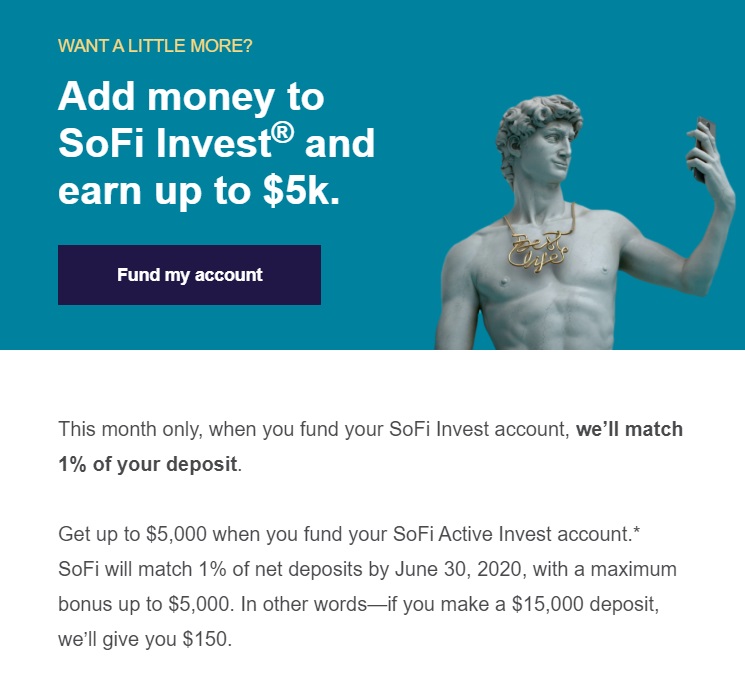 We had written about this bonus here. The short story is that SoFi Investing has been offering a targeted bonus of 1% of your net deposits by 6/30 for some users (up to $500K in deposits). The bonus was to be deposited into your SoFi Investing account within 5 days from the end of the promotion and it posted on time.
This money has to be left in SoFi Investing for 3 months (until the end of September 2020) or SoFi may claw back the bonus amount. In our case, we had savings that we had already intended to move from savings to investments, so we moved $23K into SoFi Investing for a $230 bonus (Update: Only $20K ended up posting in time to take advantage of this as transfer times slowed us down, so in the end we only got a bonus of $200. I subsequently didn't keep that last $3K with SoFi).
Is it worth tying up so much money for just a couple hundred bucks? Not if you have better things to do with the money. In our case, even if we weren't planning on investing any of it, a 1% return for tying up the money for 3 months is like 4% APY annualized, so that looked a lot better than what the money was earning in a more traditional account. One snafu here is that depositing from several different sources ended up meaning that not all of the money settled in the SoFi Investing account before June 30th, so we only got a $200 bonus). We are investing the bonus money.
HSBC Premier Checking account bonus: $700 x 2 player mode = $1,400
HSBC changes their checking account bonus promotion every couple of months and sometimes offers different promotions at the same time. When my wife and I each signed up for our accounts a few months ago, the bonus for an HSBC Premier Checking account was 3% of your monthly direct deposits up to $120 per month for the first 6 months up to a max total of $700 (a similar bonus expired recently). If you're quick with math, you'll realize that this means a direct deposit of $4K per month caps out the promo at $120 and in the final month you'll only receive $100. It's a weird structure, but a valuable bonus.
In order to keep the HSBC Premier account fee-free, you actually need $5K per month in direct deposits (or $75K on hand with HSBC), so the more practical way to look at it is to say that the bonus is $700 if you direct deposit $5K per month for 7 or 8 months (note the longer-than-six-month period because the 3% bonus starts with direct deposits from the first month after the month in which you open and the bonus is set to pay out about 2 months behind the deposits – so we didn't see any money until month 3). For this account, as an experiment, my wife and I decided that one of us would use traditional direct deposits while the other has used other methods known to trigger the requirements.
Update: The first couple of payments of $120 of the bonus have posted for each of us, so we are collectively on the path toward seeing the full $1400 out of HSBC by the end of the year. One nicety for HSBC is that it is easy to set up automatic ACH transfers out of the account, which could be useful if you're looking to move money each month sometime after it moves in.
Note that HSBC also recently ran bonus offers of $225 and $475 that required shorter direct deposit periods.
Wells Fargo: $400 Everyday Checking account bonus
I had signed up for this account last year and mentioned it in the original low-hanging fruit post. At the time, the account required direct deposits of at least $3,000 per month for 3 consecutive months to trigger the $400 checking account bonus.
While I did set up my official direct deposit to trigger this bonus, I had also moved money from an external checking account via ACH push in the third and final month. My $400 bonus posted after that ACH push and before my direct deposit for the month, signaling that I probably could have triggered this bonus without the hassle of changing direct deposit. At any rate, this bonus posted early in 2020.
M&T Bank: $250 Checking account bonus
This is another bank noted in last year's post. While I had opened this account and earned its bonus last year, my wife didn't get around to opening an account with them until more recently. Once again, a withdrawal pushed from SoFi Investing triggered the bonus the day after it credited to M&T. This is a regional bank that will only be available to those in the northeast and the offer amount may vary by region (you can read more about this offer at Doctor of Credit). Since the account bonus here only requires a single direct deposit of $500 or more, it's pretty easy to pick this one up. Note that to keep the account fee-free, you can either keep $2500 in it or set up monthly direct deposits of $500 or more. The account earns such little interest that it's kind of a waste to keep $2500 in it, though it certainly is a simple way to keep it fee-free. This bank has a fee if you close your account within 180 days, so I set a reminder to evaluate whether to keep it or cancel it. Given some recent minor annoyances with this account, we'll probably cancel.
BBVA: $0 (expected $250, got nada)
We opened a checking/savings combo with BBVA in 2019 that had relatively low requirements (had to fund the savings account with a few hundred bucks and have one direct deposit of $500 or more by the end of December – similar to this expired promo). I tried a couple of potential direct deposit methods that apparently didn't work because I never got the bonus. Since I had stretched the definition of a direct deposit, I didn't raise any complaint. Sometimes you're the windshield, sometimes you're the bug.
Webull: 20 shares for depositing $10K ($180.40)
We wrote about a targeted bonus offer from Webull in January (and republished that post with a similar offer in February). My January offer was to get 20 free shares of stock worth $9-$1,000 per share for depositing $10K in my Webull brokerage account (note that the money did not need to be invested but rather just deposited). I had the savings on hand to do this, so I made the deposit expecting the bare minimum and that's exactly what I got. I received 20 shares of Vonage, which was trading at $9.02 per share at the time for a total value of $180.40. An effective deposit bonus of 1.8% that only required leaving the money for a couple of weeks seemed more than fair (subsequent Webull deposit bonuses have required leaving the money for a month or more). I withdrew the $10K a few weeks later and have kept the stocks.
Keeping those shares makes the deal at least a hair better: As of the closing bell yesterday, my 20 shares of Vonage were at a total value of $194.80 (they had been over $200 for a brief period, but I won't complain).
Update 8/20/20: I'm keeping this stocks in Vonage for fun to see what happens. They're worth about $231 as of today but have been as high as $250 recently — a pretty nice increase in this bonus in a short period of time.
Still coming / expected in 2020
In addition to bonuses earned thus far, we have several bank account bonuses in progress.
Merrill Edge: $675 in bonuses coming
In my post about Retirement planning mistakes fixed by credit cards, I wrote about how I was unhappy with how my wife and I had invested our Roth IRA funds at another brokerage and was looking to get into lower-cost index fund ETFs (and to invest some additional funds we had saved up and needed to put into long-term investments). The same day I published that post, I also posted a bonus offer for opening a new Merrill Edge account and depositing new funds within 45 days and keeping them on deposit for 90 days (that offer has since expired, though there is a new offer for bigger bonuses that requires leaving the funds on deposit longer).
My wife and I each moved over our Roth IRAs and the additional funds we intended to invest (for the purpose of triggering a higher bonus, we also moved some of our emergency savings fund that had been sitting in that Citizens Bank account above — we'll eventually move the emergency fund money back out after earning the Merrill Edge bonuses). We later confirmed the promos with Merrill and between the two of us we are on track to earn $675 in bonuses. Merrill Edge also covered the account closure fee for closing the IRAs at our previous brokerage ($125 each) upon request.
Bank of America Checking: $100 bonus
The impetus behind the Merrill Edge accounts was in part to fix our retirement planning, but we got to that goal because of the Premium Rewards card with the allure of Platinum Honors in the Bank of America Preferred Rewards program. Additionally, the increased bonuses on the Merrill Edge accounts under the offer we used required joining the Preferred Rewards program.
One of the requirements of the Preferred Rewards program is having a Bank of America checking account. Bank of America sometimes offers $300 or $400 bonuses for opening a checking account, but those offers are usually targeted (a new round began just yesterday). Unfortunately, neither of us were targeted for such an offer. I therefore Googled looking for bonus information and found this offer to get a $100 bonus with a new checking account and two direct deposits of $250 or more in the first couple of months (H/T: BestWalletHacks). I'd have preferred a higher bonus, but I'll take a hundred bucks to do something I already had to do.
Unfortunately, my wife had trouble with this. Her online application for a checking account went pending for the better part of a week and she ended up opening the account over the phone with no bonus. That was a bummer.
However, I received a letter in the mail confirming that the $100 offer was attached to my checking account, so I expect to see this $100 soon.
T-Mobile money: 4% APY on up to $3K.
A while back, T-Mobile started offering a "T-Mobile Money" checking account in conjunction with "BankMobile". The basic premise is that if you're a T-Mobile customer and you deposit $200 per month in the account, you can get 4% APY on up to $3K in the account and 1% thereafter. At that rate, you only stand to earn $120 of interest per year if you deposit $3K and meet the monthly requirements. That is perhaps a small win individually, but you can certainly do worse than a 4% return with nearly no risk. Furthermore, you can scale it at least a little bit if you have multiple lines on your T-Mobile plan since each individual on your plan is eligible for the 4% APY on the first $3K provided they meet the monthly deposit requirement.
The fact that the account offers 1% on balances above $3K isn't terrible in the current environment, either — so it's not altogether awful if you put $3K in there and deposit $200 a month and just leave it as an emergency fund. That said, customer service and posting time of deposits by all accounts seem pretty poor. I wouldn't go in on this deal with high expectations for an amazing banking experience. There isn't a new account bonus to be triggered here, but four percent is four percent.
Update: I can confirm that I've opened and funded this account. Transfers and large mobile check deposits are epically slow. It took about a full week for a ~$2K mobile check deposit to clear (compare that to a bank like Wells Fargo where my mobile check deposits usually clear the next business day). Since this account doesn't include a bonus for opening it, I'm not including it in bonus calculations.
Santander Bank: $300 bonus
Santander Bank briefly offered a great deal last month where you had to open an account and maintain an average daily balance of $2,000 for 90 days to earn a $300 bonus. That's it — no direct deposit requirement, no debit card purchases required — just keep the average daily balance for 90 days. Keeping the account fee-free does require a single financial transaction every month (deposit, withdrawal, transfer, payment, etc). That is easy enough to automate, so this one should be very simple indeed.
Adding it up
In total between the bonuses already earned in 2020 and assuming the expected bonuses above post, that will be about $4,105.40 in bonuses this year (counting the Webull bonus as it was when it posted, though it has since increased in value by $50). That assumes we don't go after any further account bonuses this year. While that's not enough to retire to paradise, it more than covers our 2020 expected travel budget and adds to the nest egg.
Keep in mind that some of the bonuses above required very small deposits ($500 for the M&T bonus, two deposits of $250 for the Bank of America Bonus). Others required large deposits. In some cases, we had long-term savings built up over the course of years that weren't earning much interest in the bank in the current environment, but in many cases we were moving around the same pile or two of money (and in the case of accounts that require a direct deposit, the money isn't typically staying there for a long time).
Does all this add up to easy profit or too much complication?
There is no doubt that keeping up with the various new account requirements above takes some time and focus. That "free" money isn't free — it requires organization and attention to detail.
Is it worth the time to trigger bonuses like these? In my case, the answer is clearly yes. I won't dispute that these things take time and that I have put quite a few hours into earning these bonuses. On the flip side, I've put far fewer than $4,000 worth of hours into these efforts and feel pretty fortunate to be able to generate a not-insignificant amount of money with what is essentially an eye for detail and a few clicks of the mouse. We would ordinarily gladly put this extra money to use paying the expenses associated with travel like meals, gas, rental cars, etc. Given that we have no 2020 travel plans, we'll be glad to instead invest that money in our future.
On the flip side, just like the credit card bonus game isn't for everyone, neither is the bank account bonus game. I know that I'm lucky to have only missed out on one bonus this year — reports indicate that it can sometimes be difficult to get bonus payouts. Some folks won't want the hassle of keeping track of so many new accounts. As I have said before, my argument in favor of these relatively easy bonuses is that if I'm going to spend the time considering whether to earn 12x Hilton points or 6x Marriott points at the grocery store, I shouldn't ignore the chance to pick low-hanging fruit that I could use to buy large sums of those same points.
Indeed, considering the fact that the cash earned from these bonuses could be used to buy hundreds of thousands of points, we'll be glad to pack it away for a rainy day daydream. Here's looking forward to combining those daydreams with the above cash and turning it into real-life travel in a future that we hope is less distant than it feels.