It seems like Pathward (formerly Metabank) / Blackhawk Network got us an unwanted Valentine's Day gift: We've received a bunch of reports that many (most? all?) Metabank gift cards are no longer working for large purchases at numerous grocery stores as of Tuesday, February 14th. Smaller purchases may still be working, but YMMV to some extent based on your geographic area / stores.
We have heard from a number of readers and GC Galore has published about Simon cards no longer working at Meijer and other grocery chains for swipes of $500 or more and about larger multi-swipe transactions not working for multiple swipes at other grocery stores.
While what works and where is often highly region-dependent, chain-dependent, and even cashier-dependent, there seems to be a larger issue afoot here since reports are coming in across different regions.
When gift cards stop working for large grocery purchases, there is often some nuance. For instance, a swipe for the full card value may no longer work, but one for a few cents less than the full value might (or, as in this case, for just under half the value of a $1K Simon card). Multiple swipes over a split tender transaction may no longer work, but separate transactions may still work. It's always worth experimenting rather than assuming that nothing will work when whatever you have always been doing stops working.
Hopefully anybody stuck with a large quantity of cards had a backup plan and a backup to their backup. Also, while the change here appears to be widespread, I wouldn't automatically assume that it affects every single outlet the same way. I ran into a situation on Tuesday where one of my normal liquidation avenues didn't work. I didn't understand the error spit out, but I assumed it was a temporary glitch and moved on and went with another channel (that worked). Now I suspect that it was related to this change and perhaps I need to change up my amounts to see if that changes my results.
Obviously this is at the very least inconvenient and it could mean the closure of some liquidation avenues or an increase in cost (if you need to do so over multiple smaller transactions). We obviously don't know whether further limitations may yet come.
This situation is still developing, but we wanted to alert anyone sitting on a pile of gift cards to know that you may want to look for opportunities to use them while you can.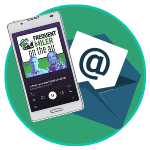 Want to learn more about miles and points?
Subscribe to email updates
 or check out 
our podcast
 on your favorite podcast platform.