Background: Million Mile Madness is the fun and foolish quest to earn a million points in one month. Throughout March, I'm doing everything I can to earn as many points as I can while keeping within my ethical boundaries. I don't expect that a million points will have been credited to my account by March 31st: points often take quite a while to get credited. Instead, I'll track all of the points that I expect, and I'll declare victory if the expected total is over a million. To keep things challenging, I will try to keep my net costs below $1,000.
All points earned and expenses incurred are tracked via this Google Docs spreadsheet.
See all Million Mile Madness posts (in reverse order), by clicking here.
On track, fingers crossed
On Friday March 1, I earned 516,000 points by signing up for a slew of credit cards (see "Million Mile Madness: The big churn story"). Since then, I've earned an expected 141,000 points in about one week's time. With three weeks left in the month, I'll exceed a million points if I can keep to my first week's pace. Can I do it?
Earning a million miles is a lot of work! I've been constantly watching deals as they pop up on SlickDeals and FatWallet. I've been buying gift cards for points and cash back. I've been researching items that could be (hopefully) easily resold. And, I've been buying things through shopping portals and with coupons to earn points and save money. All the while, I've been crossing my fingers hoping that all of my shopping portal transactions will post as expected.
Gift Cards
Thanks to past research I've done (and many readers have contributed to), I know of several opportunities to earn extra points from buying gift cards. For details about what we've found that works (and what doesn't), see the Frequent Miler Laboratory. So far, I've been buying gift cards from Kohl's, Sears, and Lowes.
Today, I'll give you a glimpse into my efforts with Kohl's…
Kohl's
Past experiments have shown that buying physical gift cards through points-earning portals at Kohl's results in points earned (this does not work with e-gift cards). So, I've been using my new credit cards to buy them. Once the gift cards arrive, I'll go back through a portal to shop at Kohl's, pay with the gift cards, and earn points again on the same money (a "double dip"). Since Kohl's offers up to 10 points per dollar, this is a great way to earn 20 points per dollar for all purchases made at Kohl's (actually 21 points per dollar, since I will earn points from the credit card used as well)!
Getting points for buying Kohl's physical gift cards is great, but it can take up to two weeks to get the cards. In order to get some of the gift cards more quickly, I looked to Cardpool, which is a site that sells discount gift cards and often has a good inventory of e-gift cards. Unfortunately, they were out of stock when I looked. So, instead, I ordered Kohl's e-gift cards from Staples after going through the cash back portal TopCashBack for 5.5% cash back. Staples' e-gift cards are shipped overnight from GiftCardMall. So far, so good: all TopCashBack transactions have shown up as pending within a couple of days.
My goal is to turn all of these gift cards into points and cash. I do that by shopping during big sales, and reselling what I buy through Amazon.com. I always start my shopping sessions in a points-earning portal, and I look for items on sale that are the same price or cheaper than on Amazon.com. Then, I apply the best coupon I can find. Currently (until March 13) there is a 30% off coupon for Kohl's cardholders. Despite having to pay sales tax, shipping (to Amazon), and seller fees, I can often break even or even make a profit, all while earning more points. A nice extra perk has been that from March 6 to March 10, Kohl's also offered $10 in Kohl's cash for every $50 purchased. I will use the Kohl's cash primarily to buy things for myself and my family that we need anyway.
So far I've purchased about $2000 worth of stuff that I plan to resell. Since I haven't yet received any of the physical Kohl's gift cards I had ordered, all of the gift cards used so far came from Staples where I earned 5X. Through the double dip, if all goes well, purchases made with these gift cards will earn a total of 15X. So, I will have earned approximately 30,000 points from these purchases. I haven't received any of the items yet, let alone had a chance to sell them, so it's too early to say for sure, but I think its likely that I'll make a cash profit as well.
Going forward, I expect to buy and use about $3000 worth of physical Kohl's gift cards through the 21X double dip technique. If all goes well, I'll earn over 60,000 points that way.
What I bought
I'm not going to tell! That is, I won't tell until I've finished selling everything I buy this month. It will be well into April, at least, before I'll list the details. There are a few reasons for this policy:
If I list specific items, there is a real risk that many others will try to buy and sell the same items. If so, we'll get in a price war with each other and ruin the deal.
I don't want to unfairly influence sales. If I list specific items bought, people might buy those items from me because of this blog. That would be cheating on my part. Another possible outcome would be that blogger-haters (yes, they're out there!) would try to sabotage my sales.
Either way, its best that I keep the details to myself for now.
So, that's the story of how I'm earning points from Kohl's. In future posts I'll describe my buy and sell efforts with Sears, Staples, Lowes, and elsewhere.
Learn about Million Mile Madness: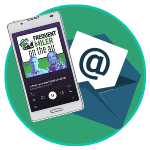 Want to learn more about miles and points?
Subscribe to email updates
 or check out 
our podcast
 on your favorite podcast platform.