Background: Early in January, I introduced the idea of challenging myself (and anyone foolish enough to join me) to earn a million points in one month. So, starting March 1, I'll do everything I can to earn as many points as I can while keeping within my ethical boundaries. As a reminder, I don't expect that a million points will have been credited to my account by March 31st: points often take quite a while to get credited. Instead, I'll track all of the points that I expect, and I'll declare victory if the expected total is over a million. Oh, and to keep things challenging, I will try to keep my net costs below $1,000.
Previous Million Mile Madness posts include:
Credit Card churn planning
In order to earn a million miles in a month, I plan to sign up for a bunch of credit cards with the best signup offers. These won't get me all the way to a million points, but they'll go a long way. First, though, I need to plan carefully.  Last week, I reported my plans regarding Chase credit cards.  In that post I said I would try for one personal card and two business cards.  A number of readers corrected my mistaken assumption that I can only qualify for one personal card at a time, but I still like my plan as reported.  Between sign-up bonuses and category bonuses, that plan could result in over 213,000 points and miles from Chase alone!
In this post, I'll discuss my thoughts and plans concerning American Express credit cards, and I'll follow up in future posts with similar discussions about Citi and others.
Current cards
I currently have the following American Express credit and charge cards:
Delta Reserve (personal)
Delta Platinum (business)
Business Platinum
Hilton HHonors (personal)
Starwood Business
Starwood (personal) cancelled September 2012
Of these, only the Business Platinum card is due soon for its annual fee.  With that card, I've already made sure to use this calendar year's worth of the $200 airline fee benefit and, last year, I used both the $200 benefit and the $100 Global Entry fee benefit, so I'm about ready to cancel the card.  One thing to keep in mind is that I have Membership Rewards points that I do not want to lose, so I need to pickup a new Amex card that is part of the Membership Rewards program.
Four credit card limit
Milesabound reported last year (and Dan's Deals reported recently) that American Express allows you to have as many charge cards as you want, but only up to four credit cards.  Of the four cards remaining after I cancel the Platinum card, all are credit cards.  So, I would need to cancel one or more in order to get new Amex credit cards.
I don't want to cancel either of the Delta cards since I use those to maintain high level elite status (see "Mileage running, from home").  I also don't want to cancel the Hilton card if I can help it since I just got it four months ago and I like having it for access to AXON awards and for its 6X bonus categories.  However, I would consider dumping it if I could replace it with the Hilton Surpass card.  A couple of Flyertalk threads, though, suggest that my best option is to wait about a year and then look for a targeted offer to upgrade to the Surpass card (see this thread and this one).
That leaves the Starwood card which, despite being an excellent card, I rarely use.  So, it is definitely a candidate for canceling.  That means I have room for one new Amex credit card and one or more charge cards.
My Plan
I would like to signup for the following offer:
Platinum Card from American Express Exclusively for Mercedes-Benz: 50K bonus Membership Rewards points after $1K spend, $475 annual fee (not waived), $200 per calendar year airline fee reimbursement, airport lounge access, and miscellaneous Mercedes-Benz benefits (that I'm unlikely to ever use).
Even though the Terms & Conditions for this offer do not mention the annual $200 airline fee credit given by other Amex Platinum cards, many have reported that it is a feature of this card.  So, I can easily get $200 back this calendar year, and another $200 back next calendar year before canceling the card.  That reduces the net cost of this card to $75 which isn't bad in exchange for 50,000 points and continued airport lounge access!
This appears to be a credit card, not a charge card, so I will need to cancel my Starwood card in order to get approved for this one.  I'll cancel my Starwood card this week in order to free up the possibility of getting automatically approved for the Platinum Mercedes card.
Why not more cards?
The main reason I'm not looking at more Amex cards is simply that I do not see any other great offers that I qualify for.  I would happily sign up for the personal Starwood card for 25K points, but I canceled that card fairly recently, and my understanding is that Amex doesn't like to give out bonuses a second time unless your prior card has been closed for over a year.  I also think its too soon after applying for the regular Hilton card to go for the Surpass card (correct me if I'm wrong!).  I also considered going for a Blue Cash Preferred welcome bonus (no longer available), but $250 (the bonus at the time) was not enough incentive for me to cancel another Amex card.
I'm not worried, though, there are plenty of great offers from Citi, US Bank, and Barclay's!  Stay tuned for my thoughts about those!  And, of course, if a new Amex offer surfaces by March 1, I'll be ready to change my plans.
Reader Feedback
Please let me know what you think about the above plan.  Do you have other ideas or suggestions?
Related Posts & Pages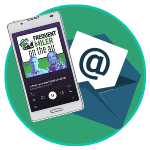 Want to learn more about miles and points?
Subscribe to email updates
 or check out 
our podcast
 on your favorite podcast platform.