About four months ago I signed up for the Citi Forward card which offers 5 ThankYou points per dollar for purchases made at restaurants, bookstores, movie theaters, video rental stores, and record stores (although, I haven't had many occasions this decade to visit the last two of those!). Shortly afterwards, I almost cancelled my other ThankYou card, the Citi ThankYou Premier which came due with its $125 annual fee. When I called to cancel they offered me a $75 statement credit after spending $1000 if I were to keep the card. Even though this wasn't an amazing offer, I accepted. I hadn't yet used my ThankYou points from that card and I didn't have an immediate use for the card's best redemption option: airfare.
Since then, I've been using my Forward card to rack up 5 points per dollar every time I'm at a restaurant, bookstore, movie theater, etc. It turns out that I have a surprising amount of spend at restaurants alone. I could also use the Forward card for all Amazon purchases in order to get 5 points per dollar there, but I still prefer to buy Amazon gift cards at office supply stores using my Chase Ink Bold card. More on that later.
Redeeming points for flights
The ThankYou Premier card has a nice redemption feature: when you redeem ThankYou points to book airfare, the points become worth 1.33 cents each (otherwise the best redemption is 1 cent per point). I've run into a few cases recently where domestic flight prices were too low to get value from using traditional airline miles, but I found that ThankYou points were a great alternative. For example, one flight I looked at priced out at about $200. To me, that's way too low to justify burning 25,000 airline miles (which is the typical price for a round trip flight). This was a short flight, so I could have done well to use 9000 British Airways Avios points to book the trip non-stop on One World partner American Airlines, but AA did not have saver level seats available. Instead, I turned to my ThankYou points and booked the flight for approximately 15,000 points all-in. The nice thing about purchasing flights this way is that the airlines do not treat these as award flights. With these flight, you earn airline miles just as with regular paid flights. So, not only did I get 1.33 cents per point value, but I also earned redeemable miles and elite qualifying miles from the trip.
Combining points
When I opened my Forward card account, I was under the mistaken impression that I would have to transfer points from the Forward card to the Premier card in order to get 1.33 cents value from the points. It turns out that I was wrong about that. Instead, the trick was to get my ThankYou account linked to both my Premier card and to my Forward card. It was already linked to my Premier card, so all I had to do was log into my ThankYou account and go to "My Sponser Accounts" and add the Forward card. Once done, points from both cards appeared in my account and all points were immediately available for redemption at 1.33 cents per point. Easy!
If you have family members with ThankYou points, but without a Premier card (or similar product), you can still help them get 1.33 cents per point value. They would have to transfer their points to you and then you would have up to 90 days to use those points before they expire. So, you could then book flights for them from your account.
Getting points through spend
Some people like to put all of their spend on the ThankYou Premier card because it is possible to get up to 2 points per dollar across all spend. That's pretty good since each point can be worth 1.33 cents so this is like getting 2.66% back on all spend! Unfortunately, in order to get that return you need to use the card regularly to book paid flights. Citi has a complicated flight rewards program in which you can earn flight points for flights paid for with your Premier card. The flight points can then be turned into ThankYou points but only up to one point per ThankYou point earned. Also, each year that you hold onto the card, you earn increasingly more anniversary bonus points up to 5%. So, if I understand this correctly, your total earnings on all spend can go as high as 2.1 points per dollar, which translates to 2.79 cents per dollar worth of flights. Not bad, but there are better options…
To me, the Forward card is a no-brainer for earning 5X points anytime I'm at a restaurant, fast food place, movie theater, or bookstore. Outside of those categories, a great option is the ThankYou Preferred card. Personal Finance Digest found a working link to an application that gives you a year of 5X earnings at gas stations, grocery stores, and drugstores. If this link sticks around long enough, it may be possible to do this for a year, then cancel and sign up again. I haven't signed up for this card yet, but it looks very attractive! Between this card and the Forward card, it's possible to earn 5X for the vast majority of day to day spend. And, when paired with a card like the ThankYou Premier, those 5X points become equivalent to 6.65% back in airfare.
Getting points through sign-up bonuses
Citi has quite a few ThankYou cards, and there are often bonuses from 25K to 50K available. Citi will only approve 2 cards within a 65 day period, but it should be possible to apply for two every 3 months or so and rack up hundreds of thousands of points quite quickly. I try to keep my "Best credit card offers" page up to date with the best offers as they appear.
Vs. Ultimate Rewards
Chase's Ultimate Rewards program has a very similar option for redeeming points. In this case you need one of the premium Ultimate Rewards cards such as the Sapphire Preferred, Ink Bold, or Ink Plus in order to get this benefit. With any of those cards, you can book travel with points and get 1.25 cents per point value. Unlike Citi, you get that value for any kind of travel booked through Ultimate Rewards, not just flights. That said, I prefer not to use my Ultimate Rewards points in that way. I usually get much more value from my points. Here are some examples:
Transfer points to Southwest Airlines for 1.67 cents per point value.
Transfer points to British Airways and redeem for short non-stop American Airlines flights. I've received over 8 cents per point value this way.
Transfer points to Amtrak and redeem for train rides. I typically receive 4 cents per point or more value this way.
Transfer points to United Airlines and redeem for international first or business class flights. I've received from 3 cents per point to as high as 15 cents per point value this way.
So, while I like ThankYou points for booking cheap flights, I love Ultimate Rewards points for their many great uses. That's why, when given the option of earning 5 ThankYou points per dollar at Amazon.com or 5 Ultimate Rewards points per dollar, I go with Ultimate Rewards. Yes, it means a trip to an office supply store to buy Amazon gift cards with my Ink Bold or Ink Plus card, but I think it's worth it.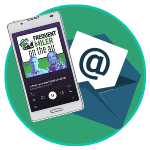 Want to learn more about miles and points?
Subscribe to email updates
 or check out 
our podcast
 on your favorite podcast platform.