Background: Early in January, I introduced the idea of challenging myself (and anyone foolish enough to join me) to earn a million points in one month. So, starting March 1, I'll do everything I can to earn as many points as I can while keeping within my ethical boundaries. As a reminder, I don't expect that a million points will have been credited to my account by March 31st: points often take quite a while to get credited. Instead, I'll track all of the points that I expect, and I'll declare victory if the expected total is over a million. Oh, and to keep things challenging, I will try to keep my net costs below $1,000.
Previous Million Mile Madness posts include:
Buy & Sell
As I reported in the post "Million Mile Madness: Strategy," one way to earn lots of miles quickly is to buy items through shopping portals to get points and then resell the items. Recouping your money when buying and selling is not easy: sales tax, shipping costs, and seller costs combine to make it difficult to get all of your money back. That being said, it is often possible to counter those costs by finding the best sales, by buying and using discounted gift cards, by finding and using the best coupons, etc. And, even if the end result is a loss of some money, it can be worth it if enough points are earned.
I'll have to wait until March to see what buy/sell opportunities exist at the time, but I can be proactive by doing some experiments and research now. Below are my thoughts about some of the best opportunities that are likely to exist in March. In each section, I point out where experimentation or research is needed.
Kohl's
For quite a long time now, Kohl's has offered 10 points per dollar through the Ultimate Rewards Mall. Past experiments and reader reports have been mixed about whether or not points are awarded when buying Kohl's gift cards, but they are pretty dependable about awarding points when using gift cards to purchase merchandise. While it is rare, I have in the past found items on sale at Kohl's for considerably less than the best price available at Amazon.com. So, I was able to profit financially while earning points by strategically buying and selling these items. Here is the plan for March:
Buy Kohl's gift cards at ~10% off through a gift card reseller (or earn 10X buying Kohl's gift cards through the Ultimate Rewards Mall)
Find heavily discounted merchandise that can be resold at a profit
Watch for a 30% off coupon for Kohl's charge-card holders (my wife now qualifies). These are common.
Go through the Ultimate Rewards Mall to Kohl's to get 10 points per dollar.
Pay entirely with gift cards (reader experiments have shown that it's possible to get the 30% off discount even if you pay 100% with gift cards)
Sell items at the best price I can get
Through the above steps, I should be able to earn lots of points for minimal cost, and I may even make a profit.
Experiments needed: I'd like to find out for myself whether or not I get points for buying Kohl's gift cards.
Sears
Sears usually offers at least 5 points per dollar through some online portals, but has been known to often offer 10 points per dollar (and once offered 15 points per dollar for a couple of days). With Sears, the following triple dip is possible:
Go through an online portal to buy physical gift cards in order to earn points (e-gift cards no longer result in points). Currently, the Ultimate Rewards Mall is offering 5 points per dollar at Sears.
Go through the portal again to buy merchandise and pay with gift cards in order to earn more points.
When buying merchandise, earn Sears' ShopYourWay Rewards points. Usually you earn the equivalent of 1% back towards future purchases, but often there are promotions in which it is possible to earn more.
Experiments needed: I've done the above Sears triple dip many times now, but there are still some variations worth exploring:
Can I get portal points by using a Home Improvement gift card to buy a Sears gift card? If so, I can use a Chase Ink card to get 5 points per dollar at Office Depot for buying the Home Improvement gift card, then I will earn additional points when using that card to buy a Sears gift card.
Can I get portal points buying Lands' End e-gift cards? If so, that could be a great alternative to buying Sears physical gift cards since they would arrive sooner. FYI, Lands' End gift cards work at Sears and Kmart since they are owned by the same company.
OfficeMax
By using an American Express business card with OPEN Savings, OfficeMax double dips are quite easy. When buying items at OfficeMax.com with your Amex business card, Amex gives you back 5% for purchases up to $250, and 10% for purchases over $250 (including gift cards). So, there are two good tricks here. One is to buy OfficeMax gift cards and then use them in-store to buy other gift cards. Some stores allow this, others do not. Alternatively, I could do the following:
Look for great OfficeMax sales / coupons.
Go through the best available online portal. Currently, the Ultimate Rewards Mall is offering 5 points per dollar.
Buy over $250 worth of merchandise using an Amex business card to get 10% back. Past experiments have shown that you do not get portal points when buying gift cards.
Earn OfficeMax rewards too.
Sell items at the best price I can get
Staples
There are a number of ways to save and earn points through Staples. Since Chase Ink cards offer 5 points per dollar at Office Supply stores, it's always possible to get 5X at Staples. And, it's usually possible to double-dip by placing orders through an online portal. Here are some other opportunities worth watching for:
Free after Rebate: Staples frequently has "free after rebate" offers. The best of these use Staples' "Easy Rebate" system which is done entirely online without the need to mail anything in. With some of these deals, it is worth buying things just for the credit card and portal points, regardless of whether you actually want the item purchased. And, sometimes it is possible to make a profit by reselling the items.
e-gift cards: Staples is unusual in that they sell gift cards to other merchants online and they usually award portal points / cash back for those purchases. Unfortunately, they started tacking on shipping fees for these gift cards which made the double dip not worth the effort. However, they also recently began selling e-gift cards without shipping fees. I bought a $25 Lands' End e-gift card through TopCashBack from Staples.com and I received the expected cash back (as pending so far) and I will receive 5X from Chase for using my Ink Bold. This can be a great way to initiate a double dip for purchases to other merchants besides Staples.
Coupons / Promotions: Staples often offers terrific coupons and other promotions. We'll have to wait and see what they offer in March.
Apple Products: Several readers alerted me recently to the news that Staples seems to be gearing up to sell Apple products. I don't know if this will happen in time for the March challenge, but if it does it would be very helpful since Apple products tend to resell very well.
Experiments Needed: Replicate my Lands' End e-gift card purchase experiment with a points-earning shopping portal.
Lowes / Home Depot
A while ago I wrote the post "Extreme savings at Lowes" based on advice from Sam_Goh. Sam lays out a series of discounts that can be stacked at Lowes or Home Depot. By stacking all of these savings and by earning points through an online portal, it should be possible to earn points through buying and selling, with little or no loss.
OpenSky
I never knew about OpenSky until the big promotion in which they offered 150 points per dollar through the MyPoints portal. When that offer expired, OpenSky continued to offer 50 points per dollar for a few months. While most of OpenSky's products are way overpriced, I was able to find a few reasonably priced items during their sales. I even tested a buy/sell scenario from beginning to end. I lost a total of $16, but gained 15,000 MyPoints. That's an excellent return! Things were looking even better when I discovered that OpenSky counts as a Home Improvement merchant so I can get almost 7% cash back by paying with my Cash+ card, or I could pay with a Home Improvement card (bought at Office Depot for 5X). Unfortunately, OpenSky recently disappeared from MyPoints. They still offer 15% cash back via BeFrugal and TopCashBack and 7X via AAdvantage eShopping, but nothing close to 50X. I'll keep an eye on them in March to see if they run any new great promotions.
Miscellaneous Others
Through the Frequent Miler Laboratory, many successful double dip experiments have been recorded. Whether or not these will be worth pursuing in March will depend on whether any portals offer high bonuses for these merchants and whether these merchants have any great discounts worth taking advantage of. Here are some of the merchants in which people have succeeded in getting points (or cash back) for both buying gift cards and using them:
BestBuy
Buy.com
Crate & Barrel
DrugStore.com (experiences have been mixed here)
J-Crew
North Face
Only Natural Pet
PacSun
Performance Bike
ShoeBuy.com
Sony
Note that prior success with any of these double-dips does not guarantee future success. Plus, just because something works with one portal does not mean it will work with others. Also, sometimes points are earned for buying a physical or e-gift card, but not for both.
Experiments needed: Try to figure out why some people are successful with a Drugstore.com double dip while many others (including myself) were not.
Reader Advice
What have I missed here? It wouldn't surprise me at all if there are many other great opportunities that I've either forgotten about or never knew. Help me out and comment below. Thanks!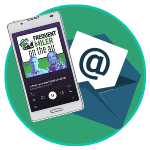 Want to learn more about miles and points?
Subscribe to email updates
 or check out 
our podcast
 on your favorite podcast platform.