Late this week, I'm going to Bangkok for a five day visit. I've never been before and I'm totally psyched about it! To tell the truth, though, Bangkok was an afterthought for this trip.
As a full time blogger who blogs about tricks for earning frequent flyer miles, I can easily and almost freely fly around the world whenever I want. I can do my "job" in an airport lounge, on a plane, in a hotel, and really anywhere. In theory, I'm free to work and play anywhere, anytime. In theory…
In real life, I have a family and responsibilities. My wife works full time and travels often for her work. My son is in school. My dog needs to be walked. I can't just leave anytime on my own without planning ahead. As a family, we do travel often, but usually just during school breaks. Recently, we've traveled international business class a few times (and loved it), but I really want to experience the best of international first class travel.
I would love to experience international first class with my family, but the logistics are difficult. Using miles, it is rare to find saver level award availability for three on the same flights. And, by restricting our availability to school breaks, award availability is even worse. I still expect that we'll find an opportunity someday, but its not obvious when. So, I sat down with my wife and a calendar to find a good opportunity for me to go out on my own. Due to family trips, planned events, and even Million Mile Madness, there were shockingly few dates available. The best dates we could find were near the end of January and into early February.
I worked with an award booking service to help me find the best flights (full details about the service to follow later). At first I made an open ended request: I wanted to fly the best airlines with the best service: take me anywhere. Later, I refined the request when I realized that my mom was going to be in Bangkok during the time that I could travel. I figured that I might as well meet up with her there! So, I'm going to Bangkok!
I rarely do trip reviews because I like to focus on tips and tricks for earning points and miles, but I'll make an exception here. My intention is to post mini reviews in-the-moment as often as possible. If a flight has Wi-Fi, I'll post my impression of the flight from the air. Otherwise, I hope to post shortly after arrival. If my airport experience is worth sharing, I'll post that too. In Bangkok, I'll let you know what I think of the hotel, and any attractions, events, or experiences that seem worth sharing. I've never before flown international first class, nor have I been to Bangkok. So, my perspective will be a bit different from those who have made a career out of writing about first class cabins and international travel. I expect you'll see some "wide eyed wonder" along with (hopefully very little) whining when things don't go quite right.
So, what are the special airlines and flights I have booked? I left a small clue in one of my recent posts, so I have no doubt that many readers will figure out one of my flights ahead of time. The rest, though, will be revealed as I go. The adventure will begin Thursday night. Please follow along!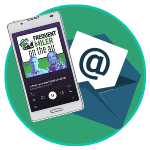 Want to learn more about miles and points?
Subscribe to email updates
 or check out 
our podcast
 on your favorite podcast platform.