Welcome to this week's Frequent Miler week in review around the web, where we catch you up on some of the interesting reads we've found around the 'net this week. From a month on vacation to Spirit's Big Front Seat, here are some interesting reads from around the 'net:
When friends ask about how I travel, I rarely describe my travel as being free. Points of course have value and there is opportunity cost in earning them. However, those aren't the only reasons I don't describe it as free — the fact is that I do occasionally pay for stays and/or flights. But I tell friends that I probably spend as much as they do annually on one vacation — I just utilize the right combinations of rewards, benefits, and good shopping to stretch the value of my money further. This post from The Timeshare Guru caught my eye because it isn't just about getting a great value from points — but rather it's about how they spent a little over $3,000 (an amount that fits within the normal range for a family of four) and got a month in luxury. Of course, some readers will look at this and say, but you can manufacture those points even cheaper. And you're not wrong — between our complete guide to manufactured spending and near-monthly guides to increasing credit card spend while getting most of it back, we maintain a list of ways by which you could earn the points for a couple of weeks at that Andaz Papagayo for even less. I'll agree that this vacation could have been even less expensive — but I think it's still a good example of spending less than the average for a family of four and receiving a vacation that looks well beyond average in terms of comfort and experience thanks to leveraging credit card benefits and understanding of hotel loyalty programs. And it was a fun read :-).
---
The phrase in this post from Gary Leff at View from the Wing that summed it all up beautifully was this: "American is adding a surcharge for their own poor award availability." To me, this change is ludicrous. For folks who don't live near an international gateway, frustration with dismal award availability will only be compounded by the frustration with finding award space only to discover that it requires too many connections to book as a single award. I prefer to use American miles with foreign partners and I am more intrigued by awards that connect regions outside of the United States (and I still find AAdvantage mles valuable for those purposes), but this change will no doubt indirectly make those trips harder to book by forcing a larger base of customers to hunt for opportunities to redeem for better value.
---
I often mention reselling as it was the activity that first drew me into the fold to earning miles and points. I've been reselling on Amazon since about the same time that Greg started Frequent Miler — but I have definitely slowed down my Amazon volume over the past two years. Part of the reason is that I've shifted focus to buying items in categories that don't lend themselves as well to Amazon, but part of it has definitely been changes that have made the marketplace less seller-friendly. In this post, Chuck at Doctor of Credit covers some new changes to return policy for sellers who are self-fulfilling orders that seem less-than-seller friendly on the surface. However, this email was a non-issue for me and I think this is a net positive. First, as someone who uses Fulfillment-by-Amazon, I've long been following these return policies already (thus it's a non-issue). Second, I think it will force out some of the scammy/poor-quality sellers as their return metrics skyrocket and profitability tanks thanks to the streamlined return process. That might actually make it easier to make a better profit on Amazon for the rest of us. Final takeaway: put some thought into finding items that people are not likely to want to return and returns won't be a significant issue.
---
True confession: I've never flown Spirit. That's not been a moral decision, but rather the fact that they don't fly out of the airport nearest to me – it just hasn't made sense for me yet. Between the fact that I've never flown Spirit and the fact that nobody writes about them, I really don't know much about the Spirit experience apart from the occasional news report of a brawl breaking out. And so I read Lucky's review of his recent first Spirit experience with great interest: what's it really like – especially from the perspective of someone who regularly flies much "better" products? The part that stood out to me the most was the fantastic value of seats up front on Spirit. After seeing Lucky's pics of Spirit's Big Front Seats, I'm not sure I could justify paying for domestic first class on a legacy carrier if Spirit were also an option — and I'm wondering if I've long been missing out on the chance to fly in the comfort I like for a price I can live with. Not only did the seat seem to be on par with the average domestic first class seat, but it was a heck of a lot cheaper in terms of the upgraded cost over economy (complementary elite upgrades on legacy carriers aside of course). Spirit might have just gained a customer in me!
---
That's it for this week around the web. Check back soon for this week's last chance deals.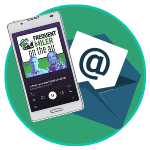 Want to learn more about miles and points?
Subscribe to email updates
 or check out 
our podcast
 on your favorite podcast platform.