Random thoughts today…
Citi refuses to take my money
This is the ongoing saga of my attempt to signup for a Citigold checking account (see this post and this post). I called yesterday to check on the application status and was told that my application had been declined. They couldn't tell me why over the phone but promised that a letter would be sent to my address. This is weird. I never thought I would have a bank account application rejected. Don't you want my money, Citi?
Given the fact that I tend to sign up for lots of credit cards, you might think the issue was my credit score. I don't think so:
Wow, that's too high. I need to sign up for more credit cards…
Here's what I imagine the rejection letter will say:
Dear Frequent Miler,

Thank you for applying for the Citigold checking account. Unfortunately, we were unable to approve your application for the following reason:

You publicly described our website as a "pile of crap"

If you believe this rejection was in error, please go stuff yourself.
Broken phone? Have it fixed or replaced for $25
I found this MileCards post interesting. Apparently, if you pay your phone bill with a Wells Fargo credit card, your phone is covered against damage or theft, up to $600 per incident. You don't even have to buy the phone with this credit card, you just have to pay the monthly bills with it. This is pretty awesome since phones have a way of falling onto hard and/or wet surfaces and now and then those falls result in cracked screens and/or useless phones. I'm tempted, but I don't see any Wells Fargo cards offering bonus points for phone plans (see "Best Category Bonuses"). So, using this benefit would mean giving up the automatic 5X Ultimate Rewards points earned by paying with a Chase Ink card. Instead, you would get just 1X (1 cent per dollar) from a Wells Fargo card. If you break your phone often, it is probably worth it.
Those IHG Into the Night free nights are awesome after all
In my recent post, "Into the Nights, or not?" I questioned the value of the 2 free nights option that the promo offers. Fortunately, Gary, from View from the Wing, did his homework and received confirmation from IHG that the free nights earned from this promo really are as good as the free nights that come with the IHG credit card. Details here: "IHG's New Promotional Free Nights: No Special Gotchas, They Really Are That Good."
Buy IHG points? Probably not
Through September 22, IHG is essentially selling points for half price through Points.com. The way it works is if you buy 50,000 to 60,000 points, they'll give you twice as many. So, if you buy 50,000 points for $575, you'll end up getting 100,000 points:
This is equivalent to buying points for .575 cents each. Is it a good idea? Probably not for most people. It only makes sense to buy points in advance if you are sure you'll use those points to good value. And, if you're that sure, you might want to consider going for the Into the Nights promo instead, especially since we now know that the 2 free nights option is worthwhile. But if you need the points right away, this could be a very good option.
San Diego FTU Advanced
On Tuesday I announced an advanced session of Frequent Traveler University to be held in San Diego in March (see "See you in San Diego?"). Publicly available rooms sold out in under two hours. In my announcement I told readers to comment if they wanted a chance to buy one of the few remaining held back tickets. Yesterday I put the comments through my secret selection algorithm (that is, I picked randomly) and came up with the following "winners" (in quotes since they still have to pay for the tickets). Even though the comment contents weren't used to choose winners, I thought it would be fun to publish them anyway:
Winner 1: Anita wrote:
Pick me!

Please

Why? I'm super fun. Helpful. Curious. Determined to maximize my points and miles earning. A loyal reader. Surely that's enough?

I have to miss Chicago this year for my daughter's Walk for the Cure (type 1 diabetes), and I'm missing the Phoenix one because my husband's schedule doesn't fully allow me to enjoy my hobby.
Winner 2: Rajiv wrote:
Pick Me! I live across the bay in Mission Beach a 15min walk/ swim/sail away from the event! I already have a lot of experience travel hacking with cards, mileage spend and using travel points for amazing trips such as a first class A380 trip on Emirates using 90K Alaska miles traveling LAX-DXB-HYD. I would love to learn more tricks and share my successes with like minded people.
Winner 3: Kay wrote:
Pick me!!! I was all booked set for the Phoenix meet up, only to be denied, now San Diego, too, would absolutely love the opportunity to attend and learn from a great collection of bloggers!
Winner 4: DrSifu77 wrote:
oh boy, oh boy, oh boy!!!!
Pick Me!
Looking to meet all the bloggers I follow.
Winner 5: Dany wrote:
Pick Me! Greg Davis-Kean, I want to be in the FTU seminar when you speak!
I've emailed a code for buying a ticket to each of the above winners. I'm looking forward to seeing each of you in San Diego!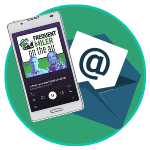 Want to learn more about miles and points?
Subscribe to email updates
 or check out 
our podcast
 on your favorite podcast platform.