You know that sinking knot in the pit of your stomach feeling when you realize you just made a big mistake? Yeah, that was me yesterday morning…
I keep a spreadsheet of credit cards I've opened and closed, and I was doing a bit of housekeeping on the spreadsheet yesterday. I had recently closed a couple of my wife's cards, but hadn't entered the cancellation dates into the spreadsheet. Luckily, with her Chase Ink card, I knew exactly how to find the date. I had requested her account be closed through the Chase Secure Message Center online. I knew that I would find the date of cancellation in Chase's Secure Message reply.
I logged onto my wife's business account to check the Secure Message Center. Long ago, I had setup my own online account to show both my business and personal cards (the key is to call and ask to have your personal accounts shown within your business log-in), but I had never done so for my wife. Instead, she has two Chase online IDs: one for her personal accounts and one for her business accounts.
Upon logging on, I was initially surprised to see approximately 90,000 Ultimate Rewards points in her account. After all, she only had one Chase Ink business card, and that was now closed. And, that's when that sinking feeling hit…
I had forgotten to move her points to another account before closing the card.
When you close an account that has an Ultimate Rewards balance, you lose the points. Apparently, though, the points continue to show within your account for some amount of time. I tried moving the points to my wife's Freedom card account, but received an error. I then tried my Freedom account and received an error again. Same with my Ink Plus card.
I didn't try transferring her points to a loyalty program because I didn't have any specific use for the points in-mind at this time. And, I was still hopeful that I could get the points back.
I went back to the secure message center to let them know what happened. I requested that the points be moved to my wife's Freedom account or to her husband's (my) Freedom account. Two and a half anxious hours later, they replied:
I see that your Ink Plus credit card ending in XXXX was
closed on April 10, 2015. The option to transfer the
reward points is not available at this time.

However, in order to better assist you with reopening your
business account, I have forwarded your request to the
appropriate department for review. You will receive a
response to your email within seven days.

If you require immediate assistance, please contact
1-877-882-1890 and one of my colleagues will be able to
assist you.

I appreciate your patience and understanding in this
matter.
The gist of the message is that the points are unavailable as long as the card is closed, but that it might be possible to reopen the account. At this point, I don't know for sure whether or not we'll get the points back. My wife wasn't available to call Chase (plus she really doesn't want to), and we haven't yet heard back from the "appropriate department" via the secure message center.
How to avoid this in the future
The simple solution for avoiding this problem is to not be an idiot like I was. Make sure to use or move your rewards before cancelling a card. To help avoid future idiocy like this, I added a page to the blog, under the Credit Cards menu: A checklist for cancelling credit cards. There, you'll find gems like these (with details):
Stop using the card well before cancelling
Check for other pending rewards
Keep or cash out rewards
Change automated payments
Update your credit card tracking spreadsheet
File or dispose of old card
What did I miss? You can find the checklist here.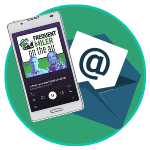 Want to learn more about miles and points?
Subscribe to email updates
 or check out 
our podcast
 on your favorite podcast platform.