Last Friday I described my upcoming trip to New York City and my $19 New York City challenge: I would travel on miles and points, and spend no more than $19 per day. Thanks to many helpful readers, my plans improved and firmed up. In the post "My $19 NYC challenge: plans taking shape" I described the updated plans. Today I'll quickly highlight the trip so far – what has worked, and what hasn't.
Detroit Airport Parking
This morning I dropped off my car at the Detroit Airport Comfort Inn. A new service called "Valet Connections" operates a desk in the motel's lobby. I had reserved ahead of time so I simply brought my reservation to the desk, signed a form, and left my car keys for the service to valet park. About a minute later the hotel shuttle appeared and whisked me off to the airport. I don't know how the return will be, but for getting to the airport this was about as easy as it can get. Thanks for the tip vxmike!
The only small surprise were these fancy posters taped to the windows of the hotel shuttle:
So I gave the driver a dollar, and I'll give him another dollar upon return. Maybe he can use the money to get new signs.
Lunch at the airport
I had hoped to use my Platinum American Express card to get into the airport lounge, but I was turned away with the statement (which is common in other contexts) "we do not take American Express". Priority Pass? No, not that either.
My flight was more than an hour away and I was hungry. Clearly I wouldn't be getting any free lounge snacks. Luckily I remembered the Amex $5 Free at McDonalds promotion. I just needed to tween a magic code and then I would get a $5 statement credit after spending $5 at McDonalds. I didn't really want to eat fast food, but the Southwest Salad I ordered wasn't bad (and the McDonalds employees were remarkably friendly). I used my Amex to pay $6, but I'll get $5 back, so this was truly a one dollar lunch. Thanks for the tip Bj1111!
Flight to LaGuardia
The American Airlines flight was delayed a half hour due to weather in New York. The flight was fine, but uneventful until we enjoyed a very bumpy descent and landing. All in all, it was well worth the 9000 Avios and $5 in taxes that I paid for the round trip flight.
It's worth noting that the flight was half empty. I haven't seen anything like that on a Delta flight in eons. Is this normal for AA?
Transportation From LaGuardia to the city
As many people promised, public transportation from LaGuardia to Manhattan was a piece of cake. As soon as I left the terminal I saw the M60 bus waiting for me (how did it know?). Directly across from the bus (inside the terminal) were a few MetroCard vending machines. I rushed over and paid $10 for a card worth $10.70 (they give a 7% bonus just like the Sapphire Preferred card's annual 7% dividend). Luckily the bus was still waiting for me, so I jumped on.
Thanks to detailed instructions from canucklehead, I knew what to do. At 31st and Astoria Blvd, I got off the bus, climbed the stairs to the train platform, and waited just a minute or two for the N train to Manhattan (I could have taken the Q train as well). My metroCard wasn't charged a second time since this was a free transfer. Like the AA fight, the train was mostly empty and I arrived in short order at the 34th St/ Herald Square station, which was just a block from my hotel.
The Hilton Garden Inn, West 35th St
There's not much to look at in this hotel. It has a small lobby and the ugliest elevators I've ever seen. Check in was quick and easy. As a Hilton Gold member I was given vouchers for free hot breakfast and a goodie bag containing two bottles of water and a bag of Cheese Nips. I found the room itself to be tastefully decorated, neat, and clean. The hotel's free wi-fi was surprisingly good. After catching up on my email, I darted down to the lobby for free cookies that are served from 5 to 9 pm. Afterwards, I made up for the calories by exercising in the fitness room (located in the hotel's cellar).
Dinner at Ethos Gallery
A friend and I had made 6:30 reservations for dinner. I walked the mile and half to the restaurant to meet him there. We each ordered water to drink. Instead of main courses, we ordered three small plates to share: Spanakopita, Grilled Calamari, and Steamed Mussels. The mussels were good, but not memorable. The spanakopita was very good. The calamari was excellent.
At the end of the meal, I handed the waiter my Restaurant.com voucher for $25 off. He took it without comment and returned with a check for the remainder: only $14. Even better, he brought a plate of complimentary desserts (apparently standard practice at Ethos Gallery). I used a $20 OpenTable check to pay the bill (Instructions on the check tell the restaurant to treat it as a traveller's check). My friend chipped in another $5 to ensure that the waiter received a nice tip (28% of the original total). My friend actually, came out ahead since he had made the dinner reservations through OpenTable for 1000 points. 1000 OpenTable points are worth $10 towards future meals, so he not only got a free meal, but came out $5 ahead!
The dessert was fantastic!
Budget Check
Here is what I've spent so far:
Detroit Airport parking: $18 (to be paid upon return) + $2 in tips: $20
Detroit Airport lunch: $1
Flight to/from NYC: 9000 British Airways' Avios + $5
Transportation between airport and downtown, and within downtown: $10
Tuesday evening dinner: $0
Hotel: 80K points for two nights + $0
Total: $36
My total budget is $57 across three days. So far, I have $36 accounted for. Today (Wednesday) I have a free Greenwich Village walking tour booked for 10 am and will likely tip the tour guide about $10. So, I'll have $11 left to cover lunch, snacks, and incidentals.
Follow Along
I've been tweeting updates regularly. If you'd like to follow along, make sure to follow me on Twitter. Even if you're not a Twitterer, you can view my updates here: http://twitter.com/frequentmiler.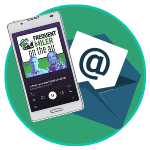 Want to learn more about miles and points?
Subscribe to email updates
 or check out 
our podcast
 on your favorite podcast platform.