A reader emailed me last night to let me know that the MyVanilla reloadable prepaid Visa card is now available for order online. For months the OneVanilla website showed the MyVanilla card as "coming soon", but now it shows the option to "upgrade to MyVanilla:"
What makes this card interesting is that it can be loaded using the same Vanilla Reload cards that I originally wrote about in the post "One card to rule them all." In fact, on the MyVanilla home page, selecting "How to reload" brings up a helpful page with the following:
Why we care
The same trick for earning 5X everywhere described in the post "One card to rule them all" can be done with a card like this, rather than a prepaid American Express card. One advantage over the Amex is that Visa cards are accepted in more places. Another advantage is that it is a true debit card so it can be used for PIN based debit transactions. This is helpful because some purchases require cash or debit. Also some transactions (such as paying taxes) have much smaller fees when a debit card is used.
Crazy fees
I had high (and unrealistic) hopes that the MyVanilla card would match the prepaid Amex card's fee structure. The Amex has no monthly fee, no inactivity fees, and no usage fees (other than ATMs). The MyVanilla card, on the other hand, has quite a few fees. Here are some of them (the full list of fees can be found here):
Dormancy fee: $3.95 per month (charges begin after 90 days of inactivity)
Signature purchase transaction fee: $0.50 per transaction
PIN debit purchase transaction fee: $0.50 per transaction
ATM Withdrawal fee: $1.95
Over the counter cash withdrawal fee: $1.95
I find it almost unbelievable that they will charge 50 cents per transaction for using this card as a regular credit card. That means that small purchases made with this card are assessed a huge fee as a percentage of the purchase. For example, if you buy something for $1, the fee is 50%. If you buy something for $10, the fee is 5%. For small purchases, these fees completely wipe out the 5X benefit (please read "One card to rule them all" if you do not understand the reference to the 5X benefit).
Doomed if you do, doomed if you don't
Thanks to this card's draconian fees, the only financially responsible way to use this card is for large transactions. Use the card to pay your taxes, get cash out via over the counter withdrawals, etc. However, we learned from the NetSpend card that large transactions get people shut down quickly (see "We're sorry, there is a problem with your account" and the comments to that post). However, where the NetSpend card is backed by MetaBank, this one is backed by Bancorp. So, it's possible that they have different rules about closing accounts, but I doubt it.
Other cards
I'll follow-up next week with a look at the various cards now available to load with Vanilla Reload cards. Fortunately, more keep popping up so we can keep hoping for a good no-fee compliment to the Amex Prepaid.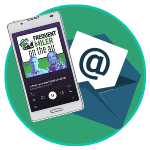 Want to learn more about miles and points?
Subscribe to email updates
 or check out 
our podcast
 on your favorite podcast platform.