Last week I challenged myself to visit New York City and spend no more than $19 per day out of pocket. I saw this as a fun challenge, and it was! For this three day trip, $19 per day meant that I could spend no more than $57 altogether. Here were the rules I set for myself:
Travel and dine in comfort. This meant no hitchhiking, no soup kitchens, and preferably no fast food.
Get good value from my points. It would have been very easy for me to pay for anything and everything with my Sapphire Preferred or Ink Bold credit card and then use my Ultimate Rewards points to pay the ensuing credit card bill. That would only get me 1 cent per point value from my Ultimate Rewards points. That's no good! I was determined to get value equal to or better than the Fair Trading Price.
Sightsee. I had to do something. Museums, walking tours, events, etc., all were fair game as far as I was concerned.
No help from friends. To keep the game honest, other than a meet-up dinner that was already paid for, I vowed not to accept meals or rides from friends (or strangers).
My trip
During this trip, I ate terrific meals, I spent a full day sightseeing, and I stayed in a nice hotel. I had a great time and never felt like I was sacrificing comfort or fun by traveling frugally. I'll post a full trip report soon.
All costs tallied
Altogether, my out of pocket costs came to almost exactly $57! Here's how the costs broke down:
Detroit Airport parking: $18 + $2 in tips: $20
Detroit Airport lunch: $1 (after getting $5 back from American Express)
Flight to/from NYC: 9000 British Airways' Avios + $5
Transportation between airport and downtown, and within downtown: $10 (I bought and used a MetroCard)
Tuesday evening dinner: $0 (thanks to a combination of a Restaurant.com voucher, and an OpenTable check)
Hotel + breakfasts: 80K Hilton HHonors points for two nights + $0
Wednesday Greenwich Village tour: $10 (free tour plus $10 tip)
Wednesday lunch: $6 (street vendor)
Wednesday walk through Little Italy & Chinatown: $0
Wednesday ride Staten Island Ferry: $0
Wednesday dinner: $0 (covered by BoardingArea for blogger meetup)
Thursday lunch at airport: $5
Total: $57
I arrived home having spent the exact amount budgeted!
Rules Broken
Despite my best efforts, I did break a few of my made-up rules:
No fast food: I thought I'd be able to use my American Express Platinum card to get into the Lufthansa club at the Detroit Airport to get a snack on Tuesday before my flight. No luck. Instead, I synched my American Express card to my Twitter account and tweeted a special code that gave me $5 back for a McDonalds purchase. Then, I bought a $6 salad for an out of pocket cost of $1.
No help from friends:
I turned down people who offered to buy me meals, buy me drinks, take me to events, etc., but I did let down my guard a couple of times:
After I treated a friend to dinner on Tuesday evening (for free!) I could have walked back to my hotel in the rain, but he offered me a taxi ride instead. I accepted.
On Wednesday, on a walk through Little Italy, a friend offered to buy me a cannoli. How could I refuse?
Thanks!
Reader comments, emails, and tweets made this trip possible. In fact, there were so many great ideas that I'm sure I could have enjoyed a much longer trip for only $19 per day. I'm looking forward to going back to try more ideas in the future!
Related posts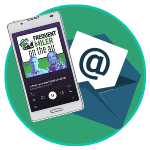 Want to learn more about miles and points?
Subscribe to email updates
 or check out 
our podcast
 on your favorite podcast platform.