Within the past few weeks, we've written and talked quite a lot about both Nearside Debit and Slide. Nearside is a free, FDIC-insured business banking platform with a Mastercard debit card that offers a generous, unlimited 2.2% cash-back rate on all eligible purchases in 2022.  There are no fees and no minimum balances. Slide is an app which sells first-hand gift cards, offering 4%-6% cashback on all the brands available in the app.
By stacking these with Topcashback's 6% cashback rate on Slide, we can get 14.2% cashback on almost all giftcards sold there(which includes Southwest and American Airlines). That can be increased even further at some retailers by using a second portal before making the final purchase. Yesterday I bought a $250 ticket directly from American Airlines and received $35.50 total cashback while still being able to book directly with American…something I place a premium on right now the frequency of travel disruptions.
Combining Nearside, Topcashback and Slide gives a baseline 14.2% cashback
The Deal
Get 14.2% cashback on most giftcards sold on the Slide app by funding a Slide account with a Nearside Debit Card and then clicking through Topcashback before buying the gift card.
Note – DO NOT PREFUND YOUR FIRST PURCHASE with Slide. You get 17% back from TCB on your first gift card purchase with Slide (up to $2000), but prefunding counts as a transaction, reducing the bonus to the normal 6%.
Referral Links
If you're new to the Slide app, you can get $5 off each of your first 4 orders when signing up through a referral link (and the person who refers you will also get $5 off each of our next 4 orders as well). Feel free to sign up with one of our links:
Stephen's Slide referral link.
If you're new to Nearside, you can get a $40 welcome bonus on your first $200 deposit when signing-up for a new checking  account and making the deposit within 7 days. This stacks with a referral link to get an additional $50 when spending $100 in the first 30 days on the debit card. See here for for more info.
Direct Link to $40 offer WITHOUT $50 referral bonus
The Process (assumes you already have Nearside and Slide)
Using your Nearside Debit Card, prefund your Slide balance for whatever amount your purchase will be. Cashback = $4.20
Let's say we're buying a $100 hammer at Lowe's.  We'd load $100 from Nearside (using the debit card, not the checking account number) and immediately get $2 back from Slide.  Nearside will give us $2.2.
Slide has a "sliding scale" for cashback on gift cards.  They pay 4% cashback if paying at the point of purchase, 5% cashback if pre-funding with a credit card and 6% cashback if pre-funding with a debit card.
DO NOT PREFUND YOUR FIRST PURCHASE with Slide. You get 17% back from TCB on your first gift card purchase with Slide (up to $2000), but prefunding counts as a transaction, reducing the bonus to the normal 6%.
Some people have been able to use PayPal Key for this step. This codes as debit, so is fine as well.
2. Go to the Topcashback Slide page on your mobile device and click through to Slide.
3. Buy a $100 Lowe's gift card on Slide. Cashback = $10 ($6 from TCB, $4 from Slide)
You can pay directly using the Slide app and clicking through to Lowe's or just buy the gift card.  If you buy a gift card, you will be given a gift card number and pin that is stored on the Slide app and can be used directly on-line or in-store.
So right now, in three steps, we've already received $14.20 in cashback on our $100 Lowe's purchase.  But, with some retailers, we can go even further.
4. Check Cashback Monitor for Lowe's. We see that MaxRebates is offering another 2% when clicking through to Lowe's. 
You'll actually see that Ibotta is at 6%, but they want to sell you a gift card as well, so the Lowe's gift card you already purchased won't do you any good there.
5. Click through the Max Rebates portal to Lowe's and buy your ridiculously expensive hammer.  Cashback = $2*
Some portals won't track if you make your purchase using a gift card. That seems to be few and far between in my experience so far.
Quick Thoughts
Stacking makes me a little giddy and this is a good one that I've found myself coming back to more and more. The combination of the 14.2% baseline cashback, a pretty good array of retailers at Slide and the simplicity of the whole process from beginning to end makes it a winner for me.
There are an almost infinite amount of possibiities to stacking cash back portals, some will be even better than this combination depending on offers and retailers.  It's worth exploring a bit to see what other superstacks are out there…just be sure to let us know when you find one! 😉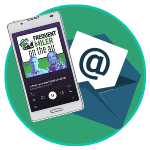 Want to learn more about miles and points?
Subscribe to email updates
 or check out 
our podcast
 on your favorite podcast platform.