On February 2, Delta launched "TakeOff 15" where Delta cardholders now get 15% off award flights.  Since then, there have been numerous anecdotal reports suggesting that Delta had pulled a fast one on us.  Many people believe that Delta has increased its standard award prices so that the 15% discount simply brings the value back to what it was before.  For example, a Frequent Miler reader reported that he had booked an award a couple of weeks before TakeOff 15 launched and found after the launch that the new award price was around the same price only after accounting for the new 15% discount.  Therefore, the argument goes, Delta indirectly kept award prices the same for cardholders and increased prices for everyone else.  The StarTribune echoes this logic with their post "Delta launches 15% off award travel for its credit card holders — but there might be a catch." (H/T VFTW)
Here's the good news: I collected data, crunched the numbers, and found that the 15% discount is real.
Overview of TakeOff 15
Delta now offers a 15% award discount to members who have a Delta Gold, Delta Platinum, or Delta Reserve card.  This discount is called "TakeOff 15."  Discounts do not apply to itineraries that include partner flights, but otherwise they are applied across the board.
Delta long ago abandoned award charts.  Instead, award prices closely align with cash prices.  As cash prices go up, so do award prices.  When people complain that award prices for specific flights went up after TakeOff 15 was introduced, I suspect that cash prices had gone up too, and that is the true reason for the award price increases.
The best way to determine whether Delta has raised award prices is to see if the relationship between the cash price and the point price has changed.  Another way of putting it is that we can look at the per point value of Delta SkyMiles for non-cardholders both before and after TakeOff 15 was introduced.  If Delta has really raised award prices, the per point value should have gone down.  It didn't.
TakeOff 15 Analysis
Two years ago, in an effort to determine the value of Delta SkyMiles, I collected data comparing Delta's cash rates to their award prices.  I looked at flights to and from a number of popular domestic airports and recorded cash and award prices.  So, I now repeated the data collection, but this time I also recorded the award price both with and without the 15% discount.  Full details can be found here: What are Delta miles worth? (towards domestic economy flights).
Calculations
For each flight, I recorded the following pieces of information:
Cash price
Cash ticket miles earned (Non-elite members earn 5 miles per dollar)
Award miles required (this year I recorded both the discounted and non-discounted price)
Award fees ($5.60 TSA fee)
With the above, I calculated the Cents Per Mile (CPM) value of Delta miles, as follows:
CPM = 100 x (Cash price – Award fees) / (Award miles required + Cash ticket miles earned)
By including the cash ticket miles earned in the above formula, we calculate a more conservative value for our miles.  The idea is to account for the fact that when you book an award ticket you give up earning miles from that flight and so the cost in miles to you is both the award cost plus the miles not earned from a cash flight.
Results
2021 Median Cents Per Mile: 1.20
2023 Median Cents Per Mile (no discount): 1.26
2023 Median Cents Per Mile (with 15% discount): 1.47
As you can see above, the value of SkyMiles actually went up a smidge from 2021 to 2023 for people who are not cardholders.  The difference is so small that I'm not ready to argue that the value has really increased, but it's good evidence that Delta hasn't devalued awards for non-cardholders.  Meanwhile, after the 15% discount, the value of Delta SkyMiles has increased by the amount we would expect if the discount were real.
Conclusion: TakeOff 15 is legit
While it's true that my analysis is limited to domestic economy flights, the pattern is crystal clear.  The value of Delta SkyMiles for non-cardholders hasn't gone down.  If anything, the value has increased by a smidge.  Meanwhile, the value for cardholders has jumped by the amount one would expect if the new feature is a true 15% discount.
Keep in mind that there is a lot of variation in award pricing relative to cash rates, so don't expect every 15% off award to deliver a value of 1.47 cents per point.  Instead, you may see values range from below a penny a point to over 1.8 cents per point.  On average, though, you should get around 1.47 cents per point value.  That's a big improvement from before!
I anticipate that people will argue that Delta may not have dropped the hammer yet, but they will.  True, that's possible.  Fortunately, the above analysis is pretty easy to repeat.  So, we'll be watching you Delta.  For now, Delta gets my enthusiastic thumbs-up for the new TakeOff 15 feature.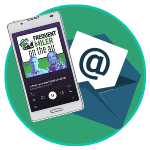 Want to learn more about miles and points?
Subscribe to email updates
 or check out 
our podcast
 on your favorite podcast platform.