To kick off my 3 Cards, 3 Continents trip, I flew with an airline that I doubt anyone would've predicted ahead of time – Norse Atlantic Airways.
Norse Atlantic Airways only began flying in June 2022 and the specific route I was taking – JFK to London Gatwick – only started on August 12, 2022. My flight was on September 12, 2022 and so I experienced it only a month after its launch.
So how was the flight? It was decent, especially for the price I paid (more about that in a moment). While some areas of the experience could be more polished, it's a good way to get from New York to London in relative comfort for a low cash price and I'll definitely consider it when returning home to the UK in the future.
Here's a full review of my Norse Atlantic Airways flight in Premium Economy.
How Much I Paid For The Flight
Norse Atlantic Airways has economy and Premium Economy cabins – no business class. Pricing varies depending on your dates of travel and when you book; my Premium Light ticket cost $228.80 one-way from JFK to LGW. Premium Light includes an underseat bag, a carry-on bag, premium boarding, priority check-in and two meal services.
Be sure to check out my earlier post about booking Norse as I provided more details there about pricing, different pricing levels and benefits for Premium Economy, etc.
Check-In
The check-in experience was one of the areas that was less polished than I'd have hoped for. It wasn't terrible though and now that I know the procedure, it'll be much smoother if we fly with them in the future.
I'd held off on checking in for my flight in the hope that I'd get an aisle or window seat rather than the one remaining middle seat it was wanting to auto-allocate me when trying to check in earlier that morning. I decided to just go ahead and check-in while in the Uber on my way to the airport and did indeed get allocated the one remaining middle seat in the Premium Economy cabin, albeit one that was in the front row of the cabin which would have a little extra legroom.
I got a digital boarding pass and headed towards security at JFK Terminal 1. The airport worker checked my boarding pass and wouldn't let me enter, vaguely waving off in the distance as though I needed to go somewhere else. I walked off in that direction, but there was no other security line.
There had been a sign where she'd been standing that said Norse Atlantic Airways passengers should enter the security line I'd already tried. I therefore went back but she waved me off again. I tried ascertaining where I was supposed to go and she wouldn't explain. Thankfully one of her colleagues explained that I needed to go to the Norse check-in desk to get a paper boarding pass. This was a little frustrating as it would've been nice for her to have told me that initially rather than waving in the opposite direction of the desk I needed to go to. It was also a little disappointing that the email from Norse didn't state that I'd either need to print off the boarding pass myself or get one from their desk.
The Norse Atlantic Airways check-in desk had a bit of a line, but it thankfully didn't take too long for them to work their way through the passengers.
Something else that was somewhat frustrating was that the Norse check-in area has a desk dedicated for Premium Economy passengers, but that's not at all well-marked. I'd gotten in the regular line and it wasn't until I was at the front of the line that I noticed there was a separate section for Premium Economy passengers. To get to that line, go to the far end in the above photo beyond where the two people with backpacks on the right are standing and you should see the separate line – or lack thereof given that no one else was in the Premium Economy line.
Boarding
Now that I had a physical boarding pass I was allowed to enter the security line. Unfortunately Norse Atlantic Airways wasn't – at the time of my flight in September 2022 – participating in TSA PreCheck, therefore meaning I had to go through regular security, taking out my laptop, liquids, etc.
That process didn't take too long and I headed to the Primeclass lounge which is part of Priority Pass – see my mini review here.
After about 1.5 hours in the lounge, I made my way to the gate. Boarding was delayed by 25 minutes, but they eventually called up Premium Economy passengers as they get priority boarding.
Well, they sort of started boarding us. We made our way down the jet bridge, only to have to wait another 5 minutes or so to get on the plane as they apparently weren't quite ready for us.
Norse Atlantic Airways Premium Economy Seating
Once on board, economy passengers headed to the right, with their cabin being in a 3-3-3 configuration.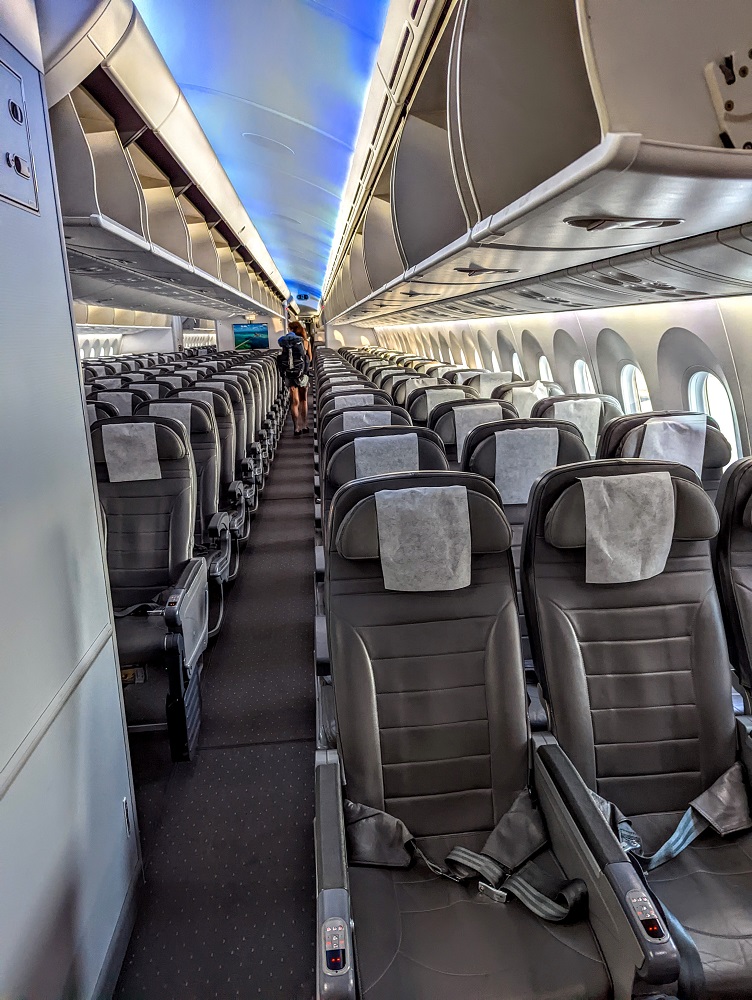 Premium Economy passengers meanwhile headed left, with this cabin being in a 2-3-2 configuration.
I'd been assigned a middle seat in the front row of the cabin, with another passenger to my left but no one to my right. The seats were wider than I'd been expecting, so even if we were sitting three abreast it wouldn't have felt as cramped as I might've imagined.
Rather than having seatback entertainment, each seat in Premium Economy has its own screen that lifts up from beneath an armrest. The selection of movies, TV shows, games, etc. wasn't as comprehensive as some airlines, but you should still be able to find something to entertain you on the 6-7 hour flight across the Atlantic.
One minor quibble with the IFE is that there wasn't an 'All Movies' or 'All TV Shows' option. Instead, you had to scroll through the options by genre – comedy, drama, action, etc. Movies often spanned more than one genre, so the same movie was often listed under multiple genres which meant it took longer to scroll through everything to decide what to watch.
n.b. In order to lift up the TV screen, there's a lever you have to pull to release it.
The IFE had a touchscreen, but there was also a small controller to adjust the volume, call a flight attendant, etc.
The other armrest held the seat's tray table which is a good enough size to be able to work on a laptop if you want.
Each seat has a power outlet installed down to the left, while there's a USB outlet on the IFE screen for charging your phone.
If you're like me and dislike when airlines don't have air nozzles, never fear – Norse has you covered.
The legroom in Premium Economy seemed pretty good. I had a little extra legroom due to being assigned a seat in the bulkhead.
Pre-Departure
Before taking off, flight attendants came through the cabin and offered a pre-departure beverage of water or juice.
As mentioned earlier, all Premium Economy fares include two meal services. I wasn't sure what this would entail, so I took a look at the in-flight menu that was in the pocket in front of me.
As it turns out, our meals weren't listed in this menu, so it's more pertinent for passengers sitting in economy who want to buy food and drink on board, although I'm sure Premium Economy passengers can also purchase food from this menu.
Flight attendants also came around with a blanket before we took off. The blanket wasn't very thick, but I prefer thinner blankets like this when not in lie-flat seats seeing as cabins are normally kept warmer than I'd prefer.
The restroom was your standard airplane restroom, so not much to comment on regarding that.
The Flight Itself
Once we were in the air I moved over one seat to the right so that the passenger to my left and I had a little extra space. The only person in the row behind us was in the middle seat, so this also meant I could recline my seat without having to worry about it affecting her like it would have if I'd remained in the middle seat. (Side note: Divyesh commented on my previous post that when checking in at the Premium Economy counter you can ask them to put you in a window or aisle seat rather than a center seat. I hadn't seen their comment until after I'd checked in, but it's good information to know for the future.)
About an hour after take off the flight attendants started the drinks service. The Premium Economy meal service includes beer or wine, so I asked for red wine. As non-business class red wine goes, this was fine.
Meals were then served about 20 minutes later, so some way into the flight given that it was blocked for ~6.5 hours. There was a choice of two meals – chicken and rice or beef and rice. There wasn't a vegetarian option offered; this might be something you can request ahead of your flight, but I didn't check during the booking process. The seatback menu listed a couple of vegetarian light meals, so those are hopefully an option otherwise.
I asked for the beef and rice option which came with a few pieces of carrot and not as much kale as the photo below makes it appear. The meal was better than I expected, although a little salty.
We were also offered a fresh, warm bread roll which was far better than the cardboard-tasting pre-packaged bread rolls often served on flights. The dessert was a berry cheesecake-esque dessert minus the biscuit crumb base and tasted good too. Overall, it was a good meal for being in Premium Economy.
Once the meal service was done, the lights were dimmed in the cabin. It's a red-eye flight and I wanted to try to get some sleep, so I reclined my chair. The photo below doesn't give a great sense of it, but there was enough recline to be more comfortable than in economy even though it wasn't lie-flat. Note that there's a foot rest at the bottom of the seat that can fold out.
I didn't get a huge amount of sleep for a couple of reasons. First, I'm a night owl – I'm normally up until about 3:30am ET no matter which US time zone we're in at any given time. That meant I wasn't very tired given our flight departed at about 6:45pm ET.
I was also a little unfortunate with my seating in the bulkhead. When reclined, my feet kept getting knocked by the curtain when flight attendants would go back and forth, as well as when passengers would use the rest room. While it's not like anyone was physically bumping into me, the sensation of the curtain hitting my feet was enough to frequently disturb my sleeping attempts. I was wearing flip-flops though, so if you're wearing close-toed shoes that's likely to be less of an issue and it's only potentially an issue when you're sat in the bulkhead seats on either side of the aisle.
About 90 minutes before landing we were served our second meal. The quality of this second meal couldn't have been further removed from the decent meal we were served at the start of the flight. It consisted of a bagel with turkey and a half-inch layer of garlic & herb cream cheese and what I think was a blueberry muffin.
The bagel was hands-down the worst bagel I've ever had. The bagel could've crawled through the Sahara Desert for days and it still shouldn't have been as dry as it was. I don't have a sophisticated palate and don't like leaving food on a plate, but I couldn't even finish half the bagel before refusing to eat any more of it – it was that bad.
The muffin wasn't much better. It had a teenie bit more moisture, but very little flavor. I think they might've intended for it to be a blueberry muffin as I spotted what appeared to be a blueberry inside it, but that was the only one. If it wasn't a blueberry, I don't want to know what I ingested. Again, I didn't finish it off as it wasn't very good.
The rest of the flight was uneventful and we landed at Gatwick airport about an hour later.
Final Thoughts
Flying Norse Atlantic Airways in Premium Economy is a decent way to cross the Atlantic given the price point. The seat is more comfortable than you'll get in economy and they have enough in-flight entertainment options to get you through the 6-7 hour flight.
The meal service is mixed. The first meal I was served was good and was on a par or slightly better than meals served in economy with other airlines. The second meal though was appalling and would be better described as mealy rather than a meal.
Service was perfectly fine. The flight attendants weren't overly warm, but they weren't rude either – they were what you'd expect on a transatlantic flight in a non-business class cabin (or, to be honest, the kind of service you'd expect in a business class cabin too with some airlines).
There are some areas where Norse Atlantic Airways could improve. The first meal service felt like it was served later than it should be and the second meal service was served earlier than felt necessary. The check-in experience was a little confusing as they don't advise that you need a physical boarding pass to get through security at JFK and the Premium Economy check-in line wasn't visible until I was at the front of the economy line. Their non-partnership with TSA PreCheck means getting through security might take a little longer, while the boarding process didn't run particularly smoothly.
Those are all relatively minor quibbles though. I paid less than $230 for my ticket, so I feel like I got great value being able to fly Premium Economy with a carry-on bag across the Atlantic in a comfortable seat with two meals provided.
What's particularly nice about Norse Atlantic Airways' pricing is that you can buy one-way tickets cheaply. Most airlines require that you book round-trip paid tickets when flying from the US to Europe unless you're willing to pay more for a one-way ticket. It could therefore be useful being able to book a cheap one-way ticket to or from Europe if you're flying a different airline in the other direction.
Overall, I was satisfied with my experience flying with Norse Atlantic Airways and am certainly open to flying with them again in the future.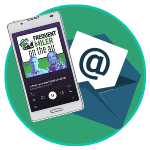 Want to learn more about miles and points?
Subscribe to email updates
 or check out 
our podcast
 on your favorite podcast platform.