After visiting Muscat, Oman, I flew next to Bangkok on Oman Air and spent a day running around the city in the sweltering heat. Some may remember that I intended to visit Bangkok during a long layover on my 40K to Far Away trip, but the cheap Air Asia economy class ticket I had purchased from Tokyo to Brisbane, Australia did not allow entry to Bangkok. On this trip, I therefore made it a priority to, uh, "Thai up" loose ends with a stop in Bangkok :-).
I spent my day in Bangkok first visiting the famous Pak Khlong Talat flower market in Bangkok. I only took videos of the flower market, but you can see some clips of it in the brief Instagram reel that Carrie put together of my stop in Bangkok.
View this post on Instagram
In addition to the flower market, I visited the Grand Palace complex. I have visited the Grand Palace before on previous trips, but I find it so breathtakingly beautiful that I was actively excited to see it again. It didn't disappoint. I'll let a few photos do the talking. For an entry cost of 500 Thai Baht for foreigners (about $13 in USD), it is well worth it if you're ever in Bangkok and you enjoy looking at beautiful buildings. A note for those new to Bangkok: don't believe the people who will inevitably approach you on the streets surrounding the Grand Palace telling you that the palace is "closed to foreigners today" or "closed until later for foreigners". They're just trying to get you into a Tuk-Tuk to go to a gift shop somewhere. If you've Googled the hours and you know it's open, then it's open. I've been approached by people running this game each of the several times I've been (including on this trip).
You can Google plenty more incredible shots of the grounds. I was glad to visit again.
I also extensively window-shopped street food on my walks around Bangkok. I bought something being baked on the street that was like a bag of soft cookies that were delicious. I also had a curry dish that was actually a little disappointing. Nonetheless, I love the street food scene in Bangkok and I look forward to getting there again someday despite the extreme heat and the fact that I was carrying my backpack the entire time.
Thankfully, Google maps makes navigation super simple. I was able to take a train into the city for about $1 and my bus back to the airport was 60 THB (about $1.58). I also enjoyed a tuk-tuk ride to pick up another mode of transport.
One quick tip for those arriving at Bangkok (BKK) airport and looking to hit an ATM to have cash on hand: I walked around for quite a while to avoid these "Currency Exchange" ATMs. I didn't actually check to make sure this is the case, but I believe that these ATMs use Dynamic Currency Conversion to rip you off on the exchange (giving you Thai Baht and "converting" it to USD for you so that your bank sees a withdrawal in US Dollars that is at a poor rate — costing you more money than typical ATM fees). I assume this to be the case since these were all labeled with "Exchange" and the blue "Euronet" ATMs in Europe pull a similar trick.
For a while, those ATMs were the only things I saw, but if you continue to hunt around near the metro / train station at the airport, you'll eventually find regular bank ATMs. These ATMs of course charge a withdrawal fee, but if you have a debit card (like the Schwab debit card) that reimburses ATM fees, that's a non-issue. I have an old SoFi Money account grandfathered in with the same deal, so I used that on my trip and automatically received ATM fee rebates with each withdrawal I made (note that this only applies to those who opened their accounts several years ago and never upgraded to the new SoFi Money account that earns interest; get a Schwab debit card if you don't have a grandfathered SoFi card).
My stop in Bangkok was quite short, but I enjoyed it nonetheless. I spent very little to get into the city and back, enjoyed seeing some sights I love, and I perused the street food and took in all the aromas. It was just the taste of Bangkok that I wanted — I can't wait to get back again.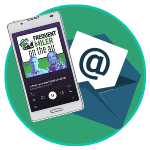 Want to learn more about miles and points?
Subscribe to email updates
 or check out 
our podcast
 on your favorite podcast platform.