Both Staples and Office Depot / Office Max are offering free lamination of your COVID vaccination card (Staples is currently offering this through May 1st and Office Depot through July 25th). I'm not sure whether or not it's wise to laminate the card since it is possible that another booster shot will be necessary and I don't know whether it could cause any issues with acceptance (probably not?), but the free price tag may be worth it for folks who know they need a way to protect it sooner rather than later.
The Deal
Popular office supply store chains are offering free lamination of your COVID vaccination card as follows:

Staples is offering free lamination in-store through May 1st with coupon code 81450
Office Depot / Office Max is offering free lamination in-store through July 25th with 52516714.
Quick Thoughts
The timing here may be right for some readers headed to a Staples store anyway next week for fee-free Mastercard gift cards. I haven't yet had the opportunity to be vaccinated, so I haven't seen the card in person, but from pictures I've seen it looks pretty flimsy and the kind of awkward size that is likely to get bent up in a travel bag (my yellow fever vaccine card is half torn to shreds at this point and it is more compact than the COVID card). That is to say that I think the idea here to find a way to protect the card makes a lot of sense.
That said, I think I'll probably hold off until I find a different solution. It is possible that a booster shot will be needed down the road and I'm not sure whether that would then require me to get a new unlaminated card or to carry two cards if they can't write on the original, so I will continue to look for another solution (I'm thinking something like what is used to hold sports cards – hard enough to keep it from bending in my bag but possible to open to take the card out). Here's hoping I can protect my vaccination card from the daily messy mishaps of a toddler and infant until I find a good solution (or that I find that solution before I get vaccinated!).
H/T: Johnny Jet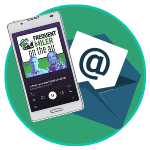 Want to learn more about miles and points?
Subscribe to email updates
 or check out 
our podcast
 on your favorite podcast platform.