Recently I detailed how to "pay federal taxes via credit card for free." The process works, but is fairly complicated: first buy Amex gift cards and get cash back, then use those Amex gift cards to buy $1000 Visa gift cards, then use those Visa gift cards as debit cards to pay taxes at a very low rate. If you need to use more than two debit cards, then you need to call in to use those cards since the web sites will accept only two.
By doing all of the above, the cash back you receive offsets the costs of buying gift cards and paying taxes. But it can be a pain in the you know what. Luckily, thanks to new developments, there's now an easier option…
Reduced Amex fees
Last week, a reader named Robert alerted me to the fact that PayUSAtax now charges only 1.89% for American Express credit cards. Previously, 2.29% was the best available rate for Amex cards. This is big news because we can now simplify the process and still pay almost nothing for taxes (I'll detail the steps below).
A full list of service providers that accept credit cards for paying federal taxes can be found here: Pay Taxes by Credit or Debit Card.
TopCashBack joins the game
Another new development worth sharing is that TopCashBack now offers cash back for American Express Gift Cards. They currently offer 1.5% cash back, which slightly beats Big Crumbs which currently offers 1.4% cash back. Full details can be found here: More cash back for Amex gift cards.
Pay Taxes inexpensively
Thanks to the two new developments listed above, it is now possible to pay taxes for considerably less than 1% in fees. Here's how.
1. Go through BigCrumbs or TopCashBack for cash back
Log into either BigCrumbs or TopCashBack. Search for American Express Prepaid and Gift Cards. Click through to the American Express Gift Cards store.
2. Buy gift cards
There are two versions of the American Express gift card shop. One is intended for personal use and one for business. Only the personal one is available through TopCashBack, but both are available through BigCrumbs. (Edit: both personal and business cards are available through both portals). The personal site limits orders to $5000 per month whereas the business site limits orders to $75000 per month.
In order to minimize fees, I recommend buying fewer, larger gift cards. The limit, per card, is $3000. For example, if you want to pay about $5000 in taxes, then buy two $2500 cards. If you need to pay less than $3000, then buy just one card.
Reduce shipping charges by $5.95 by using the promo code AFLQ12013.
Pay with the best rewards credit card available, but do not pay with a Citibank card as Citi treats these purchases as cash advances. If you're unsure about whether your credit card company will treat these as regular purchases, call to set your cash advance limit to zero before purchasing gift cards.
3. Use gift cards to pay taxes
Go to PayUSAtax to pay your federal taxes using your American Express gift card as a credit card. PayUSAtax will charge you 1.89%, so make sure to have that much available on your gift card. For example, if you have a $3000 gift card, then you can pay as much as $3000 / 1.0189 = $2944.35. [Note, I haven't had a chance to test this part out fully yet. Some merchants put a small hold on a credit card first to verify the card before accepting payment. If this happens here, you may need to make a slightly smaller payment].
4. Calculate cost
If you go through TopCashBack and buy a $3000 gift card using the shipping promo code, you will pay a total of $3006.95. Then, you should get $45 back from TopCashBack (it may take a few months to become payable), for a total cost of $2961.95. With your gift card, you will be able to make a tax payment for $2944.35. The rest of the gift card will be used to pay the processing fee.
Total cost: $2961.95
Taxes paid: $2944.35
Cost to pay taxes = $2961.95 – $2944.35 = $17.60
Cost as a percent of taxes paid = $17.60 / $2944.35 = .6% (i.e. considerably less than 1%)
.6% is not free, but the points or miles earned when buying the gift cards are most likely worth considerably more. Even with a basic 1% cash back card, you would make a profit!
If you go through BigCrumbs rather than TopCashBack, the savings are similar. The total cost to pay $2944.35 in taxes comes to $20.60, which is only .7%.
[Hat tip to Eddie and bluto for correcting my math!]
Related posts and links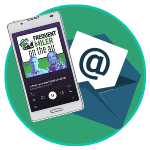 Want to learn more about miles and points?
Subscribe to email updates
 or check out 
our podcast
 on your favorite podcast platform.