UPDATE: DEAL IS DEAD. Sort of. Between 10:30 and 10:50 am EST today (Jan 17), OfficeMax updated their registers to correctly apply only one $10 discount to each purchase of two cards. Now, the purchase of two $50 MasterCard gift cards costs $99.90 instead of $89.90. This isn't a terrible deal, but it's not the great deal it was before.
Until Saturday, January 19th, OfficeMax is offering $10 off each $50 MasterCard when you buy two.
Based on the in-store ad (shown above), it seems that you should get $10 off when you buy two $50 MasterCard gift cards. In fact, though, you get $10 off each MasterCard for a total of $20 off. Since each card comes with a $4.95 activation fee, the total cost to buy two cards comes to $89.90. In other words, you get a 10% discount when buying money!
My experience
Multiple readers reported this deal to me, so I visited OfficeMax yesterday to check it out. The gift card rack had oodles of $50 cards available (yes, "oodles", I counted). Initially I bought two cards and, as readers had told me, the total automatically came to $89.90. No coupon or pleading was necessary. I paid with my Ink Bold card in order to get 5 points per dollar from the purchase.
After a visit to Target, I returned to OfficeMax to conduct a couple of experiments. I wanted to see 1) could I pay with the same MasterCard gift cards I had just bought? And, 2) could I buy more than 2 at a time?
I brought four cards to the counter and asked the teller to ring them up in two separate transactions. She was more than happy to do so. With the first transaction, I swiped one of my $50 gift cards to pay, and the register automatically drained that card of its $50 and then asked me for the final $39.90 which I paid with my Ink Bold. Even though I could have used my other previously bought gift card for the rest of the first transaction or for part of the second transaction, I just went ahead and paid the rest with my Ink Bold.
My experiments proved a couple of things. First, if you have a lot of patience, it is possible to harvest gift cards by buying them with gift cards in order to make your total gift card balance grow. Second, you can buy more than two at a time by asking the cashier to split the purchases into multiple transactions.
Another Trick
One reader reported being able to use an OfficeMax gift card to buy these MasterCard gift cards. They suggested buying an OfficeMax gift card at 10% off (via this trick) and then using it to buy the MasterCard gift cards. Unfortunately, not all OfficeMax stores allow buying gift cards with OfficeMax gift cards. Also, I doubt there is time to get the OfficeMax gift card through the mail before this deal ends.
Liquidating Gift Cards
DansDeals writes about this OfficeMax deal and suggests liquidating the cards through Amazon Payments. Other options include loading them into your Serve account, loading your Target Amex, using them to buy reload cards, etc. Unfortunately, all of those approaches can be pretty tedious if you buy many of these cards.
Personally, I may use them to actually buy stuff as needed. In general, I would only use one when a purchase comes to $50 or more. This way, whenever I use a card, I'll drain it completely and throw it away, and I never have to wonder how much is left on each card. Most cash registers know how to handle these cards automatically and will drain the card completely before asking for a second form of payment. Exceptions include gas stations, restaurants, and hotels. In those cases, you should ask a person to specifically charge exactly $50 to your gift card.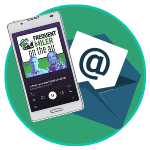 Want to learn more about miles and points?
Subscribe to email updates
 or check out 
our podcast
 on your favorite podcast platform.