Update 5/13/22: PointCard has sent an email to members today indicating that they will no longer provide third party debit card funding at all as of 6/2/22. This comes after they announced two weeks ago that the monthly debit funding limit would decrease to $300 as of 5/19/22. It seems that $300 limit will only be in effect for two weeks before they eliminate third party debit card funding altogether. This is disappointing news, though I was unlikely to use it much anyway with the $300 limit. The original post about the change coming 5/19 follows. Note that before 5/19, you should still be able to load with the old limits.
The PointCard debit card has sent notice to cardholders that, effective May 19, 2022, debit funding will be limited to $300 per month. That is a huge decrease from current limits and I find it quite disappointing since the instant nature of debit card deposits has been very convenient for me.
As noted in the email above, this new change begins on May 19, 2022.
At present, the PointCard offers base level users the ability to fund up to $2,500 per day and $10,000 per month. I can't find it right now, but I had previously found a chart indicating that some users would be able to load far more based on account history. I recall that there were two more levels and limits exceeded $10K per day, but at present the only reference I find to the limit is the $2500/day and $10K/month, which is noted on the PointCard website as of the time of writing.
I don't necessarily find this change surprising, just disappointing. This change won't make much of a difference to those who either fund their PointCard account by direct deposit or ACH transfer. However, I've really appreciated the ability to fund via debit card since those transfers are instantly-available. There is no secret point-generating play that I'm using it for, I've just found that the PointCard is accepted in some places where I've had trouble with other debit cards, like online sportsbooks (don't read further into that sentence than intended — note that those transactions earn 0 points). In those cases, I've wanted to be able to fund the PointCard right away to then use the money via the PointCard without right away. I'm less interested in transferring money into the PointCard proactively without a near term to use it, especially since there have been a couple of past issues with ACH transfers out of the PointCard.
I will at least give PointCard credit for communicating this change weeks in advance rather than after instituting a limit. If you intend to fund your PointCard with a debit card, do so sooner rather than later.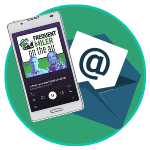 Want to learn more about miles and points?
Subscribe to email updates
 or check out 
our podcast
 on your favorite podcast platform.