My wife recently Tweeted the following question:
Points and Mile blogger wife's dilemma: Do I get flowers because he loves me or because he gets points buying them?
My answer? "It's love, of course!" And, silently: "love for you, and for points…" Yeah, maybe I should have kept that to myself…
With Mother's Day coming up, this may be a good time to express your love if you have a mother, are married to a mother, or for whatever reason care about someone who is (or claims to be) a mother.
With that said, you do of course want to save money and earn miles in the process. Here's how…
Step 1: Register for the American Express 1800Flowers "Offers For You" promotion
You'll need an American Express card for this. Log into your account and select "Amex Offers for You". Look for an offer to get $15 back with a purchase of $50 or more at 1800Flowers. To enroll multiple cards in this offer, please see "Maximizing Amex Sync offers. Part 1: sync multiple cards".
If you don't have this offer in your account, you might be able to find the same offer by linking your card to Facebook.
Step 2: Enroll your Amex card with Plink and add 1800Flowers to your Plink Wallet
This step is optional but will lead to earning Plink points which can be redeemed for a gift card.
Step 3: Go through portal to buy 1800Flowers gift card
Currently, the best portal offer is ShopDiscover, which is currently offering 20% cash back. You do need to own a Discover card for access to this portal, but in my experience you do not need to pay with a Discover card to earn cash back. You can find the best current portal rates here.
After clicking through ShopDiscover (or another portal) to 1800Flowers.com, purchase a $50 by mail gift card for yourself and pay with the American Express card you registered in Step 1. It may take about a week to arrive. While its true that ShopDiscover's terms say that the offer doesn't apply to gift card orders, in my experience it does anyway.
Step 4: Look for the best offer
There are two ways to save money or earn points when buying from 1800Flowers. One option is to use a promo code at checkout (or click through an offer link which automatically inserts the promo code). Another option is to shop through an online portal. In my experience, you cannot double-dip with these two approaches. Recently, for example, I went to 1800Flowers through the American Airlines shopping portal, which was offering 8 miles per dollar at the time, but during checkout I used a code to get 30 Alaska Airlines miles per dollar. The Alaska miles posted fine and, initially, the AA miles did too, but the AA miles were later reversed out. A few readers have reported similar experiences. So, given that we can only do one or the other, here are the best current offers I know of:
In the past, it has been common to find offers for up to 30 miles per dollar at 1800Flowers before major holidays. I'd recommend waiting until closer to Mother's Day to see if any of those offers reappear. Click the above links to see the current offers.
Step 5: Consider enrolling in the 1800Flowers Passport program
By enrolling in Passport for $29.99, you'll get free shipping for a year. I signed up for this service in the days leading up to Valentine's Day since I found that it saved me money with just two orders.
Step 6: Order $50 worth of gifts at a time
One big downside to 1800Flowers gift cards is that you can only apply one to each order. So, while you can certainly place smaller or larger orders, the ideal order size is $50. When checking out, make sure of the following:
Make sure to enter your selected promo code. Not all orders are eligible for promo codes. If your selected promo code doesn't work, it might be worth switching out your order for a similar one that is eligible.
Enter your gift card number and PIN for payment
If you bought the Passport service, make sure you are signed in so as to get free shipping and handling.
Why this is a great deal
Let's assume that you successfully earn $15 cash back from American Express and 20% cash back from ShopDiscover as I've done in the past. In that case, your $50 1800Flowers gift cards will cost you a net total of $25. That's a fantastic discount right off the bat. Next, let's assume that you have a Passport subscription so that you do not need to pay for shipping and handling. In that case, if you use a 20% cash back portal again for purchasing $50 in flowers or gifts (with your gift card), you'll get $10 back. In other words, in the end, you'll be out only $15 (not counting the cost of the Passport subscription) for a $50 order! Or, if those 30 miles per dollar offers return, you could forsake the 20% cash back option and earn miles instead. In that case, with a $50 order, you'll get 1500 miles. Given that your total spend was $25, that's like paying 1.67 cents per mile (which is a decent price) and getting flowers or gifts for free! Oh, and with either approach, you should earn $3.50 worth of gift cards from Plink as well.
Notes
In order to take advantage of the above scheme more than once, you'll need multiple American Express cards, and you'll have to sign up all of them with the 1800Flowers offer. For details about how to do this, please see "Maximizing Amex Sync offers. Part 1: sync multiple cards." And, if you do use multiple cards, you may find that setting up more than one card with Plink is difficult or impossible. So, I'd recommend thinking of Plink rewards as a nice-to-have bonus, but not the key ingredient of this deal. Also note that American Express small business cards automatically earn 5% cash back at 1800Flowers via the OPEN Savings program. So, when you use those cards to pay, you can expect an additional $2.50 in savings for each gift card purchased.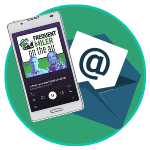 Want to learn more about miles and points?
Subscribe to email updates
 or check out 
our podcast
 on your favorite podcast platform.