Swagbucks is currently offering $60 back in Swagbucks and $35 off your first order when you subscribe to Sun Basket. There is also a current Amex Offer that's good for $25 back on $50 at Sun Basket that expires on 2/22/21 which could make for a great stack. This could be a money-maker for those ordering for two people while those ordering for a family can still get pretty cheap meals out of the deal. I've had Sun Basket before and enjoyed their "Fresh & Ready" meals, so I was happy to sign up for this deal.
The Deal
Swagbucks is offering 6,000 Swagbucks (worth $60 in gift cards or PayPal credit) for new Sun Basket subscribers who get 2 weeks delivered as well as $35 off your first box
Stack the above with a current Amex Offer good for $25 back on $50 (targeted). Note that there is also an offer for only $10 back on $50 on some cards.
Key Terms
Must submit valid name, address, credit card and other subscription information to earn SB.
SB will appear as Pending for 60 days. Must stay subscribed to receive at least 2 orders to earn SB.
This offer is only available to new Sun Basket customers/subscribers.
Offer may only be redeemed once (1) per user.
Targeted Amex Offer expires 2/22/21
Quick Thoughts
Sun Basket is a meal delivery service similar to Blue Apron, Hello Fresh, and the many others you may have tried, but one thing that makes Sun Basket stand out is that while they sell meal kits that require preparation similar to those other services, they also sell meals that they call "Fresh & Ready". These arrive pre-assembled in a container that you cans imply pop in the oven and heat up in 20-25 minutes. We inadvertently ordered those the one time we got Sun Basket and they were surprisingly delicious and super easy. I'm sure the meal kits are better, but compared to the time that often goes into chopping / dicing / slicing / preparing other meal boxes, that was a nice surprise. You can mix & match meals from their "Fresh & Ready" section and their "Meal Kit" section (the "Fresh & Ready" meals are cheaper).
We also bought Sun Basket meals for a family member once — they got the meal kits. One piece of feedback that all of us shared on both types of meals was that the Sun Basket meals were frequently spicy. Obviously, these are made for the masses, so they weren't knock-your-socks-off-hot, and our taste buds may not match yours, but if you are sensitive to spicy foods be aware that in our experience the ones that sound spicy probably are. Personally, I found the meals very flavorful, but your taste buds may vary.
The Fresh & Ready meals are cheapest and I understand that 2 meals for 2 people come out to around $30 per box, making this a break-even deal with the $60 in Swagbucks. If you have the Amex Offer to stack, you would come out $25 ahead if it works with cumulative purchases. Frank points out in the comments that the terms indicate that you need to spend $50 at once to trigger the $25 credit, so you may want to bump your second box up to $50 (which can be done pretty easily by playing with your selections) to be sure you get that credit.
In my case, I ordered 2 meals for 4 people. When I signed up last night, it said the first box would be delivered February 16th and the second on February 23rd, so I should get charged for both in time to use the Amex Offer before it expires on 2/22/21. The first box with just Fresh & Ready meals came to about $37. I expect the next box to be about $72 for a total of $109 for my first two boxes. After $60 back from Swagbucks and $25 back from the Amex Offer (assuming it only triggers once — it may trigger twice with the cumulative $100 in spend, but I'm not counting on it), my net cost should be about $24 for two weeks of 2 meals for 4 people. At about $6 per meal for 4 people, I'm happy with that. Maybe I'll splurge and do a meal kit meal for the second week (those are a bit more expensive).
H/T: Doctor of Credit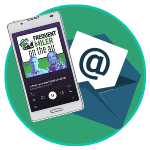 Want to learn more about miles and points?
Subscribe to email updates
 or check out 
our podcast
 on your favorite podcast platform.