Update 7/26/22: I was very disappointed to learn yesterday that the Protea Hotel Kruger Gate is leaving Marriott Bonvoy as of 9/1/22 as reported by Katie Genter on Twitter. Unfortunately, I think this means you'll only have until then to redeem rewards and stay at this incredibly well-located property. I currently see dates in August available for either 14,500 or 15,000 Marriott points per night. Unfortunately, it looks like the hotel is not accepting reservations for award stays beyond September 1st. I don't know whether existing points reservations beyond September 1st will be honored. I expect that cash rate reservations should still be honored, though a message on the Marriott website indicates that elite benefits will not apply once the hotel leaves the program on September 1, 2022.
This is a major bummer as I stayed at this hotel in early 2017 and posted this review. While the award price increased since this post was originally written, this has remained a fantastic value using Marriott points for a hotel that is literally just outside of the Paul Kruger gate to Kruger National Park. While few people are probably planning a safari on a month's notice, I thought it was worth publishing this for anyone who might have missed this gem previously. The original post follows.
Long before discovering points and miles as a method to travel, my wife and I had a shared dream trip: a safari. I think it's the child within — the chance to see lions and leopards and elephants in their natural habitats rekindles the amazement of seeing them on TV for the first time as kids.
It's hard to describe the difference between watching Animal Planet and finding those scenes play out in real life in front of your eyes, but suffice it to say that after two trips the magic hasn't died.  Last month, we returned to Kruger National Park in South Africa for the second time and felt like kids in a candy store as we drove ourselves around the park watching for wildlife and snapping photos along the way. I am no J.M. Hoffman, but the diversity in Kruger park is wonderful and makes it hard not to take a few pictures you like.  You can see elephants playing in the water:
Or lions…..lying:
Or maybe even stumble on a leopard:
Sightings are abundant.  With a few days, some patience, and a good eye, you're likely to find a little bit of everything.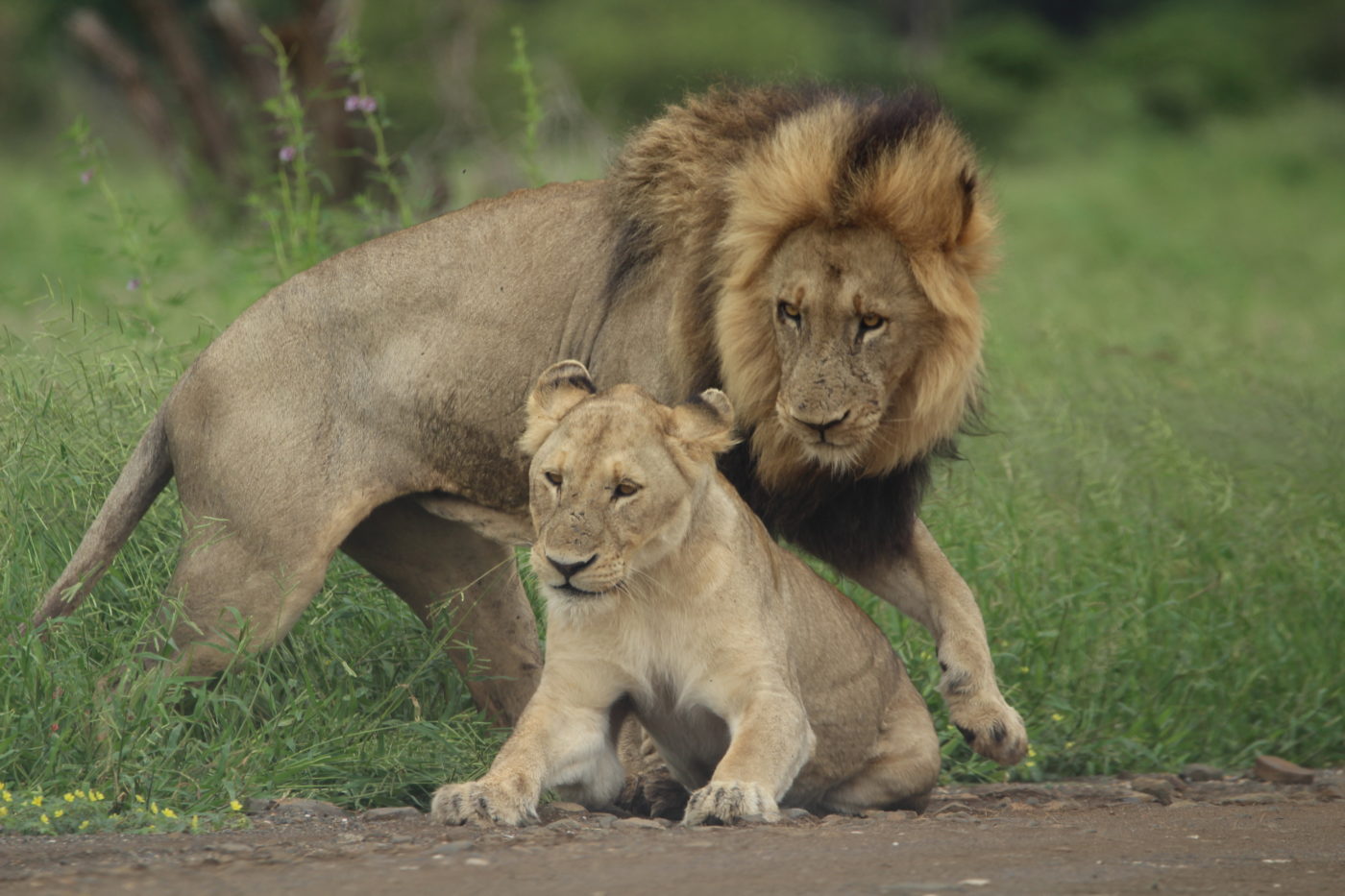 If you've looked at safari packages before, you've probably assumed that it would be a major expense.  And it can be — luxury safari packages can easily run in the thousands and may be the right choice depending on your budget and desires. On the other end of the spectrum, you can rent a bungalow in one of the many rest camps within Kruger National Park for just about $100 a night (or camp for quite a bit less).  Bungalows are simple and typically clean enough, though on our last night this time around we did find a scorpion in our bathroom in the middle of the night:
And that led us to find an opportunity to enjoy everything Kruger park has to offer while sleeping cheap on points: The Protea Hotel Kruger Gate, a Category 1 Marriott Rewards property.  Sitting just 100m from the Paul Kruger gate, the location of this hotel can not be beat. All of the photos taken above were within a day's drive from the hotel.
Cash rates at the Protea Kruger Gate can often easily exceed $200 a night, making 7500 Marriott points (or 2500 Starpoints converted to Marriott) a great deal. (Note that this property increased in category a couple of years ago and as of 2022 award rates are typically around 15,000 points per night, still a great value redemption).
The lobby looked very promising — completely open-air:
As this hotel sits literally 100m from the Paul Kruger entrance gate, it is surrounded by animal life and includes a nice nature walk:
There are monkeys playing in the nearby trees/structures:
And sometimes even running across the dinner tables as they set up:
The room itself looked decent:
But the problem here is that each room opens to the outdoor hallways, and the two rooms we saw both included a gap between the door and frame that can allow something like, say, a 3-inch spider into the room. To be fair, we only found one such spider and the hotel offered to have the room cleaned again. We took them up on it and didn't see another insect while we were there — but in a Malaria zone with venomous spiders and scorpions, I would expect a $250-a-night hotel to have doors that close a bit better.
Another potential disadvantage to the Protea would be that your access to the park will be about an hour behind those staying within the park (camp gates open earlier than park gates).  Still, the ability to self-drive within the park means that you can choose your own path and adventure in search of the wildlife you hope to find.  While some say that the crowds at Kruger can detract from the experience in comparison to some lesser-visited safari locations, we didn't find this to be the case during our two trips. In fact, we drove for hours at a time without seeing anyone — though lion sightings do tend to draw a handful of cars.
In the end, the biggest surprise for me on this trip was having access to the wild world above while staying at a Marriott Rewards property. The Protea Hotel Kruger Gate may not be perfect, but I found it to be perfectly well worth 7500 Marriott points. Better yet, convert Starpoints to stay for just 2500 Starpoints per night.  The current signup bonus on the Amex SPG cards would be enough to spend two weeks on safari at this property.  While that's probably not what I'd do with all of those Starpoints, it's a pretty strong value nonetheless.
One thing the Protea Hotel Kruger gate did reasonably well: dinner. The Protea's dinner buffet was large, diverse, and pretty tasty even if a bit expensive compared to the restaurants within the park (neither breakfast nor dinner are included when redeeming points):
And the wildlife viewing in Kruger National Park is amazing. We will definitely be back again (this was our second trip to Kruger in 13 months), and when we go back we will likely use Starwood/Marriott points to stay at the Protea Hotel Kruger Gate.  If your travels take you to South Africa, check out what Marriott has to offer — Protea may surprise you!