In June, my backpack was stolen from the trunk of an Uber in Santiago Chile.  We used my Airpods (which have AirTag technology) to chase the bag all over Santiago, but without luck.  The following week, I filed a claim with State Farm Insurance and received a payout the next day.  Since then I've set about replacing the backpack itself and most of the items that were in it.  In this post, I'll detail the insurance payout, whether the insurance company cancelled me or jacked up my rates, and how I minimized costs when replacing my stuff.
Background
In June, for our Party of 5 challenge, the Frequent Miler team traveled from San Francisco to Tokyo, to the Philippines, to Macau, back to Tokyo, back to San Francisco, to Los Angeles, to Santiago, to Buenos Aires, to Iguazu Falls.
In the middle of all this, when we arrived in Santiago, we put our bags into the trunk of an Uber and crowded into the back seat.  While I usually keep my backpack with me, I had put both my backpack and suitcase into the trunk because four of us had to squeeze into a small back seat.  When we arrived at our hotel, we found that my suitcase was still there, but my backpack wasn't.  Everyone else's stuff was intact.
Within minutes, I started receiving messages from credit card issuers for questionable charges.  My backpack contained my travel wallet (read about that here) which had credit cards that I like to travel with but which I don't like to keep in my primary wallet.  Whoever had stolen my backpack was going wild trying to buy expensive things with each of those cards.
I was able to track my backpack (or at least my Airpods) because AirPods Pro come with the same technology as Apple AirTags.  This led to a mighty game of cat and mouse.  Nick and I went with the hotel driver from one police station to another.  Each time we finally got a policeman to help, the AirPods had moved to another precinct.  About six hours later, we gave up.
Fortunately, my passport, primary wallet, and phone were all safe in my pockets.  Additionally, State Farm was super easy to work with.  I discovered that my homeowners insurance (really condo-unit-owner's insurance) covered theft and they paid out right away.
Insurance Payout
I was excited that my condo unit-owner's insurance covered the theft and that they paid out so quickly.  See: Stolen backpack update – homeowners insurance to the rescue
Then, a number of readers scared the bleep out of me by confidently insisting that I shouldn't have filed the claim.  State Farm would certainly jack up my rates to infinity or drop me altogether.  Yikes!  Luckily, neither of those negative outcomes have happened (at least not yet).  My new insurance bill arrived recently and yes, the rate had gone up, but not by much.  My condo unit-owners insurance increased by $66 to $657 per year.  Yes, that's an 11% increase, but hardly enough to fret about.  That increase could just have easily been due to inflation as anything else.
My insurance has a $2,000 deductible, but I still got $1,687 in cash from State Farm.  The backpack itself was valuable, plus I had lots of valuable stuff inside like my laptop, a backup cell phone, cash, and more.
Replacement Costs
As I replaced each of the things in my backpack, and the backpack itself, I kept track of my costs.  I was curious if the $1,687 I got from the insurance company would be enough to replace everything I wanted to replace.
Replacement laptop
The most expensive item was the one I needed to replace most quickly: my laptop.  I have a simple Microsoft Surface Laptop and I was happy to learn that the price for the exact model had dropped from about $1,300 to about $950.  Even better, I had $600 in Microsoft Store credit thanks to having bought Xbox gift cards through Dell when they were temporarily available in the spring (go me).  I had paid for those gift cards with my Business Platinum cards and so the cost to buy them had been fully reimbursed.  To buy the laptop, I shopped through RetailMeNot to the Microsoft Store in order to get $50 back from the portal.  Additionally, I had an Amex offer for $50 back on $350 or more from the Microsoft store.  As luck would have it, my cost after using my Microsoft Store credit was $350 and change!
Replacement Airpods Pro
The next most urgent purchase was my Airpods Pro.  I use them all the time to listen to music and podcasts, the make phone calls, and as an earpiece when recording podcasts (I use a good microphone for recording my sound, but I use the Airpods to hear Nick).
I found the Airpods Pro on sale at Walmart for $199 and I had an offer from Capital One Shopping for 10% back at Walmart.  Before placing the order, I cashed out my $101 Capital One balance for a Walmart gift card and used that to pay for half of the order.  Readers may remember that Capital One Shopping no longer offers Walmart gift cards as a cash-out option, but a reader had provided a work-around (here) which I used successfully (update: a couple of readers have now reported that the work-around no longer works).  So, altogether I paid around $110 with my credit card (after sales tax) and net $81 in Capital One Shopping rewards (since I got back about $20 in rewards from the purchase).
Replacement backpack
The next most expensive item I needed to replace was the backpack itself.  I loved my old leather Tumi backpack.  They don't make that exact model anymore so I considered buying a used one through Ebay, but then I found a new model online that appeared to be almost identical to my old one: the Alpha Bravo Navigation Backpack.  The leather version of this backpack costs $725, but there was also a version made with recycled ballistic nylon for $525.  While the latter isn't as attractive as the leather version, I liked the idea of making a more eco-friendly choice, and I liked the idea of having a less ostentatious bag.
I bought the backpack by clicking through the Rakuten portal to Neiman Marcus when the portal was offering 12x rewards at that merchant.  After sales tax, the price came to $556.50.  A couple of days later, Neiman Marcus ran a promotion in which they offered gift cards for large purchases.  I used Neiman Marcus' online chat to see if they would apply that offer retroactively to my purchase.  Success!  They promised me that they would send me a $125 gift card about 8 weeks later.
Here is what I wrote:
I see that a gift card deal was introduced right after I ordered this Tumi Backpack If I had just waited a few days I would have earned a 125 dollar gift card.  Is there any way to retroactively apply that gift card deal to my order?
And here was the response, which I found hilarious:
Greetings! Thank you for contacting Neiman Marcus, My name is Thembelani, and I'm pleased to be of assistance to you with your gift card inquiry. I can imagine that the situation sounds quite difficult. I understand how confusing this must be this sounds challenging I understand how frustrating that must be for you, rest assured I am here to assist you to the best of my abilities. Please accept my sincerest apologies I can't apologize enough I sincerely regret this has happened to you thank you for reaching out about this. May i please have your order number?
[I answered]
Thank you so much for your patience, and thank you for verifying the information, Highly appreciated, i was able to successfully enroll this order to the gift card event in which you should receive within 8 week after order is shipped to you.
Backpack mini review: It turns out that the new backpack wasn't as similar to my old one as I had thought based on online photos and descriptions.  While it's a very good backpack, I don't like it as much as my old one.  The biggest issue is that the new backpack only has one internal zippered pocket whereas the old one had two.  Additionally, since the pockets are different from my old backpack, I've had to rethink where to keep stuff.  I had it down to a science with my old bag and its been a challenge to find the right place to put each thing in the new one.  I also don't like that the new backpack is more front-heavy than the old and so it sometimes tips over towards the front.  Finally, I also don't think the new bag looks as nice as the old.  On the plus side, the new backpack is roomier than the old one.  Overall, the new backpack is good enough as a replacement, but I doubt I'll ever love it as much as I did the old one.
Replacement of other stuff
I used my Amazon gift card balance to buy the following replacement items for my backpack:
Packable raincoat
Microfiber towel (which works as a scarf in a pinch)
Packable backpack within my backpack
I used Dell credits from my business Platinum cards to replace the following items:
USB laptop charger
Charging cables
International power adapter
Final Tally
The amount I ended up paying to replace my backpack and its contents is not straightforward.  Do I subtract out the value of rewards earned from portals?  Do I count gift cards I used at full face value as part of the cost?  How do I account for Dell statement credits or the promised Neiman Marcus gift card?  Below you'll find totals calculated in multiple ways:
| Scenario | Total Price Paid | Explanation |
| --- | --- | --- |
| Total Receipts | $2,047 | This total doesn't account for any rewards earned, nor does it discount the price for when I used gift cards to pay. |
| Price after Rewards | $1,828 | This total subtracts tangible rewards earned from portals.  For the Neiman Marcus gift card, I assumed that it was worth 70% of face value. |
| Discounting gift cards and credits | $1,515 | This total recognizes that I paid for lots of stuff with Microsoft credits, Dell credits, and Amazon credits.  For the first two, I valued the credits at 80% of face value.  For Amazon, I valued the gift cards at 95% of face value. |
As you can see above, my total replacement cost depends on how you want to calculate it.  I think that the final answer, $1515, is the best answer.  That means that I replaced everything I wanted to replace for less than the $1,687 I received from State Farm.  That doesn't mean that I came out ahead, though.  I did have about $300 in cash in my backpack, so I'm still about $130 short.  Not bad though!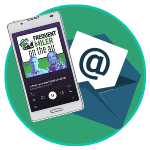 Want to learn more about miles and points?
Subscribe to email updates
 or check out 
our podcast
 on your favorite podcast platform.