Welcome to today's Frequent Miler week in review around the web, where we recap some vanishing acts and top tips that caught our eye around the Internet.
I'm a believer in keeping reasonable expectations. If it rains, I expect to get wet. If I eat at McDonald's, I expect to get indigestion. If I book a seat on Spirit airlines, I expect to unfold like an accordion when I get to my destination. And if I book a suite for four nights through Chase using my Ultimate Rewards points, I expect the hotel to have a record of my reservation and an available room when I arrive.  Apparently, only three out of four of those expectations are reasonable after all. Read this mini horror story from asthejoeflies (and his subsequent follow up) about a family who I'm betting won't book through Chase again soon. I hope this is an isolated incident — have you ever had a similar situation?
Reservations aren't the only thing that did some disappearing at the front desk. While Chase was busy losing a reservation, apparently IHG was busy losing your credit card information to hackers. In fairness, I know that as security technology improves, so does the technology to fool it and steal information. It's surely a hard game in which to keep up, never mind win. But as Melinda at Magic of Miles writes, these data breaches are becoming flat out commonplace. At some point, the losses are going to pile up and demand a more secure payment system. Could mobile wallets be that solution?
Speaking of mobile wallets, US Bank has heated up the race to be the default payment source on your mobile phone. I'm not going to lie — they haven't even released the Altitude Reserve and they have already changed my behavior. I went from never having used Android Pay as of this past Tuesday to using it three times so far today alone (and kind of freaking out one cashier at the Dunkin Donuts drive through who thought he was going to get fired for touching my phone). Not one to be left out of the party, what will Chase's response be? Will Chase introduce 5X mobile wallet payments? Doctor of Credit covers the rumor.
Has your Airbnb host ever kicked you to the curb? Lest we think disappearing reservations are unique to Chase, this post at View from the Wing caught my eye about a disturbing trend of Airbnb hosts cancelling on guests — as late as the day before arrival. What surprised me the most was the lack of disincentive for hosts to do this. While I've had mostly great Airbnb experiences in the past, this post might lead me to proceed with caution when booking at peak times (when it may be difficult to devise a Plan B at the last minute).
Of course, as the customer, you can't just up and cancel on the hotel at the last minute, either — or else you'll forfeit at least the first night. But did you know that if your booking was on hotel points, not showing up could get really, really expensive? If you've ever figured, "well, I'm past the cancellation deadline….I just won't show. I'm OK with losing my points" — think about it again — they just may clean out your pockets, too. Tagging Miles covers a policy I've never tested — and thanks to Trevor, I'll be extra careful about it in the future. In the comments, Kathy (of Will Run for Miles) notes that IHG has this same policy.
Today we published our Complete Guide to the Southwest Companion Pass. In it, we wrote that you're typically better off booking two separate one-ways with Southwest. In our final post for this week in review, Travel with Grant gives us a great example that perfectly illustrates why that's the best strategy with Southwest — and how to get help effectively and efficiently from their Twitter team.
That's it for this week around the web — check back next for this week's last chance deals.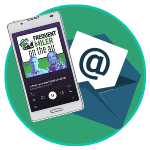 Want to learn more about miles and points?
Subscribe to email updates
 or check out 
our podcast
 on your favorite podcast platform.