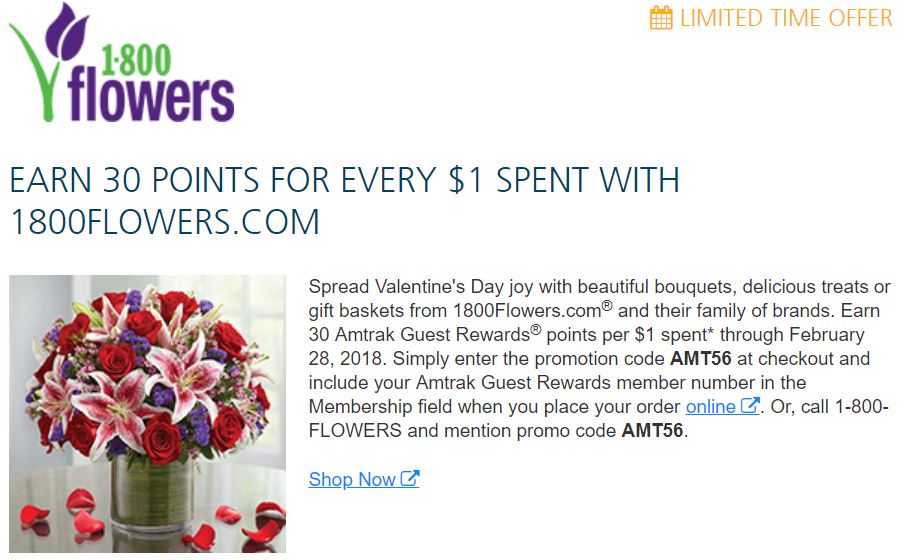 Valentine's Day is coming!  You know what that means: more Frequent Miler 1-800-Flowers posts!
If you want to deal stack the heck out of your purchases, then read our guide "1800Flowers Extreme Stacking promo codes, portals, gift cards, and more."  But if you'd prefer to keep things simple, read on…
Step 1: Enroll your Amex or Chase cards in 1800Flowers rebate offers
With Amex, log in, look for, and enroll your card with the Spend $50, get $15 back offer.  If you enroll an Amex business card you'll automatically get another 5% back thanks to OPEN Savings.
With Chase Marriott (business or personal), or Chase Slate cards, look for and enroll in the Spend $40, get $10 back offer.  For general info about Chase Offers, see: Chase's foray into offers: Whole Foods, Lowe's, eBags, and more.
Step 2: Sign up for 1800Flowers Celebrations Passport
This will give you free shipping and handling for a year with purchases from 1800Flowers and associated brands (Harry & David, Simply Chocolate, Cheryl's, Wolferman's, Stockyards, etc.).  The usual price for this is $29.99, but you can get Celebrations Passport for $19.99 with promo code "TENPASS" (found here).
Step 3: Pick your favorite promo code for buying flowers or gifts
Here are the best current codes that I'm aware of:
Alaska Airlines 25 miles per dollar: AKA3.
Amtrak 30 points per dollar: AMT56.  Valid through 2/28/18.
jetBlue 1750 points per order ($34.99 & up): TB1750. Valid through 2/15/18.  Limit of five (5) orders per TrueBlue member ID / customer for this promotion
Southwest 1000 points per order ($29.99 & up): RR22 (Companion Pass eligible)
Southwest 1750 points per order ($34.99 & up): SW45, SW46, SW48, or SW49 (not companion pass eligible). Limit of five (5) orders per Rapid Rewards account. Valid through 2/15/18.
United 30 miles per dollar: MP63 [There has been an issue where these codes cannot be applied online. If that happens to you, you should be able to get a 1800Flowers sales person to apply the code for you]
Based on current Reasonable Redemption Values (RRVs), the offers above have the following reasonable expected value towards award travel:
Alaska 25X = 34 cents value per dollar spent on Flowers
Amtrak 30X = 87 cents value per dollar spent on Flowers (this assumes that you actually get 2.9 cents per point value from your Amtrak points)
JetBlue 1750 points per order = $25.55 per order (73 cents per dollar for a $35 order)
Southwest 1000 points per order = $16 per order (53 cents per dollar for a $30 order)
Southwest 1750 points per order = $28 per order (80 cents per dollar for a $35 order)
United 30X = 42 cents value per dollar spent on Flowers
Of course, the above rebate values increase as a percent of dollars spent if you get money back through linked credit card offers (Amex or Chase, for example).
Step 4: Purchase flowers
Delivery should be free if you paid for Celebrations Passport (but don't wait too long because they do charge a fee for next day or same day delivery).
When checking out, don't forget to apply a promo code from above, and don't forget to pay with a credit card linked to an offer (such as Chase's "Spend $40, Get $10").
What about gift cards?
If you have 1800Flowers gift cards, I've found that you'll only earn points on the part of your order paid with a credit card.  One exception: if you use one of the offers that gives you a fixed number of points per order, you should get that many points as long as you pay at least a small portion of the order with a credit card (e.g. pay $30 with a gift card and $5 with a credit card to get 1750 points).
Wrap Up
Whenever I write about 1800Flowers deals, a number of readers complain that it doesn't matter how much of a discount you get, you'll still do better buying locally at a grocery store or warehouse club.  That's probably true, but 1800Flowers deals do have advantages over local in-store purchases.  For one, 1800Flowers deals are good for out-of-town deliveries.  Second, 1800Flowers deals are good for those who might be too busy themselves on the desired delivery day to run by Costco to pickup and deliver flowers themselves.  And finally, if you're more interested in earning miles than saving a few dollars, 1800Flowers may be the way to go.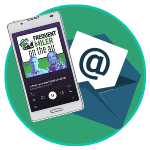 Want to learn more about miles and points?
Subscribe to email updates
 or check out 
our podcast
 on your favorite podcast platform.