It's the first of the month, so there are a number of new Amex Offers out today, and some of them will be very popular. Here's a sampling of what I saw that you might want to sync up:
Universal Orlando: Spend $500 or more on a vacation package, get $100 back
Where I found it: This one appears highly targeted — it only showed up on my wife's Everyday Preferred in our household
What you need to know: The terms on this offer are pretty clear that you have to buy a vacation package — it says that you'll need to book a hotel + ticket package at a minimum and that standalone ticket sales or hotel reservations will not qualify. I don't know whether or not this is enforced.
Expires: 2/28/18
---
Exxon-Mobil: Spend $25+, get 1,000 Membership Rewards points
Where I found it: On almost every card in our household that earns Membership Rewards points (but not on the Blue Business Plus).
What you need to know: The terms state that purchases must be paid for at the pump. This offer also pairs really nicely with the offer to earn an extra Membership Rewards point that showed up on some Amex cards. If you have an Everyday Preferred that received the offer for an extra 1x at Exxon-Mobil, you could already be earning up to 4x (2x normally, 3x if you make 30 or more purchases  in your billing cycle, 4x if you had the Amex Offer for an extra point). With this offer, you can pair that with an extra thousand points for a $25 gas purchase. I'll have to fill up my car twice this weekend, and you can bet it'll be at an Exxon-Mobil each time.
Expires: 12/31/17
---
Lowe's: Spend $50+, get $10 back
Where I found it: Only on one card (Everyday Preferred) in our household, this one appears to be highly targeted.
What you need to know: If you're buying a $100 item, you should probably be able to split tender at the register. This might help you pair this one up with the current Chase Offer for $10 back on $50 at Lowe's if you also have a Chase Marriott/Slate card.
Expires: 12/31/17
---
StubHub: Spend $75, get $15 back
Where I found it: On my personal cards that do not earn Membership Rewards points.
What you need to know: There have been a number of decent Amex Offers for discounts on tickets through Ticket Galaxy and Telecharge, but this is the first one I've seen with StubHub in recent memory. If you're looking to buy there for an upcoming event, you could save a few bucks. I have often found good value in StubHub at the last-minute, when sellers begin to panic that their tickets won't sell. We went to an event at the Barclays Center in Brooklyn last year, buying StubHub tickets on the morning of the event. I bought in the nosebleeds because I intended to check out the Amex Centurion Suite there — and I did, and it was definitely something I'd try again (we were the first people in, but seating capacity is extremely limited, so this might not be practical for more popular events).
Expires: 1/31/18
---
Mont Blanc: Spend $400+, get 12,500 Membership Rewards points or $125 (see your offer)
Where I found it: This offer came up on nearly every Amex card in our household in one form or the other.
What you need to know: The terms exclude outlet locations, airport locations, and the Puerto Rico location. See terms for other exclusions.
Expires: 12/31/17
---
Reebok: Spend $100+, get 2,000 Membership Rewards points or $20 back (see your offer)
Where I found it: On nearly all of our Amex cards in one of the two forms.
What you need to know: The terms say this one excludes e-gift card purchases and physical gift card purchases online (but that might not be true in practice). The terms also indicate that this one isn't valid at Reebok CrossFit gyms and other Reebok-associated sites — just at reebok.com
Expires: 12/31/17
---
Bottom line
Any individual offer is only good if you have plans to spend money with that merchant, but a number of those highlighted might be useful for gifts (and the gas offer is likely good for everyone who gets it). Amex Offers are a great money-saving perk that helps to offset the fee on the cards I keep. See our Complete Guide to Amex Offers for more information on syncing offers across your cards.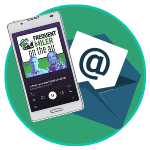 Want to learn more about miles and points?
Subscribe to email updates
 or check out 
our podcast
 on your favorite podcast platform.