My son turned 18 a few weeks ago.  I still can't believe it.  Anyway, yesterday we started him on his first steps towards earning his own points and miles.
As a reminder, I published a few posts about teen credit and credit cards before:
Thanks most likely to my having added my son as an authorized user to several credit cards, he already had a very good credit score without even trying:
So, we were ready to enact the plan that I had previously published.  I had written:
When my son turns 18, I'll recommend that he do the following (with my help, as needed):

Sign up for a Discover It for Students Card; and
Sign up for a new Chase checking account in order to get a checking account bonus, and to establish his banking relationship with Chase.  And a month or two later he should check in with his banker to see if he has been pre-approved for any Chase cards.  Either Freedom or Freedom Unlimited would be great first Chase cards.
We started with the second part before he turned 18: I found a good coupon for a new Chase checking account bonus and called our Chase banker to see if my son could get the account even though he wasn't yet 18.  The answer was no.  Also, he pointed out that my son wasn't qualified for the offer because the offer was only for those without a current Chase checking account.  My son's teen checking account apparently disqualified him.  Bummer.  I decided to wait until he turned 18 to convert his teen checking account into a regular account (with no bonus).  Separately we'll watch for bonuses from other banks.
Yesterday I emailed my Chase banker and asked him to convert my son's teen checking account to a regular one.  He said he'd take care of it.  I'm hoping that this will help my son get approved for Chase cards in the future.
Next, my son applied for the Discover It card.  He clicked through the regular application rather than the application for the Discover It for Students card because the Discover It card comes with a $50 bonus after first purchase. Plus, for those who sign up before the end of 2017, the $50 bonus will be doubled at the end of the first year.  Most of the other aspects of the Discover It and Discover It for Students cards are exactly the same. Both offer rotating 5% categories, and both double all first year cash back earnings.  The student card also offers $20 cash back each school year when your GPA is 3.0 or higher.
Even though my son clicked to apply for the regular Discover It card, the application changed to the Discover It for Students application once he entered his job as "student".  He was instantly approved with a $500 credit line.  I don't know whether he'll still qualify for the refer-a-friend $50 bonus.  I expect he will.
Immediate Next Steps
Once the Discover card arrives, I'll have my son setup his online Discover account. And I'll show him how to setup his account with auto-pay from his bank account.  He'll have to make sure that his bank account always has enough money to cover the charges he racks up on his Discover card.  I think that will be an important thing for him to learn.
Towards earning rewards, I'll have my son enroll in Discover's fourth quarter 5% Cashback Bonus for Amazon.com & Target.  Assuming he buys holiday presents for anyone, I know that he's pretty likely to order through Amazon.
2018 looks pretty good for Discover 5% categories as well:
When redeeming his cash back, I'll remind my son to look at Discover's gift card options.  They offer a wide variety of gift cards at a discount when redeeming your cash back.
I'll also teach my son how to shop through the Discover Deals portal.  For his first year, any cash back earned through the portal will be doubled just like the cash back earned directly from the credit card.  Luckily he's already familiar with TopCashBack (he is my son after all!), so I'm sure he'll get it.
I'll also suggest that he recommend the Discover It card to friends.  He may be able to rake in some nice referral bonuses that way (Note: I'm not sure whether refer-a-friend offers are open to Discover It Student accounts or just to regular accounts).
Next steps for future rewards
I want my son to spend time adjusting to having a credit card and using it responsibly.  Once he proves that he can do so, we'll look into other credit card options for him.  Since many of the best credit card offers are business cards (see: Best Business Card Offers), I'll be very interested to see if he can get approved for them.  Most business cards will not add to his 5/24 count, so they shouldn't hurt his chances of getting Chase cards in the future.  Additionally, since cash is more important to him than points and miles at this stage in his life, we'll look not just at cash back credit card offer, but also at bank account offers.  Many banks offer hundreds of dollars just for opening an account and meeting a few minimal requirements.  Doctor of Credit maintains a list of current bank account bonuses, here.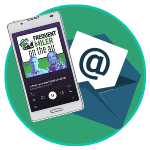 Want to learn more about miles and points?
Subscribe to email updates
 or check out 
our podcast
 on your favorite podcast platform.