When booking travel around the holidays, car rentals can be shockingly expensive. Rentals that are usually about $30 per day often shoot up to $100 per day or more. If you're staying a while, that difference can add up to huge expenses very quickly. If you find yourself in this situation, consider looking for "near airport" car rentals. Here is an example where I searched for car rentals via Orbitz for a week in Florida around the Christmas holidays. The best price available via this search was from Budget for a total of $608 for the week:
By using Kayak, though, I can easily see car rentals that are available at off-airport locations. In the example shown below, I can rent a car for the week from Enterprise for a total of $245. That's a savings of $363!
The only problem now is that you still need some way to get to and from the rental car agency. If a friend or family member can help, great! Otherwise, use a tiny fraction of your savings to pay for a taxi. Also, check directly with the off-airport rental agency: Once I rented from an agency that had a presence both in the airport and off-site. In that case, I rented from the off-site location, and took a taxi to get there, but dropped off at the airport – all at off-airport rates!  Here are some additional tips thanks to reader Charles McCool:
Enterprise will pick up customers. I know they are not able to pick up at Ft. Lauderdale airport (not sure of other airports). I have not used Enterprise for years. I know someone that takes the first hotel shuttle (or a predetermined hotel shuttle) and has Enterprise meet them there.
Rather than a taxi, use hotel or other car rental shuttles. Tip a buck or two if needed.
Rather than a taxi, take a local public bus. Or hitch a ride (with a fellow passenger or other transport). Amazing what you can learn just by asking at info desk, talking to airport workers, or asking around baggage claim.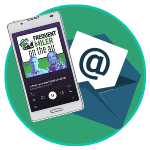 Want to learn more about miles and points?
Subscribe to email updates
 or check out 
our podcast
 on your favorite podcast platform.