SoFi has a new offer to earn $600 bonus cashback when taking out a loan with them. This could be a great deal if it's still possible pay the loan back almost immediately.
The Deal
Take out a SoFi loan, open a SoFi checking account & earn $600 bonus cashback.
Key Terms
Steps required
View your rate – Use the link in the email from SoFi to view your rate in minutes.
Finish your application – Complete your application and sign electronically through your computer or smartphone.
Open a SoFi Checking and/or Savings account – Already have one? You're good to go.
Get $600 – Receive your cash bonus in SoFi Money within approximately 30 days after funding a loan.
Other Terms
Offer is subject to lender approval.
The offer is not available to those who have previously received a bonus for funding a personal loan.
To receive the offer, you must: (1) register and apply through the unique URL provided (2) complete and fund a personal loan with SoFi; (3) have or apply for a SoFi Checking and Savings or have a SoFi Money account to receive the bonus; (4) and meet SoFi's underwriting criteria.
Once conditions are met and the loan has been disbursed, your welcome bonus will be deposited into your SoFi Checking and Savings or Money account within 30 calendar days.
If you do not qualify for the SoFi Checking and Savings or SoFi Money Account, SoFi will offer payment via ACH pending your completion of Form W9. Bonuses that are not redeemed within 180 calendar days of the date they were made available to the recipient may be subject to forfeit.
Bonus amounts of $600 or greater in a single calendar year will be reported to the Internal Revenue Service (IRS) as miscellaneous income to the recipient on Form 1099-MISC in the year received as required by applicable law.
Recipient is responsible for any applicable federal, state or local taxes associated with receiving the bonus offer; consult your tax advisor to determine applicable tax consequences.
Quick Thoughts
This is a very attractive offer, especially if you're playing in one-player mode. Unless something has changed in recent months, SoFi allows you to pay back personal loans quickly without charging a penalty for doing so.
You could therefore apply for a loan and then pay it back fairly soon afterwards, pocketing the $600 bonus cashback in the process minus however much interest you've had to pay. The terms state that you'll be awarded the $600 within approximately 30 days, so it'd be best to keep the loan open until the bonus posts to your SoFi Money/Checking/Savings account as paying back the loan in its entirety before that might affect the bonus payment.
Note that there are some mixed DP's on Doctor of Credit of folks having been told by a CSR that they have to pay three installments on the loan before getting the bonus. However, that's not what the terms say and those who have fought back with screenshots seem to have been successful. There's also many other DP's of folks getting the bonus within 30 days.Regardless, it could be a YMMV situation and the juice may not be worth the squeeze for many.
Checking the rate is a soft pull and you can also find out how much you're pre-approved for. The minimum listed on the promotion page is $5,000, so that makes the most sense in order to minimize the interest.
If you're in two player mode, there might be a better alternative. SoFi allows you to refer people for a personal loan even if you don't have one yourself. Their current referral promotion on personal loans is $300 for each party, so if you refer your partner you'd earn $600 between you. While that's the same bonus as this promotional offer, each party only gets $300, so SoFi won't issue a 1099-MISC. This could make this route more appealing for folks concerned about the tax implications of the $600 promo and doesn't seem to have some of the posting issues that the promo does.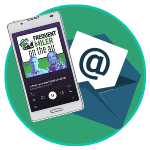 Want to learn more about miles and points?
Subscribe to email updates
 or check out 
our podcast
 on your favorite podcast platform.