I recently stayed with my wife and son at the St. Pancras Renaissance London in a gorgeous Junior Suite.  Suites are located in the elegant Chambers wing of the hotel, which is a huge step up from the modern Barlow wing.  And, all Chambers wing rooms have access to the awesome Chambers Club lounge (which I reviewed previously, here).
Chambers Suites usually cost at least 500 GBP per night (over $600, depending upon the current exchange rate), but we paid 45,000 Marriott points per night plus 170 GBP per night for the upgrade to the Junior Suite.  45,000 points per night used to seem like a lot, but now that we can freely convert SPG points to Marriott at a 1 to 3 ratio, it's a bargain at only 15,000 SPG points per night.  And that 170 GBP up-charge was well worth it for the upgrade into such a large and beautiful room.
Since there were three of us, we were a bit disappointed that the suite didn't have a separated sitting area for the extra bed.  However, we worked out a solution that we were all quite happy with.  We converted the desk area to a tiny bedroom:
The bathroom was bright and spacious:
And it came with a rubber ducky:
We tucked that one away somewhere, and a few days later this blue one appeared:
Welcome Gift
As a Platinum Elite, they offered me my choice of 500 points or a food and drink arrival gift.  We took the latter (but probably shouldn't have given the great food that was available in the Chamber's Club!).  Additionally, London Pride was going on during our stay, and Marriott showed their support with this amazing cupcake:
We then combined the cheese platter, tea service sandwiches, and the cupcake into a nice little meal:
Chambers Wing
Staying in the elegant Chambers Wing of the St Pancras hotel feels like living in a castle or in a Downton Abbey estate.  It's hard to describe how cool it is to be surrounded by such tall ceilings and beautiful design elements.
And then there's the view of the train station.  Some suites have a direct view from their room, but we settled for seeing this view on our walk to the Chambers Club:
And then there's the awesome Chamber's Club itself (read more here):
Butler Service
One of the intriguing items in the Junior Suite's room description is "Butler Service".  I didn't know what we would do with a butler, but I was interested in finding out.  I assumed that someone would introduce themselves as our butler upon check-in, but that never happened.  A few days into our stay I asked about it and learned that butler services were available upon request.  The only specific examples of butler services that I was told of was that they could prepare a special bath or they could prepare in-room dining (such as a private tea service).  It turned out that the amazing staff from the Chambers Club are the same people who take on this butler duty when called upon.  The closest I got to using this service was when I was trying to bring some food back to the room and a Chambers Club staff member insisted on helping.
Eurostar VIP transfer service
Another benefit to staying in the Chambers Wing is the dedicated Eurostar VIP transfer service.  We did take advantage of this.  If you arrive at St. Pancras by Eurostar, they'll pick you up at the train.  We didn't do that, but we did leave by Eurostar to go to Amsterdam (via Brussels).  A St. Pancras porter and a porter in training showed up at our room about a half hour before our train was scheduled to depart.  They took our bags and led us through the hotel and connected train station to a private Eurostar security line.  After we whisked through security, they led us up to the train itself and loaded our bags on board.  To be clear, none of this would have been difficult to do ourselves, but it was very nice not to have wait in any lines or wonder if we were going the right way.
Location
With Kings Cross station right across the street (and accessible through an underground walkway), it's super easy to get nearly anywhere by train or tube.  Next door is the British Library which also serves as an excellent museum (go there to see the Magna Carta!).  And a short walk north is the revitalized Regent's Canal.  One day we walked along the canal all the way to Camden.
If you like walking, getting to the theater areas or even Westminster is doable (we did it a number of times), but also a bit tiring.  From a pure location point of view, I prefer staying in the Covent Garden / Bloomsbury areas which have more character and where nearly all of the popular theaters are no more than half a mile away.
Wrap Up
I've stayed at the St. Pancras hotel before, but not in the Chambers Wing.  Even though I previously had access to the Chambers Club due to my Platinum status, it just wasn't the same as living in the Chambers Wing.  This time, we stayed in the Chambers wing and loved it.  My impression of the St. Pancras hotel went from a previous "yeah, it's pretty good" to "it's absolutely fantastic."
I don't love the location, but it's certainly not bad.  If given the choice of staying in a better location vs. staying at the St. Pancras in a Chambers Suite, I'll take St. Pancras.  It was that good.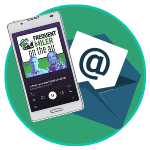 Want to learn more about miles and points?
Subscribe to email updates
 or check out 
our podcast
 on your favorite podcast platform.