On my recent trip to Europe, we spent one night in London at Greg's beloved St. Pancras Renaissance. At the time I booked, the price of a standard room was 548 pounds per night (about $650 per night), but that same standard room was available for 60K Marriott points. I used a Marriott 50K free night certificate (which was due to expire on June 30th) plus 10K Marriott points to book this hotel for a stay just before the end of June. I also applied a Marriott suite night award and was very excited when that suite night award cleared 5 days before arrival.
As a reminder, Marriott Suite Night Awards are a choice benefit you can select when you reach 50 or 75 elite qualifying nights. If you choose suite night awards, you get 5 of them. Suite night awards can only be applied to a stay when you have enough awards to cover all the nights of your stay (each award is valid for one night). Unlike Hyatt, Marriott suite night awards do not confirm far in advance and in my experience they just don't clear often at all. Marriott begins looking for available upgrade space 5 days before your stay. Those hotels that accept suite night awards (many do not accept them at all) provide a selection of rooms eligible for upgrade and you can select which rooms you would accept in exchange for your suite night award should it become confirmable. Some of those upgrade possibilities are usually just larger rooms or rooms with a view, not actual suites, so you have to examine the list of upgrades and determine what would satisfy you.
The highest category that was available for a suite night award request was a Chambers Junior Suite and that was the only upgrade option I selected for my suite night award (there were also some lower-category non-Chambers wing rooms that were larger than standard rooms but were not suites and I wasn't interested in those). Those who have read Greg's previous reviews know that an upgrade to the Chambers Wing is necessary in order to get Chambers Club access unless you have Marriott Bonvoy Titanium status or better (whereas Marriott Platinum members ordinarily get lounge access at most Marriott brands, the Chambers Club at the St. Pancras operates differently and so Platinum members do not get access without a Chambers Wing upgrade). I have Titanium status and would have gotten Chambers Club access either way, but I wanted the additional space of a suite for my family. My suite upgrade initially cleared into a Chambers Junior Suite 5 days ahead of arrival.
I was surprised that the upgrade cleared because the hotel was totally sold out on the night of my stay (as well as the night before). Most other hotels nearby were also completely sold out. I assume that the hotel had oversold standard rooms and as a result I was the lucky beneficiary of an upgrade to a junior suite.
But it got better.
The day before arrival, I noticed in the Marriott app that my room type had changed to a "Grand Junior Suite". That room type is one category above a Chambers Junior Suite, but I otherwise couldn't figure out exactly what the distinction was. It sounded "grand", and I like grand things, so I was happy enough with that.
Our flight arrived early in the morning (just after 6am) and despite really taking our time to get to the hotel, we arrived around 9am. Rooms weren't yet available (no surprise), but during check-in, Andrea, the very friendly Portuguese desk agent who helped us, noted with some excitement that we had been upgraded to a Grand Staircase Suite (side note: Andrea was from Porto, so we bonded over my appreciation of the Francesina, a famous sandwich from Porto). I didn't see any change in the app, so I figured that either she misspoke or a "grand junior suite" was the same thing as a "grand staircase suite". Spoiler alert: it isn't.
Later that afternoon, when the room became available, I noticed that my room type in the app indeed changed to a "Grand Staircase Suite". I didn't know exactly what that meant, but it turned out to mean "amazing suite" in British. Here's the video:
Short story: it was amazing. Not the most practical room ever — I was a little worried about the kids and the stairs in the middle of the night, but everything worked out fine. If you need a picture to convince you to check out the video, here you go.
I had taken a screen shot of some of the cash rates for the night of my stay and I can see that at the time I booked, a standard room was 548 GBP per night, a Chambers Junior Suite was selling for 763 GBP per night and the Grand Junior Suite was 832 GBP per night. I didn't screen shot the Grand Staircase suite the day I booked, but I found a future date with similar rates for those three room types and it looks like this suite goes for around 1100 GBP on similar nights (about $1300 USD). That was an awesome upgrade using a Marriott 50K cert, 10K points, and a suite night award.
Greg has always talked highly of the St. Pancras, but pictures had never convinced me that this place was as luxurious as its price tag suggests. I can certainly confirm that Greg was not wrong: this place is every bit as luxurious as he has previously described it. Check out the actual Grand Staircase:
Greg has already reviewed this place in a couple of previous posts, so for full details about this hotel, see Greg's previous reviews:
Here are some more pictures from my recent stay:
One disappointment was the room service order we placed for our kids. We originally had a reservation at Indian restaurant Dishoom — which has a location very close to the hotel and honest to goodness Dishoom was at least 30% of the reason for this one-night stop in London, it's that delicious — but it was clear that everyone was zonked and we weren't going to make that. Instead, my wife and I ordered delivery from Dishoom (Deliveroo to the rescue!) and we ordered room service for the kids (side note: I could drink the sauce on Dishoom's Ruby Chicken. I know because I did.). We ordered a single kids' pizza from the St. Pancras room service figuring that our 4yr old and not-quite-2yr-old sons could split it. It came in a pizza box that was about the size of a small pizza box at a normal pizzeria in the US.
That didn't surprise me as pizzas in Europe tend to be about that size. I kind of laughed to myself that the hotel had its own pizza boxes printed given that they don't have an Italian restaurant or a takeaway pizza counter — this has to be just for room service pizzas.
Anyway, I laughed a little harder when I opened the box.
Granted, if that box was made to fit a regular-sized pizza, I guess it makes sense that the pizza from the kids' menu section would be smaller. But note that the pizza looks bigger in that picture than it really was (I should have put something in there for reference, but you can almost tell that the table knife next to it is longer than the pizza was wide). It turned out that it was indeed enough for our two kids as they were exhausted and barely interested in eating, but it did look pretty ridiculous. I can't remember what it cost, but "too much" is the answer.
Other than that, the St. Pancras was fantastic and I would not hesitate to return.
We took a walk along the nearby canal while the kids were asleep in their strollers and came across people lounging and watching Wimbledon on a big screen (the tournament was on while we were there).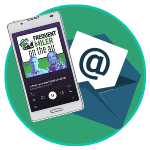 Want to learn more about miles and points?
Subscribe to email updates
 or check out 
our podcast
 on your favorite podcast platform.