This week at Frequent Miler, we honed in on some big savings: from a way to potentially stack $500 in Hilton resort credits (or $1K as a couple) to an 18-minute turnaround time on a $288 best rate guarantee. Greg explored the Joy of Free, which, ironically, best describes why I'm keeping a credit card from SPG. Read on for the weekly recap.
I remember my first award redemption. If you're drinking coffee as you read this, put it down lest you spit it out with laughter. I redeemed over the phone with United for a one-way inter-island flight in Hawaii within 21 days of departure. I think they waived the $25 phone booking fee, but I'm pretty sure they didn't waive the $75 close-in booking fee. But I didn't feel bad about it. I had these miles I never intended to collect and didn't know of a better alternative — and I was getting a free flight. Of course, when I paid $100 "cash" for the next flight, it felt significantly less free…because there are a lot of alternative ways to use a hundred bucks. And that's what this post from Greg is about: why fewer options sometimes enhances the joy of free.
---
There's little doubt that I'm the closest thing you'll find in the blogosphere to a Hilton fanboy. The Hilton Aspire card has only augmented my loyalty, almost to my own detriment on this one. I have to admit, I wouldn't have even found this opportunity to save $288 in 18 minutes on my own. Hilton managed to exceed my expectations yet again, but the experience reminded me that my mama told me, you better shop around.
---
The Hilton Aspire card comes with some killer benefits. It's the hands-down best value in hotel credit cards in my opinion. The one "catch" is that the annual $250 resort credit means that you have to stay at a Hilton resort every year in order to take advantage of it. But what if you didn't have to — what if you could stack this year's $250 with next year's and take a free $500 credit every other year? Would you use it to pay for a seaplane ride or to go to Disney or to pay for a few free nights in a cheap locale? See this post for how I think it can be done.
---
After I talked a tough game last week about how I was going to shut down all of my SPG and Marriott cards, I quickly stumbled on a situation where one of those 35K certificates will come in very handy…and I've got one scheduled to arrive next month. With rooms rates for the Fairfield Inn, Springhill Suites, Residence Inn, and Courtyard all approaching or exceeding $400 for a single night, it looks like I'm going to pay $95 to renew my card and pick up one of those certificates after all.
---
The new Marriott Rewards Premier Plus had carried a 100K welcome offer since its launch in May, and this week that offer came to a close (see our Marriott Rewards Premier Plus page for the current best offer). As that offer drew to a close, I pointed out the fact that most people didn't really need to rush to sign up for this offer. It certainly wasn't a bad offer and might have been worthwhile for a few key groups,but most people who qualify should be focusing on more valuable cards first.
---
Can you believe that the Marriott-Starwood merger was originally announced almost 3 years ago? Back at that point, Greg made some outlandish predictions. At least, they seemed outlandish at the time. Check back in to see how closely reality aligned with Greg requests demands from Marriott.
---
When it comes to manufactured spending, sometimes things go wrong. That can mean a lot of different things – from a gift card that doesn't activate to a lost money order to an account shut down and more. In my case, it was just wasted time. I ran into some road blocks early on with the 10% back deals at Staples and Lowe's while buying gift cards last weekend. See the comments for some helpful suggestions from readers so you didn't spend two or three hours with as little to show for your efforts.
---
That's it for this week at Frequent Miler. Check back soon for our week in review around the web and this week's last chance deals.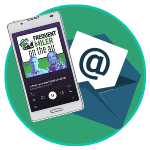 Want to learn more about miles and points?
Subscribe to email updates
 or check out 
our podcast
 on your favorite podcast platform.