Staples is again offering fee-free Visa Gift Cards this week, but this time the ad states it is valid on $100 Visa Gift Cards. I would be tempted to think that's typo if not for the fact that they also changed the maximum quantity (from 8 cards recently to just 5) and the the amount of savings ("a $5.95 value"), so this seems pretty deliberate. Hopefully this isn't a change that's here to stay.
The Deal
Staples will waive the $5.95 activation fee when you buy a $100 Visa Gift Card between 12/25/22 – 12/31/22.
Direct link to weekly ad (see the 12/25 ad page 10)
Key Terms
Offer valid December 25, 2022 to December 31, 2022
Limit 5 per customer per day (YMMV on whether your cashier / store allows or enforces the limit)
In-store only
Quick Thoughts
Well this isn't what anybody wanted to see. On the one hand, this sale still makes it possible to pick up some easy 5x spend. On the other hand, I'm concerned that this may be a sign of things to come.
As noted at the top, it isn't one change to the ad but multiple that concern me here. The thing that stands out to me the most is that this is now advertised as a "$5.95 value". That's eye-catching because we had quite recently reported that the activation fee on $200 gift cards had recently increased from $6.95 to $7.95 — and along with it, the weekly ads for the last couple of gift card deals had indicated that waived purchase fees were a "$7.95 value". At the time, we wondered how this might affect Office Depot sales, which are typically $15 off of $300 or more. It seemed like Staples had this covered by waiving the newly-increased fee.
However, now they seem to have gone in the opposite direction, instead waiving the fee on the lower-denomination $100 cards. I'm surprised that they both changed the promotion to only waive the fee on $100 cards and decreased the maximum limit per day from 8 to 5. That means a decrease of up to $1600 in gift cards per customer per day to just $500 per customer per day. If you were counting on Staples sales to generate points, that's a significant change.
Again, we don't know that this change is here to stay. Hopefully it isn't.
This promotion can still be an easy way to generate some points without cost on this end of the deal if you're going to Staples, just far fewer points than previous promos. Remember that it is in-store only.
We have added this deal to our list of current Visa and Mastercard gift card deals.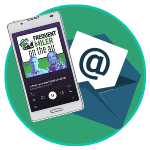 Want to learn more about miles and points?
Subscribe to email updates
 or check out 
our podcast
 on your favorite podcast platform.