When American Express revamped its Marriott card lineup this year, it made significant changes to the Marriott Brilliant card. One of the added features to this now $650/year card was that the number of annual elite nights awarded to cardholders went from 15 to 25.
This meant that folks who hold both the Brilliant card and either an Amex or Chase Marriott Business card would get 40 elite night credits annually instead of the previous maximum of 30. Although the Brilliant gives cardholders automatic Platinum Elite status, for those (like me), who wanted to reach Titanium status, the extra nights provided a significant boost.
However, many people who either had the card already or who had recently signed-up for the card found that the expected additional elite nights were not showing up in their Bonvoy accounts. Marriott and Amex both pointed fingers at each other saying everything was right on their end and that it could take up to 60 days for the elite nights to show up.  This would create a huge headache for those folks that needed them in 2022 to attain their desired level of status (and note that previously, I'd never heard of a delay of more than a few days between approval and elite night credits being awarded).
I was in this exact situation. I had applied and was approved for the Brilliant card during the first week of November and a month later there were still no additional elite nights. Between cards, stays and using my Platinum Choice gift of 5 elite nights towards status this year, I was sitting at 65 nights, 10 short of the 75 needed. I reached out to both Amex and Marriott, but they each said that it was the other's fault and I needed to hang tight for it to resolve itself. In the meantime, I was running out of time to get credits applied in 2022.
After talking about it with the FM team, Greg and Nick used my situation as a "What Crazy Thing" segment on the FM on the Air podcast. Luckily John, a Frequent Milers Insider reader, was able to figure out the reason as well as the magic words to say to Marriott in order to get the problem resolved. He listened to the podcast and then reach out to let us know how he'd been able to get it resolved.
How to get Marriott to credit Brilliant elite nights
It turns out that Marriott has not yet appropriately programmed the new maximum of 40 elite nights for Brilliant cardholders, so the system is not recognizing that another 10 can and should be added for those that have a business card as well. Most Marriott CSR's are not aware that the limit has been increased and so think that the error is that the elite nights haven't been applied by Amex. There is one department that IS aware, but most of the CSR's don't know to open up a case file and have them fix it. Here's how to make it happen:
Call Marriott customer service at 800-399-4229 (this is the Titanium line).
Tell the CSR that you there is a known issue with Amex Elite Nights crediting and that you need them to open a ticket with the "Partner Team."
The ticket should say that you are a Brilliant and Business cardholder and you are only receiving 30 elite nights instead of the new maximum of 40.
I was able to get the CSR to open a ticket and send it off within about 3-4 minutes (in contrast to the earlier 20+ minute phone calls where the CSR's and their supervisors assured me it was Amex's fault). He told me that I should hear by e-mail directly from the Partner Team within 1-3 days. Sure enough, 48 hours later, I got this e-mail:
Then, when I logged back into the app, the elite nights were there, as was my Titanium status for 2023.
Quick Thoughts
It takes a village to not get Bonvoyed. This experience is one of many over the last year that's made me extremely grateful for the Frequent Miler Insiders community. Being able to crowdsource info in real time across 27,000+ points and miles enthusiasts has been incredibly useful and saved me from some major headaches…and this was one of them (thanks to John!).
If you're in the same boat with the Brilliant elite nights, I'd encourage you to get on the horn with Marriott ASAP as there's still time to get them credited this year and avoid the Slow Bonvoy Torture of having to convince a CSR in January that they were supposed to be awarded last year.
(h/t: FM reader John)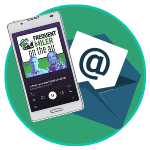 Want to learn more about miles and points?
Subscribe to email updates
 or check out 
our podcast
 on your favorite podcast platform.