Ever since we decided to do the 40k To Far Away challenge, I've been keeping a list of everything I need to remember to bring.
What I hadn't done was make sure that I could actually fit all that stuff into my backpack. I've now tested it out and thankfully everything does fit – just about.
The Backpack
Before setting off on our road trip at the start of 2018, my wife and I bought a backpack off Amazon as we knew we'd be doing a lot of hiking around the country. The one we bought was a Mountaintop 40L Unisex Hiking/Camping Backpack (affiliate link). This has been great as it's spacious, comfortable, has multiple compartments and includes a laptop slot. I'm not in the habit of bringing my laptop while hiking, but it's helpful to have for this challenge.
Another benefit for this challenge is its size. Some of the flights I'm taking have fairly strict baggage size limits, so this satisfies all of those. My bigger concern is the weight; when putting it on my back after packing it earlier, it felt like it was significantly heavier than the specified weight limits for the flights. There's no scale in the fitness room at the hotel we're currently staying at, so there's no way of checking its weight right now
What I'm Not Bringing
There's not been much stuff I've wanted to bring that I'm having to leave behind, although there are a few items I've decided not to pack.
Power Adapter & Charger
One switch I made is something that Nick also did. In the past, I've relied on bulky international power adapters and a multi-USB port charger. Those take up far too much space, so I'm leaving them behind and instead bought an all-in-one international power adapter (affiliate link) with four USB ports as well as a USB-C port. I've not actually used it yet, so hopefully it doesn't blow up on me the first time I plug it in overseas.
J-Pillow
I bought my wife a J-Pillow (affiliate link) a few years ago and she loves it. In addition to using it when flying, she uses it in the car when it's a long driving day. It cushions your head at the side, but also has a chin cushion to stop your head from dropping.
My original plan was to borrow it while I'm away on 40k To Far Away. I don't ever use a pillow when sleeping on planes in economy class, but figured it'd be useful for the occasions I might be sleeping on an airport floor.
The thing is, I tried using it a couple of months ago and it was waaaaay too hot. I'm someone that always needs the cool side of the pillow and the J-Pillow only seemed to have warm sides. So while its functionality is fine, I simply wouldn't be able to sleep with my head resting on it.
Bladder
No, not that kind of bladder. I drink at least a gallon of water a day and that's just when I'm sitting around working. When hiking, I get through significantly more, so I bought this 2L water bladder (affiliate link) for additional hydration.
I was hoping to bring it along in addition to my 40oz water bottle (affiliate link) so that I'd be less likely to need to spend money on water when out and about in case there aren't any water fountains. There simply isn't room in the backpack though; it slots in perfectly in the laptop compartment when hiking, but that space is getting taken up by my actual laptop on the trip.
Note Re Affiliate Links
The purpose of this post wasn't to stuff it full of Amazon affiliate links – it was to share what's in my bag. However, I figured some of you might want to find out more about the products and I'd bought all of the items I mentioned off Amazon. The affiliate link is Greg's rather than mine, so it's not like I get anything out of it.
What Is In My Bag
OK, so having covered what I'm not bringing, here's what will be in my backpack. I shared this video on Facebook yesterday, so it's embedded below in case you missed it. Unfortunately YouTube only gave me a choice of three thumbnails and wouldn't let me upload one, so the image below was the best of the three that YouTube decided to let me use.
Just in case you don't watch the video but looked at the photo at the top of this post, you'll likely have noticed loads of tuna pouches. Don't worry, I'm not planning on cracking them open during flights and becoming persona non grata in a metal tube. They're for when I'm exploring cities or in other places where it won't be antisocial to get my sustenance from tuna wraps.
Spotify
Towards the end of the video I mentioned that I'm bringing an additional phone with me to use for Spotify, although I didn't really explain why. There are a couple of reasons I'm bringing a second phone rather than using my regular phone.
For starters, I don't want my main phone to drain its battery too quickly. I'll likely be using it a lot during the trip, so want to minimize battery drainage.
Secondly, and along similar lines, I can't charge my phone at the same time as listening to Spotify. As much as I love my Google Pixel 3, it doesn't have a 3.5mm headphone jack slot. Instead, you have to use a separate dongle that plugs into the USB-C port. You can therefore charge your phone or listen to music, but not both at the same time (unless you use wireless headphones which I don't have). This old phone has a separate 3.5mm headphone jack, so I can charge and listen at the same time if I want.
I also mentioned in the video that I've created a 40k To Far Away playlist to listen to while I'm on the trip. In case you're interested, I've embedded the playlist below. Seeing as I'm British and was born in 1980, there's quite a bit of 90s Britrock in there. It looks like only the first 100 photos are scrollable below, but there's something like 175 songs on the playlist, so it should last a while before I play it through again. Feel free to make fun of my music taste in the comments below 😉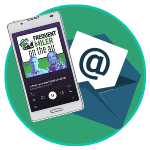 Want to learn more about miles and points?
Subscribe to email updates
 or check out 
our podcast
 on your favorite podcast platform.