Another one bites the dust…maybe. Miles to Memories has picked up on a Reddit post stating that Swych transactions are no longer coding as 5x on an Ink card. It wouldn't surprise me if this is true, but it'd be good to have additional data points verifying if this is definitely the case.
In case you're not familiar with Swych or the opportunities it provided, it's an app selling third party gift cards. They frequently have promo codes that can make a deal break even or profitable for resellers, with the added benefit that you can earn 5x/5% when checking out with PayPal and using an Ink Plus or Ink Cash card.
The Reddit post was made on March 4 and states that it no longer codes as 5x on the Ink Cash card. The subsequent Miles to Memories post says that this change has been since February 26. I earned 5x on a Swych transaction on that day, so if this is true, the earliest this change came into effect was February 27.
Something that might be relevant here is that the Reddit post references the Ink Cash card, whereas I earned the 5x with the Ink Plus card. If Chase has nixed earning 5% on the Ink Cash card though, I'd be surprised if they hadn't done the same with 5x on the Ink Plus card.
Chase has been cracking down over the last 18 months or so on 5x qualifying transactions, with PayPal Digital Gifts being the biggest loss. Although it's nowhere near as lucrative as PPDG once was, Swych has been a good way to increase 5x spend at times so it'll be a sad loss if this news is indeed true.
From what I can find though, that Reddit post is the only data point we have that Swych no longer codes as 5x. If any of you have bought gift cards through Swych recently, did you receive 5x? If so, what date was it that you received that?
Update: In addition to the comments below, the Frequent Miler Insiders Facebook group gave a couple of additional data points. A transaction on February 28 coded as 5x on the Ink Plus and a transaction on March 3 also coded as 5x, although I'm not sure if that was the Ink Plus or Ink Cash. This therefore might not be completely dead yet, although the negative data points are concerning.
Update 2: Chuck over at DoC confirmed the other day that his Chase Ink Cash card only earned 1x on a Swych purchase. I subsequently bought a gift card on March 9 and paid with an Ink Plus card and that's only coded for 1x too. RIP.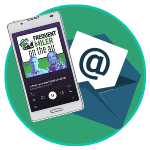 Want to learn more about miles and points?
Subscribe to email updates
 or check out 
our podcast
 on your favorite podcast platform.