T-Mobile Tuesdays has launched a new partnership with Rewards Network called T-Mobile Dining Rewards which offers 5%-10% cashback when paying with a linked card at participating restaurants.
The Deal
Earn 10% cashback on Tuesdays and 5% cashback every other day of the week (6% for T-Mobile Money customers) at participating restaurants when paying with a linked card in the T-Mobile Dining Rewards program.
Also earn $10 bonus cashback when spending $25 within your first 30 days & reviewing your dining experience.
Direct link to offer (need to view on mobile, or click through from T-Mobile Tuesdays or T-Mobile Money app).
Key Terms
$10 bonus cashback when spending $25 expires June 30, 2023.
T-Mobile Dining Rewards available for T-Mobile, Metro by T-Mobile, and T-Mobile MONEY customers.
Quick Thoughts
This is a great new partnership between T-Mobile and Rewards Network. In case you're not familiar, Rewards Network is the company that runs the dining programs for various airlines and hotel loyalty programs like American Airlines, Delta, United, IHG and more.
Something important to be aware of is that a credit or debit card can only be enrolled with one of these Rewards Network-run programs at any given time. That means that if you have a card linked with, say, the American Airlines AAdvantage Dining program and you subsequently enroll that card with this new T-Mobile Dining Rewards program, it'll be removed from the American Airlines program.
Something else important to consider is what your best earning option will be. The dining programs for airlines and hotels tend to have a tiered earning setup; you earn x amount when registering, a higher rate when signing up for their emails and an even higher rate after earning with them x number of times in a calendar year. Depending on how you value the miles/points with that program, you might get more value by continuing to earn with them rather than the 5% (6% for T-Mobile Money customers) or 10% on offer with T-Mobile Dining Rewards.
On Tuesdays at least, it'd be hard to beat the 10% cashback available through T-Mobile's program. An exception could be the American Airlines AAdvantage Dining program if you're shooting for status with them. That's because VIP members earn 5x AAdvantage miles as well as 5x Loyalty Points on AAdvantage Dining spend. VIP membership requires 11 transactions first though, so it could come at an opportunity cost along the way depending on the value you assign to the lower earning rate of miles and Loyalty Points.
Seeing as it's a card-linked program, the earnings from T-Mobile Dining Rewards will stack with your credit card earnings by putting the spend on a card that earns more on dining purchases. It'll also potentially stack with restaurant-specific Amex Offers, Chase Offers and Citi Offers. With Amex Offers and Chase Offers that'll be less likely as those are usually for chain restaurants that rarely appear on Rewards Network dining programs, but I've noticed a couple of dozen Citi Offers for local restaurants which are more likely to appear on T-Mobile Dining Rewards and other Rewards Network-backed sites.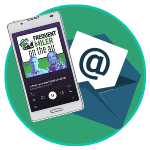 Want to learn more about miles and points?
Subscribe to email updates
 or check out 
our podcast
 on your favorite podcast platform.