A month ago T-Mobile Tuesdays offered a free 2023 MLS Season Pass. Quite a few people were concerned that that promotion could signal the end of ongoing yearly offer T-Mobile Tuesdays had which gave a free season of MLB.TV. Well, worry no more because the MLB.TV offer is once again back this week.
The Deal
Key Terms
MLB.TV – claim in T-Mobile Tuesdays app & sign up for MLB.TV by April 4, 2023 at 4:59am ET.
Quick Thoughts
Growing up in the UK, baseball wasn't a popular sport and so I never followed it. However, in the late 90s I had a job where I finished work just after midnight. I only had terrestrial TV which, at the time there, meant I only got five TV channels. On Channel Five, on Wednesday and Sunday nights they'd show live baseball games and that was the only thing worth watching at that time of night. That got me into baseball and so when I moved to the US in 2009 I loved getting to watch more games than ever before, even more so when we moved to T-Mobile and subsequently got access to free MLB.TV every year.
I've since lost most of my interest in baseball, but I know for a lot of people out there that they count on this T-Mobile Tuesdays offer each year to get a free year of MLB.TV, so I'm glad it's making a return. It's also nice that you now get a week to claim the offer in the app rather than having to claim it on the Tuesday itself like in past years from what I can remember.
There are some other potentially good offers this week too. If you'll be ordering any team merchandise from Fanatics, getting a 30% coupon code could prove to be useful. If ordering from Fanatics, there are numerous stacking opportunities:
Shopping portal – check the current rates here
Citi Offer – $10 back on $100 spend
SimplyMiles offer – 465 American Airlines AAdvantage miles and 465 Loyalty Points on $100 spend
Amex Offer – $25 back on $100 spend (this won't stack with the Citi Offer nor the SimplyMiles Offer, but the monetary value is much better despite that)
Drop – 45 points per dollar when paying with a linked card (worth 4.5% back which can be redeemed for gift cards)
JetBlue shopping portal – 15 TrueBlue points per $10 spent with a linked card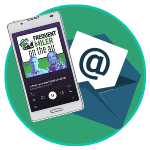 Want to learn more about miles and points?
Subscribe to email updates
 or check out 
our podcast
 on your favorite podcast platform.