UPDATE: The process for finding upgrade offers has changed.  Please see the updated instructions here.
Note: American Express is a Frequent Miler advertiser
Instead of applying for a new credit card, it is sometimes possible to earn bonus points simply by upgrading an existing card.  Here's how to find upgrade offers from American Express…
In a recent post I discussed my desire to upgrade from my Amex Hilton HHonors card to the Hilton Surpass card, but I thought that my Hilton card was too new to qualify for an upgrade.  A few readers said that I should see an offer to upgrade simply by logging into my American Express account.  I tried several times, but never saw such an offer.  Then, reader AdamH suggested that I log in and enter the word "upgrade" into the search box.  It worked!  Here are the steps to get targeted upgrade offers:
1. Log into your Amex account and search for "upgrade":
2. Look for the blue box at the top of the results that asks if you want to upgrade your card.  Click upgrade:
3. At first, you'll see a banner saying "Get Additional Cards".  Just wait a moment for other stuff to appear.
4. After a short wait, you should see a screen similar to this:
5. Click on "Upgrade your membership".  If you were targeted for an upgrade to the Surpass card, you should see an offer like this one:
Of course, now that Hilton has dramatically increased the number of points needed for free nights, you might not value 50,000 Hilton points much, but the general idea of upgrading cards can still be worthwhile.
Update: Not the whole story
Commenter Elizabeth notes that just because an offer appears does not mean that you qualify for it.  And, in my case, this was the case.  I clicked through to "upgrade now", entered my log-in credentials, and got the message "We're sorry, your existing Cards are not eligible for this upgrade. Please call the number on the back of your card to apply for an American Express Card."  Oh well.  I wasn't too excited about this offer anyway…  Regardless of my situation, it can't hurt to click through for yourself to see if your offer is valid.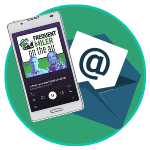 Want to learn more about miles and points?
Subscribe to email updates
 or check out 
our podcast
 on your favorite podcast platform.