Wyndham Rewards sent out an interesting targeted email yesterday inviting some members to take part in a status fast-track promotion. They're giving Diamond (and, less interestingly, Platinum) status when staying just once by May 15 which could come in handy if you'd been hoping to get on the casino status/free cruise merry-go-round.
The Deal
Get Wyndham Rewards Diamond or Platinum status after one stay with a targeted offer.
Key Terms
Wyndham Rewards Members who qualify for a Member Level upgrade pursuant to these Offer Terms will receive an upgrade to his/her/their Platinum Level or Diamond Level status previously in effect on December 31, 2022 ("Upgrade Offer").
To qualify for this Upgrade Offer and receive an upgrade to Platinum Level or Diamond Level, a Wyndham Rewards Member must: (i) receive an email invitation from Wyndham Rewards specific to this Upgrade Offer and/or receive this Upgrade Offer in the "My Promotions" section of their Wyndham Rewards Member account (each, an "Upgrade Offer Invitation"); and then (ii) complete a Qualified Stay between February 27, 2023 and May 15, 2023.
Member will receive confirmation of such upgrade by email sent to the email address stored in his/her/their Member account. Maximum of one (1) upgrade to Platinum Level or Diamond Level per eligible Member.
IMPORTANT INFORMATION ABOUT UPGRADE EXPIRATION: An upgraded Member Level awarded pursuant to this Upgrade Offer will expire on the earlier to occur of: (i) the date on which the applicable Member completes enough Qualifying Nights to obtain the upgraded Member Level under the Program Terms (at which time, such Member's Qualifying Nights and Rollover Nights (if any) will be removed from their account, and such Member will be deemed to have reobtained the applicable Member Level under the Program Terms); and (ii) December 31, 2023. For example, on April 10, 2023 a Gold Level Member who has 13 Rollover Nights and receives an upgrade to Platinum Level pursuant to this Upgrade Offer will be deemed to have reobtained Platinum Level under the Program Terms upon their subsequent completion of two (2) Qualifying Nights prior to January 1, 2024. Upon completion of the second Qualifying Night prior to January 1, 2024, both of the Member's post-upgrade Qualifying Nights and all thirteen (13) of the Member's Rollover Nights will be removed from the Member's account, and such Member's newly obtained Platinum Level will be scheduled to expire on December 31 of the calendar year following the calendar year in which the second Qualifying Night was completed.
Quick Thoughts
My wife used to have Diamond status with Wyndham Rewards, I think as a result of some kind of status match a few years ago. That's since lapsed, so it was interesting when she received an email from Wyndham yesterday offering her this fast track back to Diamond status, especially considering the requirements couldn't be simpler.
If you're targeted for this offer, it could prove to be a very lucrative opportunity. We've tried getting her a Wyndham Rewards Earner Business card which comes with Diamond status, but Barclays has either declined her applications or asked for documents that she doesn't have. Nick's had similar trouble recently when trying to help a family member get the card. As a result, getting Diamond status through another route is helpful, especially seeing as a stay could simply be a mattress run at a $40 motel that's part of the Wyndham Rewards program – even cheaper than the $95 annual fee on the Wyndham business card.
That ~$40 investment could prove to be especially lucrative as the Diamond status can then be parlayed into status with several casino loyalty programs and subsequently into nearly two months of (almost) free cruises.
The first step of that merry-go-round would be to match your newly minted Wyndham Diamond status to Caesars Rewards Diamond status. Caesars became more strict last year when it comes to status matching from Wyndham, no longer allowing you to match to Caesars if your Wyndham status was itself originally received through a status match from another loyalty program. With this targeted offer though, you're not status matching to Wyndham – you're getting a status fast track. As a result, I'd assume that it'll be eligible for matching to Caesars, but I can't guarantee that. Still, it could be worth a try if you're targeted seeing as your outlay would only be ~$40 if you have a cheap Wyndham property near you.
Based on the email my wife received, I'm assuming these fast track emails for Platinum or Diamond status are being sent to people who used to have a higher level of status than at present, but it's worth checking your emails in case they're targeting this more widely at people who don't currently have status.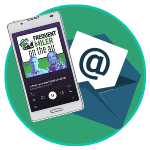 Want to learn more about miles and points?
Subscribe to email updates
 or check out 
our podcast
 on your favorite podcast platform.