If you've already mastered the art of credit card churning, consider adding gift card churning to your repertoire.

For most people new to travel hacking, learning about credit card churning is the first stop in the adventure. By applying for credit cards with large sign-up bonuses every 90 days or so, people can easily rack up many hundreds of thousands of points and miles every year.  For details, please consider signing up for my email newsletter (click here).
So, if credit card churning is so great, why bother with gift card churning? There are a few reasons that you might be interested. For one, you might be uncomfortable with signing up for many credit cards. Another reason may be simply to earn even more miles and points than you can with credit card churning alone. If you really enjoy this game of accumulating points and miles, as I do, it's not much fun waiting around for 90 days between credit card churns! Gift card churning provides a way to fill the gap. Another reason to do gift card churning might be if you do not have good enough credit to effectively do credit card churns. If that is your reasoning, please note that gift card churning involves financial risks, and I'd argue that you'd be better off spending your time working towards improving your credit scores than worrying about points and miles.
A different reason for gift card churning, and the one that motivates me the most, is that it is a way to get airline and hotel elite status without paying for flights or hotel rooms. A number of credit cards will give you elite status when you reach high spending thresholds on the cards. Gift Card Churning is a way to achieve that high spend without costing you a fortune.
Gift card churning involves three basic steps: Buy, Upgrade, and Liquidate. Each step is described below in more detail. Ultimately, the goal is to end up with as many points and miles as you can, and as much elite status, for as little out of pocket expense as possible:
Buy
There are several ways to get points and miles for buying gift cards. The simplest is to use a rewards credit card to buy gift cards. Usually, though, you will only get 1 point per dollar spent. A better option is to use a credit card with category spend bonuses. For example, Chase Ink cards offer 5 points per dollar spent on office supplies. So, buying gift cards from Staples, for example, is a quick way to get lots of points.
There are several reasons to buy gift cards instead of merchandise: gift card purchases are not charged sales tax; gift card purchases usually don't incur shipping and handling fees (although this varies by vendor); and gift cards are easier than most other merchandise to upgrade and liquidate.
Upgrade
It is rare, but some stores will let you buy other vendor gift cards with their gift cards! The advantage of doing this is that you can start with buying a gift card that gives you the most points for the purchase, but then upgrade to a gift card that you can more easily use or sell. Often it is possible to buy gift cards using gift cards in store, but not online. For example, I've had luck doing just that at both Sears and Kmart even though store policy (if you ask) seems to prohibit it. You can read about upgrading at Sears here, and at Kmart here. I've also heard that it is possible to do this at Walgreens, although the one time I tried I was told no. If you find other examples that work, please let us know!
Liquidate
Use: The best way to liquidate gift cards is to use them for purchases that you would have made anyway. That way, you'll get 100% of the value of the gift card without further ado. If you use the gift cards online, many times you can go through an online shopping portal again and get points for your purchases. We call this the "double dip". Whether or not this works will vary by shopping portal and merchant, but when it does work it can be incredibly lucrative. If you're really motivated, you could use this double dip technique to buy merchandise and then re-sell it. Even if you take a hit on the resale, you could end up ahead thanks to the value of the points received from the double dip. If you're interested in this approach, though, don't forget that you will be charged sales tax on your purchases and you will have to pay for shipping to your customers (or pass along that cost to them). Ultimately, the easiest way to use gift cards is if you manage to profitably buy or upgrade to a Visa, Mastercard, or American Express gift card. That way, you can use these cards for just about any purchases you make day to day. You could even use them to start a new gift card churn! Unfortunately, points back options buying these cards are very limited; and options for upgrading to these cards are even more so.
Sell: If you find you can't effectively use your gift cards, then the next step is to find the best way to sell them. The easiest way is through online gift card exchanges like Cardpool. GiftCardGranny is a great starting point because it lists the exchanges that are available and shows how much each will pay. You will see that it is possible to sell gift cards for as much as 92% of their face value (and sometimes more). Here's how it typically works: Go to the gift card reseller and select "Sell us your gift card". From there you can enter the type of card and the amount on the card. Usually you'll be given a free mailing label that you can print out so as to avoid mailing fees. The gift card reseller will then pay you either through your PayPal account or by sending a check.
Another way to sell gift cards is through EBay. The problem is that EBay charges up to 11.7% in fees. In that case, if you sell a card at face value you will get only 88.3 cents per dollar, and that is before paying for shipping. Some gift cards on EBay, though, often sell for more than their face value. So, you actually do have a chance to profit more by selling through EBay than by selling to an online gift card exchange. As with gift card exchanges, though, readers have warned about getting ripped off on EBay by both buyers and sellers. So, again, proceed at your own risk.
Donate: A final option may be to donate your gift cards to charity. Theoretically you would then be able to write off that gift at tax time.
Common Churns
So now that I've described the basic components of gift card churning (buy, upgrade, and liquidate), I'll now name and describe some common churns that combine the components in different ways:
Double Dip:
I actually mentioned this one above, but it's worth pointing out again. The "double dip" is where you get points by buying gift cards through an online shopping portal, and then you double your points by buying merchandise through a shopping portal using your gift cards. I've pointed out many times in this blog that you can do this double dip at Sears.com by going through the various online portals.
Double Back:
The "double back" churn is like the "double dip" in that you buy gift cards through an online shopping portal, but then instead of buying merchandise, you go through the shopping portal a second time to buy more gift cards using the gift cards you previously bought. Most online retailers explicitly prevent buyers from buying gift cards using gift cards online so I mention this one more for completeness than to suggest you can do this. Even if you find a situation where it is possible to do this, I wouldn't recommend it unless the retailer charges a service fee. Retailers have to pay for those points you are getting, but if you manage to buy their gift cards with their gift cards without a service fee, then they get nothing in return. How long would it take this merchant to go out of business if many people were to do this? I prefer churns where merchants still profit, but at a lower margin than they would have otherwise.
Round Trip:
The round trip churn is like the double back, but with an upgrade thrown into the mix. One simple example is if you were to buy gift cards at Merchant XYZ, then use the gift cards to upgrade to Visa gift cards, and then use the Visa gift cards to start all over and buy the merchant gift cards again. I know of a few examples where the round trip churn has been possible, but it tends to be a lot of work for little gain. There are usually fees for buying Visa, MC, and Amex gift cards, so a round trip like this will likely not be free, but it may well pay off in the form of points and miles.
Harvest:
The "harvest" churn is a special case of the "round trip". As with the round trip, you buy gift cards, upgrade them, and then use the upgraded cards to buy gift cards again. The twist is that there are special cases where the re-purchase of gift cards can be done at a discount and/or with some form of cash back. In that way, the value of your gift cards can actually grow over time without adding additional money to the pot! Please see Gift Card Harvesting for a complete step by step example of how this works.
Cautions
Before jumping into the gift card churning game, you do need to be aware of the risks involved. Here are just a few:
The shopping portal may fail to give you the points or cash back that you expected.
You may find it harder than expected to upgrade and/or liquidate your gift cards.
You may get swindled by an unethical gift card buyer or seller.
You may be suspected of fraud and have your online accounts or even credit card accounts frozen. For example, there have been reports in which American Express has frozen the accounts of people who bought American Express gift cards through the Big Crumbs shopping portal and then quickly liquidated those cards. Those individuals were then put through an arduous account review processes before getting access to their credit card accounts again.
Fortunately, Frequent Miler readers have been quick to point out such dangers whenever I've posted a gift card churning scheme in the past. So, please read the comments section of any such post and make up your own mind about whether the churn is worth the risk.
Building Churns
I realize that this post does not give enough specifics to effectively begin a career in gift card churning. The point is more to introduce the concepts and use this as a springboard for future posts and conversations. My hope is that, as a group, we will share with each other the best "buy", "upgrade", and "liquidate" opportunities that we find. These are building blocks in putting together working churns. Each of us playing this game can then use that information as input into constructing our own best churns. When I see churns that are likely to be sustainable, I'll publish them with step by step instructions. Some churns, though, are likely to be killed as soon as they're widely known. In those cases, I'll publish the pieces without putting together the puzzle, and I'll leave it to you to figure out the best way to profit from what you've read.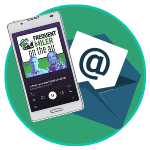 Want to learn more about miles and points?
Subscribe to email updates
 or check out 
our podcast
 on your favorite podcast platform.