This morning I published a mostly negative look at United's decision to eliminate their award chart: Fallout from the United award chart obliteration.  But the news isn't all bad.  There are, or may be, big advantages.
Here's my "glass is 3/4th full" look at the idea of United eliminating award charts by November 15th 2019:
The Excursionist Perk hack gets cheaper
One of the features of Unites MileagePlus program is the Excursionist Perk.  This feature basically lets you insert a free one-way flight within any round-trip award flight.  The one-way flight must happen after your outbound flight and before your return flight and must begin and end in a single region.  We've described this benefit before, along with details about why it is so valuable: Leveraging the United Excursionist Perk to save miles.
This morning, Travel is Free wrote about the Excursionist Perk with relation to the new award-chart-free United: The Good News In United Stopovers.  Drew points out that the ability to book domestic flights for as little as 5500 miles means that United miles have just become more valuable than before for those who book throw-away returns in order to fly super-valuable excursions.  If you're at all into maximizing the value of your miles, his post is a must read.
Possible increase in award space when booking with partner miles
United will still release award space at the "saver" level, there's just no guarantee that the award prices will remain as low as they are today.  If saver level pricing dramatically increases, it's logical to assume that fewer saver awards will be booked with United miles.  And, theoretically, that means that more award space should be available to book with partner miles.
We've seen this happen frequently with Delta.  Since they eliminated award charts, their international business class award prices have increased frequently.  At the time of this writing, a one-way business class award to Europe costs a minimum of 105,000 miles.  That's more than some airline charge for round-trip business class to Europe!   That's the bad news.  The good news is that we frequently see more availability for booking Delta business class with partner miles.  Virgin Atlantic and Air France miles are both easy to come by (as they are transfer partners with most transferable points programs) and they each frequently price awards on Delta flights much, much cheaper than Delta does.
One of the great things about booking United flights with partner miles is that United never charges fuel surcharges.  This is important because many of United's Star Alliance partners do charge fuel surcharges when you use their miles, but not if the carrier doesn't impose them.  ANA is a good example.  ANA charges only 88,000 miles round-trip from the US to Europe on Star Alliance carriers, but they do pass along carrier imposed fuel surcharges.  By using ANA to book United flights, you get the best of both worlds: super cheap award pricing and very low taxes and fees.
Your aunt Sally will get better value
I'm sure that everyone knows someone who would rather pay "free" miles for a flight than pay cash, even if the cash price is crazy low.  Let's call this person "aunt Sally" (with apologies to everyone named Sally).  I have no doubt that there are times where aunt Sally would pay 25,000 miles for a domestic flight that would otherwise cost only $125 cash.  That's a pathetic half cent per mile value, but aunt Sally doesn't care because she thinks of her miles as being free.
The good news is that when award prices are even loosely tied to cash prices, aunt Sally is likely to get better value automatically.  While it is still possible to find exceptions, this is almost always the case with Delta today.  Aunt Sally won't necessarily get great value from her Delta miles, but she won't usually get hosed either.  Here's a random example for a round-trip fight between New York and DC:
After taking into account the $11.20 award fees, the above awards offer the following per mile value:
Economy (Main): 1.23 cents per mile
Comfort+: 1.36 cents per mile
First: 1.36 cents per mile
None of the above results account for the fact that Aunt Sally won't earn miles on the award flights, but they do show that she's getting more than a penny per mile.  That's far from great value, but at least it's no longer cringe-worthy.
No close-in award booking fees
Today, if you try to book a United award within 21 days of departure you'll be charged a $75 close-in booking fee (less for elite members).  Starting November 15th, United says they'll eliminate those fees.
Dans Deals thinks that this is bad news since United will probably compensate for the lack of fees by increasing award prices.  That's probably true, but it's arguably still good for Aunt Sally.  In the old way of doing things she would have gotten terrible value from her miles and paid $75 for that last minute booking.  In the new world, she'll get OK value and save $75.  In the spirit of this post, let's call that a win.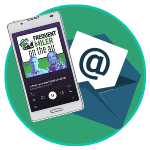 Want to learn more about miles and points?
Subscribe to email updates
 or check out 
our podcast
 on your favorite podcast platform.