Last week we learned that United has decided to eliminate their award chart.  Just like Delta (how many times have we written those words?), United awards will cost whatever they cost.  Overall, this will probably be good for those who don't understand how best to use their miles.  But it will be bad for those of us who seek to maximize value.  It is very likely that United miles will offer better value on flights with low cash prices, but much worse value for expensive flights.  That means that good value aspirational flights on United metal (is that an oxymoron?) are out the window.  To be fair, United says that their partner award pricing isn't changing, and so United will remain a good option for booking partner flights, especially since United doesn't pass along fuel surcharges.  Still, I think it is fair to call this a devaluation since it's very likely that United business class and expensive economy flights will cost significantly more miles.
Please also see the flip side to this post: The bright sides of the United award chart purge.
The Domino Effect
For those of us who seek out high value awards, United miles have devalued.  But that's not the end of the story.  This change has an effect beyond the obvious…
United MileagePlus Credit Card Perk Devaluation
With United miles arguably being worth less, credit cards that offer United miles are worth less too, but that's only part of the story.  Most United credit cards were already a poor choice for value from spend.  The less obvious devaluation is with the credit card perks.
Two (previously) great perks of the United MileagePlus credit card are better economy saver award availability and last seat standard award availability.  The former used to mean that you had a better chance of finding those 12.5K one-way domestic awards.  The latter used to mean that you were guaranteed the ability to book a one-way domestic economy flight at the standard award level (25K in most cases) if there was at least one seat for sale on the flight.  I've used both benefits in the past.  A few years ago I wrote about using last seat availability to save my wife from Montana.
It's unclear what will happen with these benefits in the new paradigm.
Better saver award availability: Supposedly saver awards will still exist, but there's no way to know how much they'll cost.  How great of a benefit will this be if the extra saver awards are super expensive?  I'm not at all ready to write off this perk as useless in the new paradigm, but it probably won't be as valuable as it is today.
Standard last seat availability: This is the perk that seems to me to be virtually useless in the new chart-free world.  Yes, you'll be able to book that last seat with miles, but I'm not sure you'll want to.  Consider this: the value in the perk is the ability to book a standard award at a reasonable rate when your flight options are limited and cash prices are crazy high.  Post November 15th, that "standard" award could cost hundreds of thousands of miles instead of 25K today.
Chase Ultimate Rewards Devaluation
Do you remember when United was the single best transfer partner from Ultimate Rewards?  That changed in 2014 when United massively devalued their award chart.  Still, United has continued to be an important transfer partner, especially since Chase lost the Korean Air partnership.  And, as long as United continues to price partner awards as they do today, United will remain an important transfer partner, especially since they do not pass along partner fuel surcharges on awards.  Still, as the overall value of United miles decreases, so does the overall value of Chase Ultimate Rewards.  At least, a little bit.
United Bonvoyed Marriott
One decent use for Marriott points is to transfer points to airline miles.  The standard exchange rate is 60,000 Marriott points transfers to 25,000 airline miles.  Thanks to the United / Marriott partnership, though, transfers to United result in 10% more miles.  That was a decent deal when you knew that you could get outsize value from your United miles. With the latest United changes, I'd no longer recommend this option unless you plan to use those miles on partner flights.
Frequent Miler: More work for me
You didn't see this one coming, did you?  United's announcement has led me to finally accept that I need to re-work my Reasonable Redemption Values (RRVs).
For years I struggled with the goal of developing objective values for points & miles.  I first did this by developing Fair Trading Prices (FTPs).  FTPs were estimates of the cost to acquire points & miles.  FTPs are useful for some things, but they fail to tell you how much travel value you can expect to get from your points.  To crack that nut, I developed Reasonable Redemption Values (RRVs).  RRVs give you a conservative estimate of the potential redemption value of each point.  You can expect to get that much travel value or more if you use your points wisely.
To create RRVs I had to make a lot of simplifying assumptions.  The key assumption that made it all possible came from the understanding that most airline miles are redeemed for domestic round trip awards.  Since many airlines charge a fixed 25K for round-trip economy saver awards, I was able to calculate the average value of miles by comparing the 25K mileage price to average cash prices.  From this logic came the idea that most airline miles are worth 1.4 cents each.  See: Airline Miles are worth 1.4 cents each. A simplified approach to Reasonable Redemption Values.
When Delta threw away their award charts I knew that I should come up with a new way to estimate RRVs for Delta miles.  But I didn't.  In my experience Delta miles were still worth at least as much as before for domestic economy flights, so I decided that it was OK to keep the RRVs as-is.  In other words, I was lazy.
Then Air France did away with their award charts.  And I continued to be lazy.
Now, United is pushing the issue again.  That's the last straw.  The current RRVs don't make sense when there's no promise of 25K round trip domestic awards.  I need to come up with a new way to calculate RRVs in these cases.  And the way I see it, I have until November 15th 2019 to do so…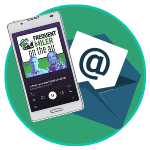 Want to learn more about miles and points?
Subscribe to email updates
 or check out 
our podcast
 on your favorite podcast platform.