I write a lot about Vanilla. In the post "Almost too good to be true" I wrote about the Vanilla Prepaid Visa card. The trick was to use a Chase Ink credit card to buy this Vanilla card at Office Depot in order to earn 5 points per dollar. Then, in the post "One card to rule them all" I wrote about the Vanilla Prepaid Reload card. There, the trick was to similar: buy the cards at Office Depot using your Ink card in order to earn 5 points per dollar. In many other posts, I've written about these or other Vanilla cards. As a result, I've left some readers understandably confused.
To help clear some of the confusion (I hope), here is a guide to the many flavors of Vanilla:
| | |
| --- | --- |
| | Vanilla Prepaid Visa: Use this card just like a credit card wherever you shop. It has a hard limit of $500 that can be loaded onto it one time only. You can register your zip code with the card so that the card will work in places that require zip code verification, but it won't work with web sites that require your full address for verification. |
| | Vanilla Gift Card: This card functions very similarly to the Vanilla Prepaid Visa card. |
| | Vanilla Prepaid Reload: You can buy these in-store, but then the money from the card must be loaded onto a reloadable prepaid card such as the American Express Prepaid card, NetSpend card, or Mio card. Your prepaid card can then be used anywhere just like a credit card. Since your full address is registered with the reloadable card, it is generally accepted everywhere. Additionally, most reloadable prepaid cards allow ATM withdrawals which is a great way to turn your balance into cash (when done in moderation). See "Vanilla Reloadables" for more information. |
| | MyVanilla Reloadable card: This is a permanent reloadable card. One way to load money to this card is by buying and applying Vanilla Reload cards (above). For more information, see "MyVanilla finally appears." |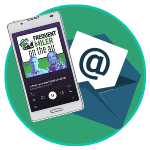 Want to learn more about miles and points?
Subscribe to email updates
 or check out 
our podcast
 on your favorite podcast platform.