Last week, I wrapped up a nice Vacasa vacation rental in Girdwood, Alaska (here's the listing). We've written numerous times about the partnership between Wyndham and Vacasa (See: Wyndham Vacasa: value is real!). It is one of the most unique award partnerships in the space, providing the opportunity to use hotel points to book unique vacation rental homes. In many ways, I love this partnership, but there are some things I don't enjoy about vacation rentals. I think it is worth being aware of both ends of the spectrum of this partnership as this is definitely a tool to have in your belt, but it makes sense to manage expectations.
Things I hate about Vacasa vacation rentals
30-day cancellation policy
This just stinks: Vacasa vacation rentals booked with Wyndham Rewards points need to be canceled 30 days in advance or they are totally nonrefundable. When I book hotels, they are typically cancellable until 1 or 2 days in advance and many airline programs offer free or cheap flight award cancellation. By contrast, I really hate the inflexibility of a Vacasa rental booked through Wyndham Rewards. With two young kids, I know that one or both could get sick and I'd be stuck forfeiting all the points if we needed to change plans within a month of arrival. This makes me hesitant to book Vacasa far in advance (though waiting until close-in means having fewer options from which to choose).
I wish that there was some way to cancel a bit closer to arrival either without penalty or with a small enough penalty to not be overly punitive.
Variance in quality
I've had very good experiences thus far with my Vacasa vacation rentals (including the place I stayed near Pigeon Forge and another property where I booked a cash stay), but I've read enough reviews to know that quality varies. That should be expected with regard to vacation rentals since they are typically individually owned (Vacasa just manages the rental homes), but nonetheless I find it to be a weakness.
For instance, when we found some leftover chicken wings on the grill at our Vacasa rental, we didn't have the option to "call the front desk" and have housekeeping take care of it. If we didn't want to risk waking up to a bear on the porch, we just had to clean it up ourselves.
My biggest issue with inconsistency is the inconsistency of cleanliness. Our most recent Vacasa rental was a large 4-bedroom home that looked very impressive at first glance. And overall, it was quite nice and well-kept. However, we looked more closely, we found the places where attention to detail fell short like extra dust under beds or a pillowcase that had a blood spot on it, etc.
Again, that's not unique to Vacasa rentals, but it stands out against my usual award travel experiences because I mostly use points for hotels, where I can call for assistance if something doesn't meet expectations. That's not so easy to do with a vacation rental.
When you need help, it isn't instantly-available
In cases where you end up needing help, it can be a challenge since you're stuck waiting for someone to respond.
For instance, we arrived early at the property in Girdwood, Alaska and the cleaners were still cleaning. We asked if we could drop off our bags and they had no problem with that (We were obviously taking some risk since our rental hadn't yet officially started and if something were missing when we returned we'd have likely had no recourse. It wasn't my idea to drop bags).
When we returned after the assigned check-in time, we followed the check-in instructions we had received via email and text message, which said to go to a guest key lock box and enter a code to get the front door key. The problem is that the code didn't work. I tried the key numerous times and it failed repeatedly. After 3 or 4 failures in a row, it seemed like it alarmed (it beeped a bunch and stopped allowing code input for a minute or two), but then it "cleared" and we were able to continue trying to do the same thing while expecting different results for long enough to "trip" it again.
I texted Vacasa. I got a reasonably quick response and they said that they would check with their local team and get back to me.
Meanwhile, all of our bags were locked inside the house since we had left them with the housekeeping team earlier.
Luckily, the check-in email also included a key code for the garage door. That code worked, so we were in the house shortly thereafter thanks to the garage door.
However, I never did hear back from Vacasa that first night. The next morning, I messaged Vacasa again, explaining that we could just use the garage door to enter and exit but that I wanted to follow up to see if they had heard anything from the local team. They responded about an hour later to tell me that they would follow up and within an hour thereafter someone showed up at the door to try to figure out the lock box. She tried the same code that I did (sorry for not providing a spoiler alert earlier, but now you already know that didn't work). Eventually she was able to free the key and provide it to us to use, but she couldn't get the lock box working, either.
That was a minor annoyance since we had the garage door code, but it illustrated the fact that it was all on Vacasa to facilitate a connection with the local crew and they obviously dropped the ball on that the first night.
Paperwork could use some clarity
One thing I think Vacasa could improve upon is explaining what required paperwork you'll need to submit as you're making the reservation. In a couple of rental instances, it has been required that I e-sign a separate rental agreement after booking and send it back via email before the stay, but I wouldn't have known that if I hadn't read the emails closely. When I make a hotel reservation, I often don't even look at the email confirmation, but you have to remember to do that with Vacasa.
No daily housekeeping
This is true of almost any vacation rental, but you have no daily housekeeping when you book a Vacasa vacation rental. I enjoy returning to my hotel room after a long day to a clean / straightened room. I miss having someone else to clean the place up each day when I stay in a vacation rental. This isn't a knock of Vacasa but rather a mark of how spoiled I've become by good hotels.
Things I love about Vacasa vacation rentals through Wyndham Rewards points
Excellent value for points
Since you can book properties costing up to $500 per bedroom per night (when accounting for average nightly rate for your stay with all taxes & fees included), you can get excellent to outstanding value for points. It will cost you just 15,000 Wyndham Rewards points per bedroom per night for a Vacasa Vacation rental — and 10% less than that if you have one of the Wyndham Earner credit cards. That's a terrific deal.
With this most recent rental, we were able to snag a large 4-bedroom house that could have easily slept 10 or more people for 54,000 points per night (15K points – 10% cardholder discount x 4), which was a decent deal compared to the cash rate of about $846 per night all-in. At over 1.56c per point it wasn't the most impressive Vacasa value I've seen, but it was certainly better than our Reasonable Redemption Value.
A couple of years ago, I stayed in a "1 bedroom" cabin in the Pigeon Forge / Great Smoky Mountains area that had a loft with a pull-out sofa that could sleep 2 and a loft above the loft with a futon mattress to sleep two more.
Since there was only 1 actual "bedroom" in that property, it cost 15,000 points per night (or 13,500 points per night as a Wyndham Rewards Earner credit card holder) for the entire place.
No taxes, cleaning fees, or other expenses
I love that Vacasa rentals booked through Wyndham Rewards incur no taxes or fees of any kind. You don't pay a cleaning fee or even supply a credit card number up front. The booking process just involves using your points and it takes minutes on the phone.
You can combine points from two guests
Greg has previously written in our guide to booking Vacasa rentals that you can combine points from two people (I don't know whether it is possible to add points from more than two members). Each person must use points in whole night increments. In other words, we were able to book one night from my account and two from my wife's, but we couldn't have done 2.5 nights from her account and 0.5 nights from mine.
What impressed me the most was that the process for that was pretty seamless. The phone agent knew what to do and the resulting reservation came under one single confirmation number for all three nights, so there was no concern about having to check out from the first reservation and into the second, etc.
For full details on the booking process, see: Wyndham Vacasa: Great value is real.
You can transfer points from Capital One or Citi
Both Capital One miles and Citi ThankYou Rewards transfer 1:1 to Wyndham Rewards. Transfers from both are instant. Unfortunately, the recent 20% transfer bonus from Citi expired last night.
Unique properties possible (lots of space, interesting locations, etc)
For fewer or roughly as many points as many chains charge for regular hotel rooms, you can get truly unique entire homes or far more space than you will with a hotel.
Not all hotel points are created equally, but as a point of comparison, a standard hotel room at a Four Points by Sheraton was going for 44,000 Marriott Bonvoy points during our dates. We paid 54,000 Wyndham Rewards points for a 4-bedroom house. While it wasn't actually our highest-value redemption ever, it was nonetheless better than paying for 3 rooms for 3 nights at a hotel. With 7 total people, we would have needed a bare minimum of 2 rooms at another hotel. This was a much better deal by comparison.
Here is a full tour of the property:
View this post on Instagram
And here are some pictures of this most recent Vacasa rental:
Bottom line
Vacation rentals are very popular, particularly for family travelers, since they often offer far more space than a hotel room. The main drawback for those who enjoy award travel is the fact that there often aren't reasonable ways to book vacation rentals with points. However, we have written extensively about the Vacasa partnership with Wyndham Rewards, and I recently took advantage of the chance to book a four-bedroom property with Wyndham Rewards points. While we encountered some of the usual cleanliness shortcomings here and there and had a problem with the keybox, we very much enjoyed our stay overall. Vacation rentals will probably never be my preferred method of travel because I enjoy more predictability when it comes to lodging, but I imagine that when we need a vacation rental we will continue to seek out chances to use our Wyndham Rewards points to great value with Vacasa vacation rentals.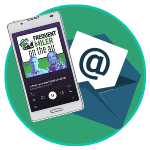 Want to learn more about miles and points?
Subscribe to email updates
 or check out 
our podcast
 on your favorite podcast platform.