This week, I had the chance to try out my first Vacasa vacation rental booked via Wyndham Rewards. The Greenbrier 2936 is a Vacasa-managed 1-bedroom cabin in the Legacy Mountain Resort in Sevierville, TN (listed as Pigeon Forge on the Vacasa website and actually closer to the heart of Pigeon Forge than downtown Sevierville). Since Wyndham charges 15,000 points per bedroom per night, I booked this cabin for 15,000 Wyndham Rewards points per night all-in despite the fact that it could easily sleep an entire family with a king sized bed, two pull-out sofas, and a 3rd-level loft with two single futon mattresses.
I spent 4 nights at the cabin and absolutely fell in love with the views and the value and was pleasantly surprised with the cleaning and condition of the cabin even though it wasn't perfect. For more about how I booked this property, see: Vacasa success: Entire cabin booked for 15K Wyndham points per night (transferred from Capital One).
The Greenbrier Pigeon Forge Vacasa rental via Wyndham Rewards Bottom line review.
Bottom line: Overall, this is a fantastic deal when booking via Wyndham Rewards points and it makes for a solid place to stay if you prioritize a terrific view of the Great Smoky Mountains (and I would confidently bet that the same could be said for many other cabins as it seemed like many Pigeon Forge Vacasa rentals were in this complex). The condition of the cabin is more than reasonable for the award price (though far from perfect) and the location being 15-20 minutes from most popular attractions and restaurants was convenient enough for our needs. Personally, I'd gladly stay here again, though I'd be just as happy to check out other cabins in the same complex (Legacy Mountain Resort). The Greenbrier has an excellent view; many other cabins in this resort also have an excellent view, but not all of them do. You need to look closely at pictures of the view before booking and consider vegetation at the time of year you're staying. The view mattered most to me and as such I was very happy with this stay.
Points Price: 15K points per night when not blacked out (all Vacasa properties cost 15K Wyndham points per bedroom per night when available; we believe availability is capped at an average nightly rate of $350 before taxes & fees).
Cash Price: Varies. On my dates, the all-in price per night would have been $474.50 per night ($1897.99 total for 4 nights), but the nightly rate before fees & taxes was $342 per night. Note that you do not pay any fees or taxes on an award stay.
Points Value: Excellent! (North of 3c per point based on the all-in price)
Resort Fee: None. Note that the resort complex has a pool, gym, and sauna and you receive the access codes via email.
Parking: Free. This unit has 3 dedicated spaces.
Turndown service: None. Note that there are no services during the stay as this is a vacation rental.
Dining: There is a small poolside cantina at the top of the mountain serving food from 2pm-8pm Tuesday-Thursday and 12pm-8pm Friday & Saturday (it is closed Sundays & Mondays). Burgers are $7-9, pizzas $10-$13. They also serve a few sandwiches, wings, smoothies, milkshakes, and various munchies like mozzarella sticks, nachos, and cheese fries. Unfortunately, I didn't get a chance to try it. Instead, I ordered from Uber Eats and DoorDash several times. Not a single driver found the place without me needing to walk down to the main road to find them (which means a steep walk back up the driveway), so beware that you may need to do the same.
Spa: None.
Wyndham Elite Benefits: None. These units are individually owned and managed through Vacasa. They are bookable with Wyndham Rewards points thanks to a Wyndham / Vacasa partnership, but there are no status benefits.
Welcome Gift: None (unless you count a few dishwasher tablets)
Would I stay again? Yes. I loved the view and found the cabin suitable for our needs. That said, there are probably nicer cabins in this area with similar views, so I'd be open to trying a different cabin. See my thoughts on the view.
Pros:

Terrific Smoky Mountain Views
Balconies on 2 levels (note that the view is in the same direction, but less obstructed on the upper floor).
Secluded spot tucked away with only 1 other cabin
Max occupancy says 6, but with a king size bed, two pull out sofas, and a loft with 2 single futon mattresses, this place should easily accommodate most families.
Fast WiFi (about 230 Mbps down and 12 Mbps up)
About 15 minutes from major Pigeon Forge attractions or 25 minutes from downtown Gatlinburg
Lots of natural light

Cons:

Lots of natural light. I noted this as a positive above, but for anyone not sleeping in the bedroom (in our case our 2 kids), the place is full of light at the crack of dawn since there are no blinds on the large windows facing the scenic view. The cabin faces south, so the sun doesn't rise directly into the windows, but it gets bright quickly nonetheless.
Condition of the cabin was definitely good enough for us to be satisfied, though I think the condition was below what you might expect based on a cash price of nearly $450 per night. See pics that address the condition below.
Cell data service came in and out despite having nearly full bars of voice signal. This could have just been traffic on our network (T-Mobile), but I was glad that I downloaded maps for offline use
During the last 24hrs, we had at least a half dozen caterpillars inside the cabin (didn't have this issue for the first few days)
The cabin is a little hard to find the first time (and hence for any delivery drivers).
Traffic can make travel time to/from Pigeon Forge and Gatlinburg a bit slower at peak times
Driveway is kind of steep which might be an issue without 4wd during the wintertime
The fireplace was only decorative (it produced no heat). While that didn't matter given the summertime weather, it would be disappointing in wintertime.
The Smoky Mountain View at Pigeon Forge Vacasa rentals
If you're booking a cabin in the Smoky Mountains, you may want to prioritize the view (I certainly did). If the view matters to you, pay close attention to pictures of the view on the Vacasa site. While most cabins at my resort complex (Legacy Mountain Resort) appear to have excellent views, some look to have really poor views that are likely either obstructed by trees / branches during summertime and/or face many other cabins.
Again, your bet bet here is to go through the pictures on the listing and consider when they were taken. Many owners post fall or even wintertime pictures when there aren't leaves on all the trees. Be sure to envision any twigs you see with leaves growing from them if visiting during the summertime. This wasn't an issue for us but easily could be on some listings I explored.
The Greenbrier Pigeon Forge (Vacasa) video walk-through
When I first arrived, I took the following video during my initial walk-through and it gives a good sense of the cabin in just over 1 minute:
Pictures and captions of The Greenbrier Pigeon Forge
The Greenbrier Pigeon Forge Vacasa Rental Views
The Greenbrier Pigeon Forge Vacasa Rental Interior
The Greenbrier Pigeon Forge Vacasa Exterior
The Greenbrier Pigeon Forge Vacasa rental pool, fitness center, and cantina
Condition notes
The cabin was overall as clean as I needed it to be. That is to say that bathrooms and common surfaces were very clearly cleaned properly. I didn't feel like cleanliness was lacking in general, though there was certainly some dust in spots. Despite a few reviews that noted insect issues, we had none until the last day of our stay (and then it was just caterpillars).
However, the cabin was showing some wear. For instance, while the dining table and chairs were heavy and clearly good quality furniture, they were nonetheless showing signs of wear.
Other furniture had nicks or looked well-used. As another couple of examples, the stairs outdoors had non-slip strips on some of the stairs, but it was missing from others (and one of those missing pieces was lying on the ground under the stairs).
Finally, there didn't seem to be much attention to detail on the exterior. Cobwebs ran pretty thick along railings.
For the price and considering that we had an entire house to ourselves at stage in life when our two kids require more space than the average hotel room provides and when pandemic circumstances have us naturally more interested in a vacation rental, we were totally fine with small issues like these. On the other hand, we spent part of last week at an Airbnb property without those types of issues so we also know that not all vacation rentals are equal in that regard. Considering the fact that Wyndham has recently offered points for sale for less than 1c each, I felt like quality easily exceeded the price tag for those of us using points, especially considering that you pay none of the cleaning/booking fees or tax when booking an award stay. I would undoubtedly be less enthusiastic if paying $450 per night (though that certainly seems to be a going rate around the area for similar options).
Recommendations in the area
While I knew Dollywood existed and I'd heard a few times that Pigeon Forge is a big tourist destination, I hadn't previously realized that it is basically a Las Vegas for families / kids. With multi-story go kart tracks, mini golf galore, plenty of arcades to keep kids busy for an entire childhood, and the multitude of shows, mountain coasters, and zip lines (including those located right at the Legacy Mountain Resort), it would be hard for a family to be bored. I missed most of that stuff on this trip due to a mix of the nap schedule of a 9-month-old and COVID concerns (hence why the view was important to me; I knew we'd spend a fair amount of time at the cabin).
Still, we did venture out some. We went Go Karting at The Track, which had a 3-story spiral wooden track and side-by-side karts to ride with our older son.
We picked this out of the many go kart tracks in part because the brand has multiple locations where any excess purchased points could be used (including one in Myrtle Beach, which is a place we visit every year to see family). They sell "points" for $1 per point (small rides cost 4 points, the big go kart track costs 12 points). Loading with more points means a slight discount. The first discounted package is 55 points for $50. However, it can get a bit better. If you pre-purchase your points online, you can go to a kiosk on arrival at any of their locations and scan a code on your phone to print out a card(s) with your points. As mentioned a moment ago, there is a location of The Track in Myrtle Beach and the points can be used at any of the several locations. Code MBSAVE$10 takes $10 off $50 or more, which will get you 55 points for $40. Since you can purchase points online, you can check out via PayPal. Therefore, I used the Amex Platinum $30 monthly PayPal credit to pay a net $10 for 55 points, which yielded us all more than $10 of fun.
If you enjoy BBQ, I highly recommend driving the 10-15 minutes from Legacy Mountain Resort to Bustin' Butts BBQ. It doesn't look like much from the road, but the pulled pork and ribs were fantastic with or without sauce (I recommend their mustard sauce if you want sauce). We ended up going there twice and bringing it back to our cabin.
Finally, if you have a sweet tooth, Cinnaholic offers an array of cinnamon buns that will knock your socks off. Trust me.
Overall, we highly enjoyed our trip to Pigeon Forge. I had initially booked this cabin for 3 nights but later saw a 4th night was available and I emailed to see whether it could be extended or I needed to make another reservation. The Wyndham rep was able to easily redeem the points and add a night and I'm glad I did that as there was plenty in the area to keep us busy and the views did not get old. I'm sure I'll be back to Pigeon Forge in the coming years and when I return I hope the Wyndham / Vacasa partnership will still be going strong. Since the booking calendar seems to extend out to December 2022, I may plan that return trip far in advance of travel.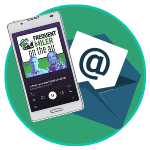 Want to learn more about miles and points?
Subscribe to email updates
 or check out 
our podcast
 on your favorite podcast platform.